Satisfying the taste buds is her biggest satisfaction and it is not about Rupee One Idli.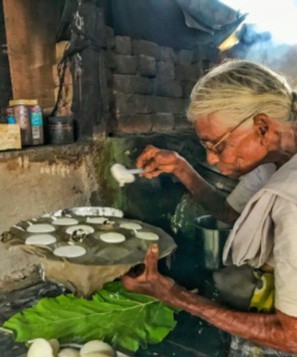 Grandmas always have big palms when it comes to feeding their children and grandchildren. It is widely known and a well-experienced fact that one comes back from a grandma's house weighing double or even more. Food is how grandmas shower their love. Grandmas never say NO to any food request and they ensure that the tummies are full. This 80-year-old grandma from Coimbatore is not just into feeding her family, children and grandchildren, she thought about every person who would come to her. She ensures that they don't go back with empty stomachs unable to afford food. She started selling idlis at Rs.1 each keeping in mind the daily wage labourers and the migrant workers. She went viral in 2019 when industrialist Anand Mahindra shared a video of her in his Twitter handle.
Three Decades Of Service:
Kamalathal, fondly known as Paatima who hails from a peasant family, is an 80+-year-young from Coimbatore who cooks and sells idli for just Rs.1 everyday in Vadivelampalayam on the outskirts of Coimbatore, Tamil Nadu. She has been doing this for over three decades now and only come into spotlight in 2019 when industrialist, Anand Mahindra tweeted about her. Paatima wakes up at 5am and her day starts with a prayer. She then goes along with her son to buy vegetables and other ingredients for Sambar, chutney and idli. She then grinds coconuts, salt and adds other ingredients to them to prepare mouth-watering chutney in a traditional hand grinder.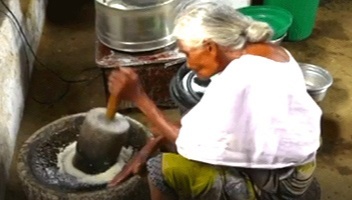 She uses only the traditional stone grinder for making batter and masalas. She washes and soaks the ingredients the previous day and grinds them in the evening. "It takes around four hours to grind six kilos of rice and urad dal for the idli batter. I prepare fresh batter every day.", she revealed. She later goes on to cook idlis on a mud stove. She opens her shop at 6am and closes at noon. Of course, it depends on the quantity of the batter left for the day. She also prepares sambar herself and changes the chutney everyday. The number of idlis that steam with the fire of her mud stove know no count but Paatima uses eight kilograms of rice everyday for the batter. Paatima who was raised in a joint family says that she was used to hardwork and thus cooking for a large number of people does not give her any trouble. With limited kitchen capacity, she would sell over 600 idlis each day, at Re 1 per idli with the standard 'sambar' and 'chutney'. "Here, idlis are priced to feed daily wagers so they can afford to eat while saving money for their families", says generous amma. Paatima's home is attached to the eatery where she lives with her son, Purushothaman.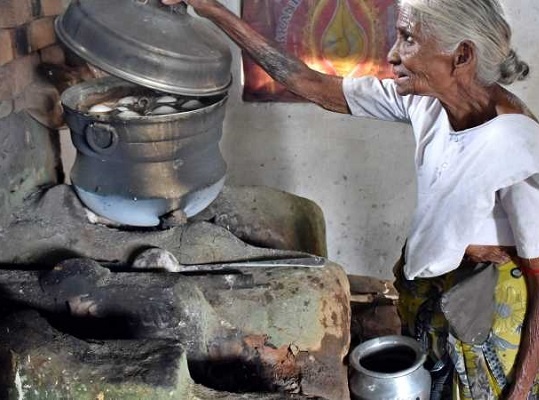 It All Started Out Of Boredom:
How many of us think of others when bored? We try ways to entertain ourselves unlike Paatima, who thought of others. Belonging to a peasant family, Paatima used to cook for her family members who would go to the farm to work. After they would leave for the farm, she used to be home, alone. Bored of staying alone, she decided to prepare idlis and sell them for the locals. All her neighbours became her customers who would visit her daily to relish her hot, steaming idlis. Slowly, people from Boluvampatti, Pooluvampatti, Thenkarai, and Mathipalayam became her regular customers. She proudly says that her customers belong to various age groups and children from the Panchayat Union middle school would have their breakfast at Paatima's before heading off to school. The unique taste of her idlis and chutney attracts the young customers as well.
People also come to her eatery from different places by learning about her through mouth publicity. Though she has been serving idlis for decades now, she never increased the price of them till date. "Some like to eat the same food at Rs. 10 and some like it in Rs. 25 so let them eat as with my work I am earning punniyam.", she expresses her angelic thoughts. When one of her customers asked her to include uzhunthu bonda, her menu priced it at Rs. 2.50 each and she started serving bondas too.
Daadi Into Spotlight:
Her story went viral when Anand Mahindra expressed his interest in investing in her business and offered to buy her an LPG stove. Kamalathal, who is running her business from a tiny shop, was praised for her selfless service and underrated efforts by the netizens. When Anand Mahindra offered to buy her an LPG-fuelled stove, Bharat Gas, Coimbatore issued a gas connection in her name. She also started receiving donations of rice and pulses from several individuals and Coimbatore-based businesses and she uses all those donations to continue feeding people in need.
Kamala Paatti selling Idlis cooked using firewood for over 30 years has been provided with an #HPGas commercial installation with proper Burner & Piping alongwith a Wet Grinder which will help her expand business & will ease her life with the convenience of cooking Idlis on LPG. pic.twitter.com/5ajWfReEdZ

— Hindustan Petroleum Corporation Limited (@HPCL) September 11, 2019
Even during the pandemic lockdown, this generous soul continued to sell idlis for the same price despite the soaring prices of everything else. As Paatima still works in a limited space, Anand Mahindra and his company Mahindra Group came forward to help Amma register a piece of land in her name. The company also promised that they will soon begin the construction of her new home-cum-working space according to her preferences so she can get to serve more people with the resources. As per his promise Anand Mahindra got the registration of land done at the Thondamuthur registry office under Paatima's name.
"Only rarely does one get to play a small part in someone's inspiring story, and I would like to thank Kamalathal, better known as Idli Amma, for letting us play a small part in hers," Mahindra wrote. Anand Mahindra also said that the company's Real Estate and Infrastructure wing would build the home-cum-shop as per Kamalathal's requirement. He also thanked the local LPG provider for their constant supply of gas to Paatima allowing her to run her business.
Paatima's story clearly shows how helping hands come forward when whatever we do is for the advantage of the community. One need not think of resources and money, just start and implement the good thought, resources will follow.