INR 1000 for 10 yr in bond scheme further education? Small but is helping students says the teacher.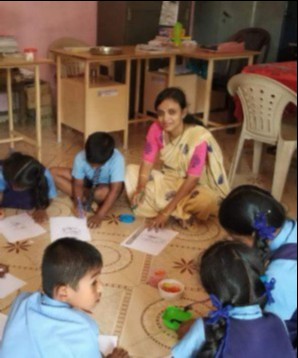 Experiences often mould an individual into a better human being. They offer nourishment to their thoughts and shape them to take a better shape. These thoughts, can help the individual in their own progress and can also make them work for the progress of those around them. On the whole, experiences that we shoulder, are more important than our education itself. The experience that Rekha Kulal has underwent when she finished her primary education by not being able to continue further because of the financial constraints, made her into what she is today. If we are writing about her and if she stood as an inspiration, its all because of what she learned from her experiences.
The Child Who Couldn't Go To Studying Further:
Rekha Kulal is 32 years old and originally hails from Shankaranarayana village in Kundapur taluk. Her beginnings can be traced to a humble family. Rekha was a bright student who would stand first in of all her academic capacities. However, owing to unstable finances, she was not in a position to step further into higher education. It is then that a lot of NGOs and generous individuals supported her education with the required funds, books etc. In the year 2010, Rekha secured a job as a teacher at the Government Higher Primary School at Nulligere, Hosanagara taluk in Shimoga where she teaches English, Kannada and Environmental Science. Her husband Prabhakar Kulal is an officer with the Forest Department.
Gratitude In the Form of Giving Back:
The best way to say Thank you is by giving back the blessing we received, to those who need it – to the right person at the right time. That's what Rekha Kulal did. When she was posted as a government school teacher, she thought that it was the right time to give back to the society, that once gave what she wanted. In 2014, she started an initiative wherein she would deposit Rs.1,000 in the name of newly enrolled students in her school. She started to deposit the money in the form of a bond, locking it for a period of ten years. The main idea behind this is that no student of hers, should refrain from pursuing higher education because of lack of money, when they reach there. After the 10-year period is over, the child will then receive the amount which can be used to invest on his further studies. In the year 2021 alone, Rekha has deposited Rs.1000 each in the names of 13 students. So far, she has included close to 63 students in this bond scheme. Not only that Rekha is shaping children's futures through this initiative, she is also changing the enrolment percentage of children in the school. In 2010, there were hardly three to four students in Class I. The total strength of the school itself was just 20. Eventually, the strength graph saw a rising curve. The bond scheme has greatly improved the enrolment rate and currently there are 83 students in total which will rise to more than 90 by the next academic year. However, Rekha also attributes the growth in enrolment to the creative teaching methods being implemented by teachers. "But that doesn't mean that parents enrol their children only for the sake of the scheme. They need to look at the teaching method and how creatively kids get to learn in the classroom.", she says in a firm tone. The collective efforts of her colleagues, she says, have improved the standards and quality of education, thus the strength.
Providing Facilities to The Students:
A teacher is not just the one who uses the limited resources to teach and leave home at 5pm. She strives hard to create new and unique resources to her students so that they can understand and learn better. Facilities in the school are also more important than just a floor and a roof. Minimum requirements make students' learning interesting and free-flowing. Rekha strives along with her team to develop some of the required facilities at her school. After seeing her efforts, local donors and members of the School Development and Monitoring Committee have come forward to help the team. Initially students used to sit on the floor and study but over a period of time, Rekha could arrange for some furniture with the help of donors. She says, "Initially, students who were part of the Nali Kali programme would sit on the floor and study. A parent once asked us why we couldn't organise some desks or benches. When I told a known philanthropist about this, he immediately allocated Rs 25,000." After the school got its furniture, Rekha introduced a round-table concept where kids could gather with their chairs around a single round table and be a part of the Nali Kali programme. This system was later replicated in other government schools across the state. "Similarly, we think of new ideas to implement to bring children closer to school," says Rekha. A few other generous people have offered notebooks and shoes to the students. "When we teachers go beyond our regular work, the public also recognize it and extend their helping hand," said Rekha. "I am also from a poor family. I could study because of the support of many people. As I have received help from society, now it is time to pay back," said Rekha.
Stepping to give back to the society after having reached a stable position in life, is not something everyone thinks of. But if one thinks of it, it's an act that deserves a standing ovation. We cannot even imagine how many students would keep themselves going without stopping their education owing to lack of money. We cannot even imagine how many of them would again turn to help the society back empowering and enriching the lives of those in need! What starts with a single seed, grows into a mighty tree gifting fruits to all the hungry bellies. Thanks to people like Rekha Kulal for sowing that one seed!