'Hey Black Child and Affirmations' poems recited by a child moved every listener. Why?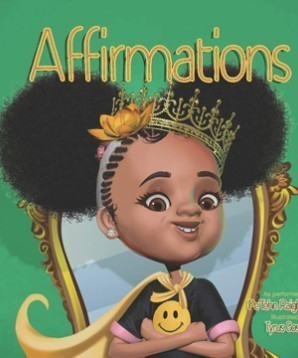 'Hey black child Do you know who you are Who you really are Do you know you can be What you want to be If you try to be What you can be'
These powerful words written by Useni Eugene Perkins have been resounding in African American households since the 1970s. However, in 2015, it was a three-year-old who really brought alive this much-loved piece of African-American literature; when she stepped up to a stage and blew everyone away with a voice so strong, that it made the world sit up and listen.
Finding Her Voice
From a very young age, Pe'tehn Raighn-Kem Jackson showed an affinity towards literature when she started reading at 18 months. Pe'Tehn's parents and pillars of support, Lashuan and Andrea Jackson, both educators from Bronzeville, Chicago took a strong interest in developing her love for reading and writing.
In her appearance on the show Windy City Live, her mother recounts how she would play DVDs of phonics and songs while still pregnant with Pe'Tehn, for around 20 minutes each day, with baby Pe'Tehn often responding with enthusiastic kicking. As she grew up, her parents surrounded her with the magic of words through literature and posters and charts all over their home.
It was no surprise then, when at the age of three, typically when children start putting words and sentences together, she memorized and recited Useni Perkins' poem 'Hey Black Child' for a Black History event at her church. As the stage volunteer adjusts the microphone to fit her tiny height, Pe'tehn began reciting nay proclaiming with such power, that one wonders whether she needed the mic at all. As an awe-struck audience listens, they can't help but burst into applause for a voice that resounded for miles. Pe'Tehn learned this moving– wait for this – a week before her event. A video of this stirring performance, made its way to Facebook where netizen after netizen felt it to their core and couldn't help but share her voice again and again, till the clip turned viral.
Stage after Stage
No sooner had it released than her video made its way to the producers of the Windy City Live Show one of Chicago's top talk shows, where she was invited to perform 'Hey Black Child', her first television appearance. When asked by the hosts whether she was afraid she would forget the words, Pe'Tehn, all of three, doesn't hesitate before responding with a resounding 'No'.
Her awe-inspiring act catapulted her into stardom almost overnight and landed her a major stage on NBC's Little Big Shots, a major national show that celebrates inspiring children. From then on, Pe'Tehn was invited to several major platforms like Black Star Project's 2017 Daddy Daughter Dance and other literary events. Pe'Tehn's performances on the internet have been applauded by actors like Taye Diggs, music mogul Sean P. Diddy Combs, life coach and author Iyanla Vanzant, among others.
One particularly noteworthy performance was her second act on NBC's Little Big Shots where she recited a poem called "Affirmations", written by her parents, at the age of 5. Again, in that heart-warming voice, young Pe'tehn seems to personally convince every child listening that they are already everything they want to be. That one, the single performance received 4 million views within a month of being posted online.
Taking Her Voice to the World
Today, 7 years old, Pe'Tehn can not only read at a fifth-grade level but also performs, models and conducts brand representations, while still in kindergarten. Her hobbies include art, watching YouTube and her still all-time favourite reading and writing while performing.
This year, she was honoured as a recipient of the Global Child Prodigy Awards 2020, the first and only platform to recognize talents from various countries and backgrounds. The GCP Awards feature children who have produced stellar after stellar achievements in fields ranging from modelling, writing, entrepreneurship, martial arts, music and social work. Pe'Tehn received the award for poetry and was also included in the top 100 prodigies of the year.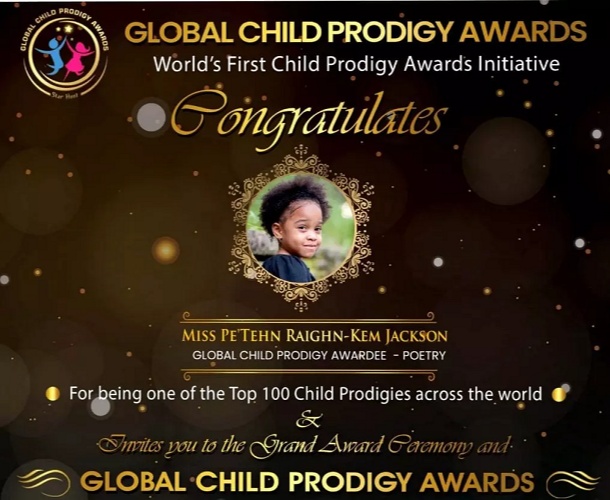 And her achievements go on and on. Her most recent highlight was being cast as a part of Season 2 of channel Showtime's hit miniseries "The Chi", a coming-of-age drama series centered on a group of residents brought together by coincidence. She also just released a book on her performance of the poem "Affirmations" and "Holiday Love" written by her little brother and father, a book that reminds individuals to embrace the deeper principles in each of their individual cultures as they move towards a more global society.
As she continues to pursue her love for literature, Pe'Tehn strives to inspire children the world over. Day after day, she receives letters from America, Africa, Europe, Australia and Mexico. As she continues to blow the rooftops of every stage she steps onto, Pe'Tehn holds closer to her heart and even larger mission, in her own words – 'to inspire others to be their best.'
Pe'tehn's unique gift lies in the fact that when she calls out "Hey Black Child", every single person oppressed by colour and creed, feels 'black'. And all the struggles and the power of that one colour, along with her. The poem was written at a time when Black Americans were just finding rights, finding equality, finding a voice. That voice emerges again more than two decades later with Pe'tehn when they're still fighting against oppression. And every time a force threatens their freedom, we strongly hope that a voice will find its way to our hearts again.

Know More About Her

Like And Subscribe To Her Channel