ReadyAssist is ready with their service alongside the road, if you have a vehicle breakdown.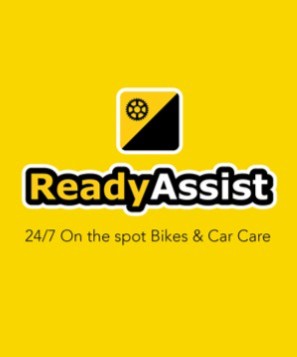 In the midst of your travel, on a highway, where you don't find any of the services, what if your vehicle breaks down? What if someone meets with an accident and needs emergency help? Not just these, anything can happen while travelling on roads, when we go to places crossing boundaries of towns and cities. How many times we have seen people facing issues with their vehicles in the mid-way facing severe difficulties as there would be no proper service at that particular place? How many news reports have we read so far about people losing their lives after they have been deprived of emergency care post an accident.
"Never worry again getting stranded on the middle of a road at mid-night due to a breakdown situation. ReadyAssist, an instant roadside assistance company enabled through technology and operations intelligence is at your help. A very young start-up aggressively working on connecting the entire Indian roadways through our network of service providers to support a customer instantly during breakdowns, accidents and medical emergencies." – reads Vimal Singh's LinkedIn description about his start-up that comes to the service of people stuck with unforeseen events on roads. Let's get into the details and know more about Vimal Singh and his work.
A Go-getter's Determination To Help:
Vimal Singh, who calls himself as a believer of new-age technologies and innovation, is true to his claim. Having obtained his bachelor's degree in Computer Applications from Manonmaniam Sundaranar University, he went on to study Masters in Software Engineering from Birla Institute of Technology & Science-Pilani. He has an array of spheres that interest him such as Renewable Energy, Social security, Financial Empowerment, Wellness and Fitness, Education, Journalism and Consumer Services. He has also volunteered for a handful of charity activities alongside his profession. He was a volunteer at Every Child Counts, a non-profit organization that works for facilitating education to children below 14 years. "I have been a part of their journey as a Technology consultant to design, develop and implement the web application which would help the volunteers to report children who are in need of education", he mentioned in his profile. Having worked in companies like Wipro Technologies, KPMG India and Tech Mahindra, Vimal founded and coached at MECADEMY, a Research Academy which is on a mission to create social impact through skilling and reskilling providing advanced level practical based trainings in Automobile repairs and services to candidates of different disciplines.
Starting Small To Make It Big:
When Vimal's friend met with a road accident in 2015, it took almost four months for Vimal to come to terms with his loss. Recounting the painful incident that happened to his friend on his way back home from a function, Vimal says that he did not expect that it would be the last time they both would speak over the phone. His friend met with an accident but he couldn't call anyone as his phone has got locked unfortunately. People took him to a nearby hospital but his friend, who suffered a severe head injury and developed a clot, couldn't sustain until the doctors finished all their scans. "Another thing that struck me was that the hospital waited to start his treatment till they received the money needed," Vimal recollected. Out of the grave bitterness Vimal suffered after this incident, an idea to help others who land in the same situation, has popped up in his mind. "The incident left a deep impact on me. The grief soon morphed into a larger need to help people who might need assistance after major accidents," Vimal said in an interview.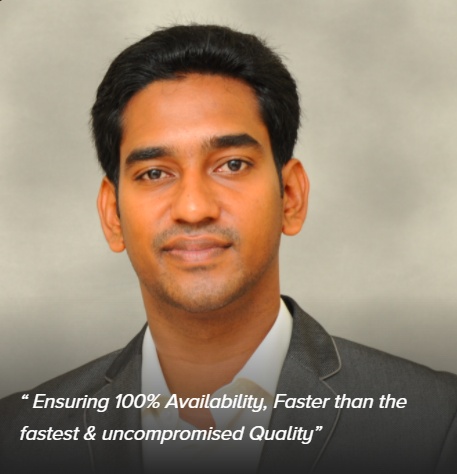 In the same year, i.e., 2015, Vimal started extending help to those who met with an accident by bearing the expenses out of his own pocket. Anyone who met with an accident could reach out to Vimal and he would provide for the medical treatment so that the patient does not go unattended by the doctors. Vimal later would get the amount settled when the patient's family arrived. "For me, it was just about rotating some money to save a life," he says. To expand his operations, he asked his friend to join him and both of them together started to work on gaining knowledge of various other things and understood that there are bigger problems than just the treatment costs, associated with this. "Identity, information, data management — all of these factors were brought to light for us. So, we started building solutions for everything, step-by-step. This involved technological, structural and operational solutions, which eventually became ReadyAssist," he explains.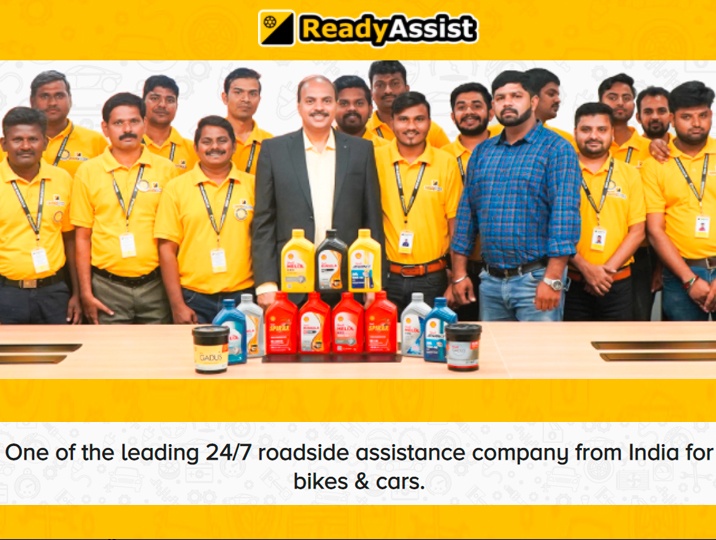 ReadyAssist - Ready To Assist In Your Way

:
"ReadyAssist" is a company that provides 24/7 roadside assistance by offering services of repairs in case of vehicle breakdowns, or help in case of accidents. The company is headquartered in Bengaluru and strives its best to deliver its services within 30 minutes. The repair services are chargeable but the accident recovery services are free of cost. The company addresses the real-time vehicle breakdown problems of customers using deep machine learning, data intelligence, and operations efficiency. ReadyAssist offers services in two models – on demand and subscription based. Cars, bikes, large vehicle rental companies and corporates can avail on-the-spot breakdown services and general repairs while these services are even being provided to the electric vehicles.
The company has got into partnership with three EV companies to achieve services such as battery swapping and on-the-spot charging through mobile units. It also addresses the challenges such as building a service and support network charging network and RSA (roadside assistance network), etc. besides partnering with Shell to offer easy oil changing services at different locations across the country. However, it is quite evident that this would come with its own set of challenges. Speaking about the same, Vimal says, "India is a vast country, so we need a larger network to reach the remotest areas of the country. There are also limitations in the infrastructure that we alone as a company cannot solve. Say you're traveling from Mysore to Wayanad via road. You might encounter areas that stretch for kilometres on end and don't receive any mobile network. In case you run into troubles on such roads, it would be difficult to reach us. If you did, I would dispatch support instantly, but the gaps are there. This is an area we are still working on." He also mentions about the financial constraints and says, "How many units can I deploy across the country? Even if I charge a premium on the pay-per-use model, it might not be enough to cover the costs we need to cover a massive area". Crossing all the speed breakers, ReadyAssist has made its presence across 700 districts, operating to its maximum in 63 districts. The support and services in the rest of the districts are limited because of the challenges like higher altitudes, rocky terrains, etc. While in 2019, the company saw a turnover of Rs.3 lakh, by March 2020, the team bagged a turnover of Rs 4 crore!

ReadyAssist, which is looking forward to scale up through its new subscription model, was awarded as the Bootstrap Champ by WorldStartup Expo. The company was also named one among the top 28 Most fundable start-ups in India for the year 2020 by India Fund Fest.
Rising from a tragic incident takes a lot of courage. But thinking of others at the same time and working towards not letting them suffer the same pain is a million times bigger thing to do! Hats off to Vimal Singh. We wish him great success.

Know More About ReadyAssist

Checkout Subscription Plans

Follow There Work