Narayan Guru Day is a public holiday in Kerala for this British Raj social reformer. His poems are now being translated.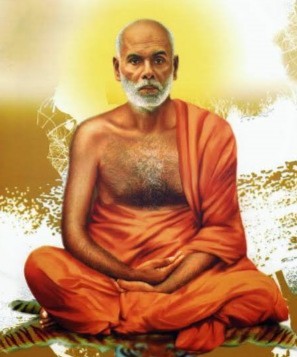 When the Vice President of India has virtually launched "Not Many, But One", an English translation of poems of Sree Narayana Gurudev, we thought to bring before you, the story of a "much ahead of his times" legend, a social reformer, philosopher, the revolutionary who reformed the oppressive caste system, Sree Narayana Guru.
The Background:
Narayana Guru was born on 20th August 1856 in the Ezhava caste which was considered as 'avarna' during those times, in the village of Chempazhanthy near Thiruvananthapuram, in the erstwhile state of Travancore, in British India. His father, Madan Asan was a teacher and was also proficient in Sanskrit, Astrology and Ayurveda. His mother is Kuttiyamma. Narayana Guru obtained his early education from the gurukula under Chempazhanthi Mootha Pillai. After his initial education under Guru Pillai, he went to central Travancore to tutelage under Raman Pillai Asan, a Sanskrit scholar. As his disciple, Narayana Guru learnt Vedas, Upanishads, literature and the logical rhetoric of Sanskrit. His father's illness brought him back to his village in 1881 He returned to his village in 1881 where he started a village school and came to be called Nanu Asan. Ever since his childhood, Nanu showed deep interest in the stories narrated to him by his father from the ancient Indian epics. Even at a tender age, caste discrimination annoyed Narayana Guru and he also often criticized his own relatives on the same note. Even after establishing the village school, Nanu did not leave behind is quest for knowing the ultimate truth. He spent most of his time in temples, wrote poetry and hymns. He gave lectures on philosophy and moral values to the villagers. In 1882, he married Kaliamma. However, he felt that his life was destined for a bigger cause and he disassociated himself from the family bonds to dedicate his life to the society. Post his father's death, this teacher became a spiritual wanderer, the Parivrajaka.
The Spiritual Journey That Shaped His Personality:
Nanu met Kunjan Pillai a.k.a. Chattampi Swamikal who introduced him to Thycattu Ayyaavu, a 'Hatha yogi'. Under his mentorship, Nanu mastered various yoga practices along with Hatha Yoga. All these learnings helped Narayana Guru in emerging as the most influential and impactful personality later in his life. Later, for eight long years, Nanu spent a secluded life in Maruthwamala by establishing a hermitage there, immersing himself in meditation and yoga. This period of austere life helped him attain the phase of enlightenment.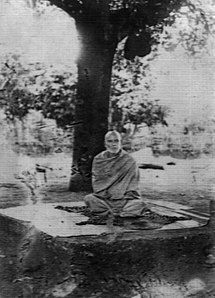 "My Shiva Is Not A Brahmin Shiva":
After attaining enlightenment, Nanu continued his spiritual wanderings when he happened to reach the Aruvippuram forest. He settled in the nature's lap there and people started visiting him to gain spiritual awakening. Nanu, who felt the need to construct a temple for the regular worship of Lord Shiva, built a small canopy out coconut and mango leaves and later installed a Shiva Linga in it. He was questioned of the right he has to install the idol to which Narayana Guru replied saying that the idol he had consecrated was not a Brahmin Shiva. This is a revolution as this temple was constructed going against the caste-based restrictions of the time. In 1904, he settled at Sivagiri at Varkala where he started a Sanskrit school and gave free education to the poor and orphans irrespective of their caste. He also built temples in Thrissur, Kannur, Anchuthengu, Tellicherry, Calicut, and Mangalore. In 1912, he built the Sharada Devi temple at Sivagiri. In a temple that he constructed at Kalavancode, he consecrated mirrors in the place of idols giving a message that the divine is within each individual. In 1913, he founded the Advaita Ashram at Aluva upon the principle of "Om Sahodaryam Sarvatra" which means all men are equal in the eyes of God or Universal Brotherhood – this thought process of his, was much ahead of his times. He visited Srilanka many times between 1918 and 1923 and was drawn towards the Buddhist principles and practises. In 1921, a Conference of Universal Brotherhood was held at Aluva and in 1924, another conference of all religions was held, where Guru stressed the requirement for a Brahma Vidyalaya for a comparative study of different religious faiths. He taught equality and also stated that the inequalities should not be exploited to carry out conversions generating dissension in the society. He propounded Advaita Vedanta, the principle of non-duality put forth by Adi Shankara. He wrote books such as Advaita Deepika, Asrama, Thevarappathinkangal, etc. Nanu raised his voice and contributed his efforts for the Universal Temple Entry movement and he was against the social ills like the discrimination of the untouchables. Narayana Guru propelled the Vaikom agitation that aimed at temple entry for the lower castes in Travancore which drew nationwide attention. He also emphasized the importance of practices like cleanliness, vitality of education, trade, handicrafts, agriculture and technical training. His Adyaropa Darsanam explains the concept of "creation of universe".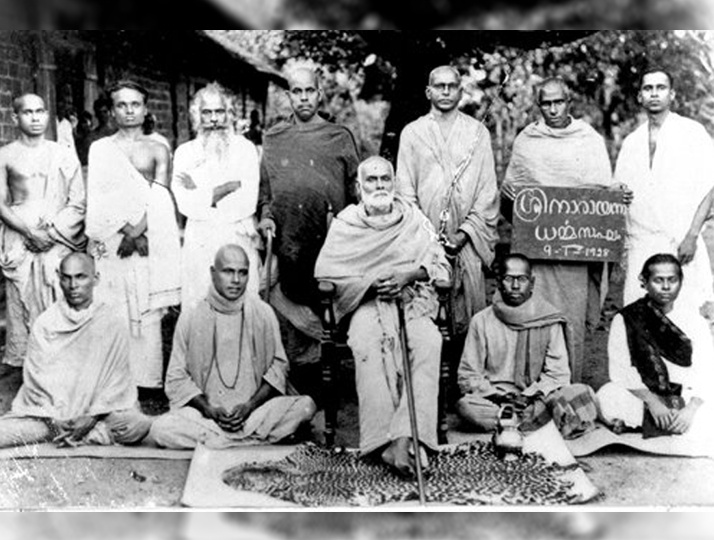 A Widely Respected And Honoured Personality:
When Rabindranath Tagore said, "I have never come across one who is spiritually greater than Swami Narayana Guru or a person who is at par with him in spiritual attainment", or when Mahatma Gandhi said. "it was a great privilege in his life to have the darshan of an esteemed sage like Sree Narayana Guru.", it is no exaggeration. He was commemorated on an Indian postage stamp of 15nP denomination and on a Srilankan postage stamp issued on 4th September,2009. On the occasion of his 150th birth anniversary, the Reserve Bank of India released commemorative coins worth Rs.5 and Rs.100. While his statues are found in several places of Kerala, the first of those was erected at the Jagannath Temple, Thalassery in 1927. His birth and death dates are observed as public holidays by the Kerala government every year. He breathed his last on 21st September, 1928 which is observed as Sree Narayana Guru Samadhi in Kerala.
In view of this day of his Maha Samadhi, let's bow our heads to the greatness of his personality and let's pledge to walk in the path shown by him. That's the real tribute we can pay to Sree Narayana Gurudev.