Where are all the sparrows gone? This man is in a mighty hurry to save before it's too late.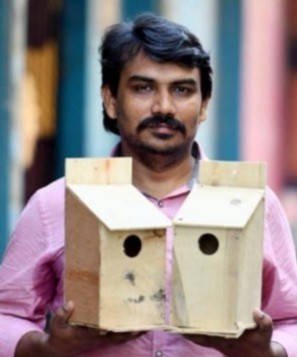 Little creatures that chirp and move around in the air, which greet us every morning with their twittering and those that innocently peck on "kolam" or rangoli that's made on the entrance of the Indian houses with rice flour - I hope you must have recognised what I'm talking about. The pretty little sparrows. If you can say immediately that they are sparrows, then you should also be able to understand that the next generation shall not be able to. Where are they? Are they flying in the air? Are they living in the nests? Are they breeding on the branches of trees? Or are they fluttering on the terrace of your house? They are seen nowhere these days and are being lost. "I grew up hearing stories from her father about how there would be hundreds of sparrows chirping on our terrace before I was born. However, these were only stories, for I had never seen more than two sparrows at once.", said Varshini KC, a student of Class VII from Sri Sankaralinga Nadar Higher Secondary School.
In view of this, a Chennai based professor jumped into action. He set on a mission to save spaces for sparrows and is helping them live and multiply in number. For his activities, he is popularly known as Kuruvi (sparrow) Ganesan. Interesting. Isn't it?
Living In Harmony Right From Childhood:
Ganesan D was born and raised in a remote village of Krishnagiri district in a family of farmers. His parents, who were into farming, always treated nature and animals the way they did treat humans. Ever since childhood, Ganesan grew up in an atmosphere that lived in harmony with nature. So, care and love for all the creatures came to him naturally. He delivers his duties as a Professor at SRM Institute of Technology, Chennai.
A Life-Changing Moment:
It was 2014 when Ganesan was pursuing his post-graduation. T. Murugavel, one of his professors got into the classroom, the concept of a nest box. He showed the class a nest box and explained them how important it is for sparrows. Ganesan was so involved in his lecture and through it, he understood how sparrows are becoming extinct and realised the urgent need to conserve them. The talk of his professor that day inspired him to take up as his responsibility, the task of spreading awareness about sparrow conservation. "He explained that the box was important because sparrows were dependent on it for safe spaces to breed. He went on to talk more about the bird and how important it was to conserve it," says Ganesan to a web release. Thus, Ganesan who worked as a full-time professor in Chennai laid foundations to Koodugal Trust in the year 2017 and is working relentlessly in all ways towards creating nesting spaces for sparrows as their population is decreasing over the years. The main aim of this mission is simple. Sparrows, that were once seen abundantly, have been losing their existence owing to modernisation. With the introduction of modern homes, office buildings, network and communication towers, the tree cover is completely lost leading to the loss of habitat for sparrows. Sparrows always feel safe among the congested spaces and nature which is lost due to urbanization. Ganesan's trust was thus launched in order to create safe nesting places for sparrows across the city.
Ganesan's Initiatives:
Ganesan initially bought a few nest boxes that costed around Rs.100 each. He went door-to-door in Royapuram and would convince the residents to place the nest boxes on their terrace. While a few agreed to place them and monitor, many others thought it would be a waste of time and didn't agree. Ganesan distributed close to 10 nest boxes to neighbours. He then thought that approaching delivery boys and grocery shops would be easy as they would meet and interact with a wider range of people everyday. Marketing nests could thus become easier and better - he thought. To his disappointment, though he thought that people would enquire about the nest boxes when they are placed at grocery stores, no one showed excitement or interest. This lead to nothing but piling up of the boxes. Ganesan also found that it is becoming an expensive affair for him.
Building The Nest Boxes:
Ganesan started to make the nest boxes all by himself. He used wooden planks and built thousands of nest boxes. He collected raw materials like wooden planks, nails, hammer etc., and along with his wife, he made 500 bird nest boxes in just one month. Ganesan thought of another idea and wanted to include school students in the project.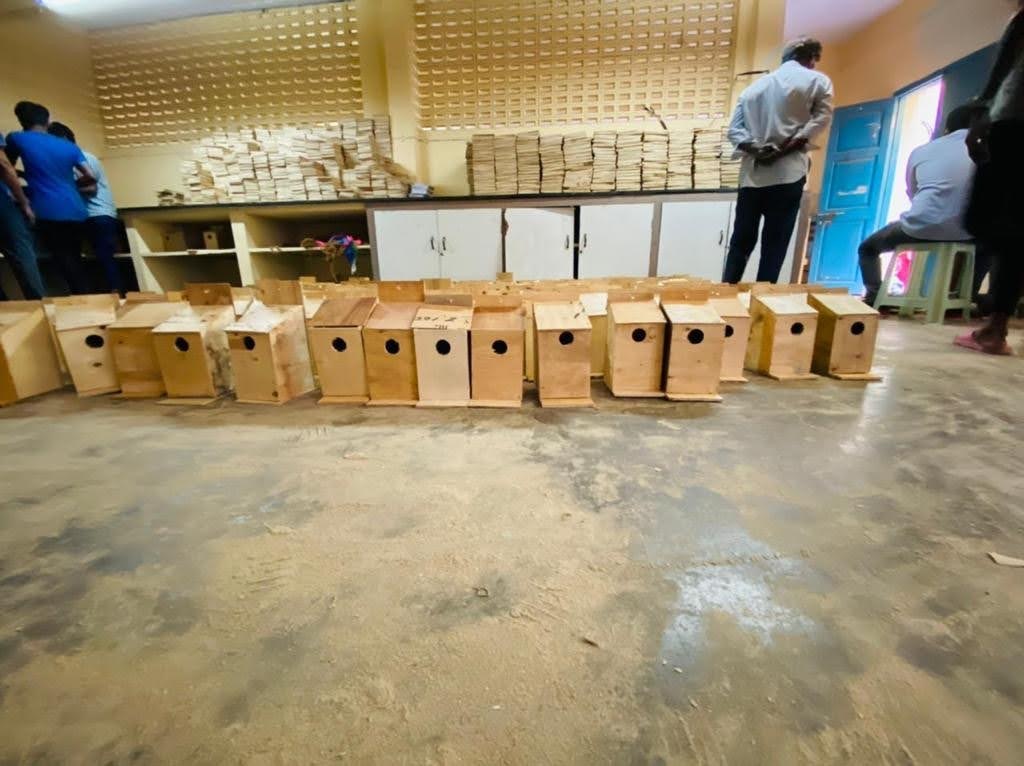 He visited Dhanalakshmi Higher Secondary school in Royapuram, North Chennai, took the principal's permission, and spoke to the students about this initiative. He spoke about how urbanisation is grabbing the sparrows of their homes. A few students showed interest and Ganesan taught them how to make nest boxes. He would cut the wood and children used to make the boxes using nails and hammer taking utmost care. With the help of 30 volunteers, they made 10 boxes in one day. Once thousand pieces were ready, students distributed them in their localities. Boom! This step worked well! It brought to the notice of people living in North Chennai, the urgent need to conserve sparrows. Slowly, people started using them and sparrows would visit these boxes. They built nests and took shelter until their hatchlings got their wings strong enough to fly. Several people across the city who learnt about sparrow conservation started reaching out to Ganesan and placed orders for the sparrow nest boxes. Ganesan wanted to move further more and decided to create safe spaces for sparrows away from the residential areas. Thus in the year 2020, he chose four schools in North Chennai which were loaded with green cover and installed around 250 nest boxes. The student volunteers of these schools would keep track of activities in these nest boxes. However, with the rise in pandemic, the schools were shut and the students couldn't track the movement of the birds. This, Ganesan says, also was positive aspect to the birds. "Without any human movement, the birds had the freedom to explore the space, take shelter and multiply. We noticed this after one month, when the lockdown was lifted. Though we do not have an exact count of how many birds hatched, we noticed 70% of the boxes were occupied including the 1,000 boxes installed earlier. We could not check on the rest 30% because most schools remain closed and the authorities didn't cooperate with us," says Ganesan to a release. "Before the lockdown was announced, Ganesan sir distributed birdhouses to students who were willing to place them at their homes and monitor them regularly. With help from my parents, we suspended it from the balcony and waited. Within a few days, two sparrows visited the space. They spent one full day ensuring it was a safe environment and then started nesting. Within one month, the birds laid two eggs which also hatched. My parents and I spent the entire lockdown clicking pictures of the nest and watching the birds.", cheerfully said Varshini KC, a student of Class VII.
Kudos to the man who thought of little living life and has so far created 1250 nest boxes across the schools and residences in North Chennai out of which 950 were occupied by the birds. Ganesan aims to distribute 10,000 nest houses across other parts of Chennai by 20th March, 2022 - The World Sparrow Day, thus contributing to increase the population of sparrows in the city. Shout out to the sparrow man and his soldiers who collectively created two sparrow sancturies across North Chennai. May initiatives like this spread like wildfire and may many more people come to the rescue of nature and learn to coexist with the creatures that share the planet with them.