I learnt to use LOL chuckles the Principal turned student. A PhD doc at 61 yrs.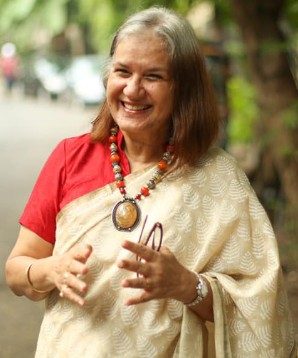 Student life is the most beautiful life ever. Students who stay on the university campus and study are the ones who can experience the best of being a student. Eat-outs at the mess, gymming, going to the library, pedalling in the campus, sitting under the trees and chitchatting with friends, group studies at night, Maggi breaks, and mini-projects, Uff! The list goes on. Who wouldn't love to go to college and enjoy every productive moment of it? Especially when you are a studious soul and have the thirst for climbing up the ladder of education, then the classroom becomes your home. Here is the story of a girl, Nah! a lady, Nah! a woman, Nah! - the story of an education enthusiast, Yes! A dynamic 61-year-old doctorate who stepped into the college at the age of 54. Let's peep into the exciting world of Rajani Tanna and know more about her.
Work, Work, And No Books:
When Rajani Tanna was 18 years old, she lost her father post which she had to take a job and shoulder the responsibility of her family. So her wish of pursuing higher education slipped into a dream. She somehow managed to complete her pursuing class and at the age of 26, got married to Jagdish, a Merchant Navy Officer. As her husband's job demands him to sail quite often, she was left with the sole responsibility of the house and children. Her day's schedules wavered swiftly to cater to her job and tending to the kids. Years passed in life's race and her kids left to work abroad. Though she was working as a Principal at a school, she felt that she was missing out on something. She looked for what she wanted but could find nothing. Upon deep introspection, she realised that she wants to pursue further studies and the thought made her restless. She discussed this with her husband who said, "Go for it!'' She was 54 years old then. But college called her.
Principal Became A Student:
A Principal aged 54 entered into a classroom as one of the students, the remaining of which were more than two decades younger than her. She learnt and learnt every day, something new came her way and taught her something exciting. "They even taught me how to use 'LOL'– I find the word so hilarious I actually LOL", she chuckles. For her final examinations, she was asked to make a PPT that she hadn't ever done before. Her husband Jagdish came to her help, both of them sat the whole night preparing the presentation and could finally make the best one.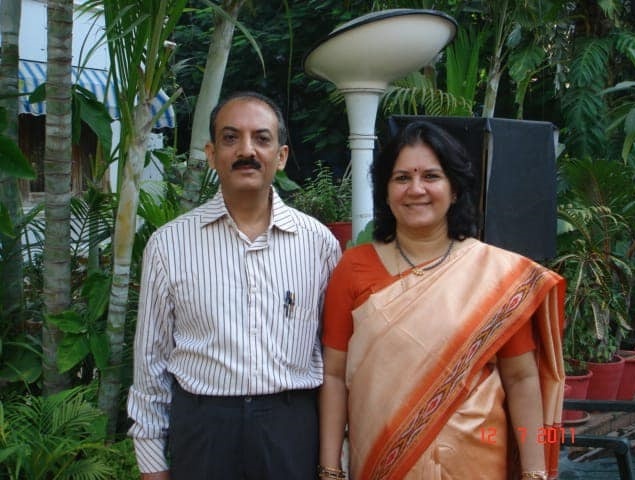 Past Came Into Present:
The day came when Rajani stunned everyone with her eloquent presentation. She received great appreciation from everyone but her husband. He couldn't see her outperform everyone. Jagdish breathed his last just a week before Rajani's final presentation. What a destiny! Decades ago, Rajani lost her father just before her BA final examinations and eight later before her Master's finals, lost her husband. The earth beneath her sank and she felt as if she was standing where she was 37 years ago. Her classmates and colleagues stood as strong pillars of support during that time. Her batchmates shared notes with her and made timetables for her.
"My classmates yanked me out of it– from sharing notes to chalking out a timetable, they pulled me through. Even my colleagues extended my study leave.", says Rajani with gratitude. "I missed Jagdish deeply– I wish he could have been there to see me finish what we'd started together… because getting that Masters degree felt liberating!", said Rajani.
Rajani didn't want to stop there. She wanted to go further and get a PhD in Education. "I knew he would have pushed me to do more, and I myself was hungry to study more, so I decided to pursue my PhD in Education!", says Rajani.
Experiencing The Joy Of Being A Student:
Rajani completely immersed herself in experiencing student life. She started living at a hostel in Jaipur. All the campus life stories she heard from her students, she started to experience herself. Be it the tea breaks or the mess food, she lived every moment.
"Mess ka khana, chai breaks at the tapri, 2 AM Maggi– I was living the stories I'd heard about from my students!", she says.
She wrote her thesis with immense dedication and honesty. All that she endured right from sleepless nights to swollen wrists, paid off when she saw the title, "Dr." in front of her name. She became "Dr Rajani Tanna" at 61.
"At 61, I had completed my PhD! I came home that day to a nameplate which read– Dr Rajani Tanna! And then I celebrated with friends with some ice cream– kya kare, Dil toh bacha hain Ji!", laughs out Dr Rajani.
When you dream big and if your dreams are stopped because of unavoidable circumstances, then that's not an end in itself. It's just a pause. You can still continue designing your dream life when things dance in your court. All you need is to preserve that dream safely within you so you don't lose it for the wrong reason. Have patience and when your way clears out, start walking your dream!! This is exactly what Dr Rajani's story tells us. Endurance is all that matters! You taught us a valuable lesson - 18 or 61, you can still do what you want to.

Follow Her Work