Polio-stricken Anganwadi worker who educated herself and hundreds of others is awarded with a presidential medal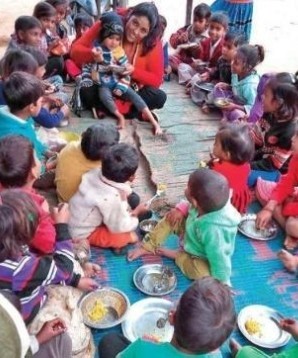 We shall celebrate the life of an Anganwadi worker today. While there are so many Anganwadi workers across India, Janki Chand is special for a reason. She spent all her childhood on four limbs and is now helping impoverished children stand on their two feet. To get rid of this vague information and to know in detail about this powerful lady, let's get into her story.
Four Limbs Couldn't Take Her To School:
34-year-old Janki Chand hails from Uttarakhand. Her feet were stricken with polio at the age of two and she had to move on her four limbs until the age of 13 which is when a stick helped her to stand upright. 13 years of bent life stood upright giving her a chance to walk and go to school. Yes! Janki went to school only after she managed to walk but her late joining into education didn't affect her much because of her sheer grit and determination. She worked immensely hard to be on par with other children. Her mother and sister helped her greatly with her studies. Her father who is a drunkard left the family when Janki was 10. She lived with her mother and four siblings. Janki went along with her mother to work in the fields, then did odd jobs in households, and eventually went on to take tuitions to support her family. Janki completed her graduation in 2006 and secured a job in Banbasa as an Anganwadi worker. Later she finished her Post Graduation with History, Sociology, and Social work as her main subjects.
A Boon to Banbasa:
Janki started to work in an area called "Banbasa Basti Meena Bazar" in 2006. This area houses 3,500 people and Janki became their angel. She noticed that there are many underprivileged children who are deprived of quality education as they cannot afford private school fees. They wasted their valuable time in useless activities which moved Janki. She took about a year to take a closer look at the situation and comprehend it. Janki further decided to make sure that no child is deprived of their right to education and thus initiated to teach the underprivileged children. She also spoke to the youth and motivated them to centre their focus on doing something productive.
A little support can change lives if provided at the right time. I cannot remain neutral and go on with my life seeing others around me suffer and struggle, quotes Janki.
Janki was involved in the country's census work and for her exemplary and meticulous work; she received the prestigious President's Medal in 2011. Janki Chand is also the proud recipient of the Tilu Rauteli Award from the Uttarakhand government.
The Voice of Changed Lives:
There are hundreds of children who have benefitted by Janki and the life of each one of them is the gift of Janki. A boy named Aman Kumar who was supported by her is currently the president of the students' union in the local government college. "Janki-didi has transformed our lives. We can't imagine our fate without her.", Says Aman. Another college student Kumari Shivani who is supported by Janki says that she along with everyone in her locality understood the importance of education only because of Chand. "We all want to chase our dreams for a better life", said Shivani.
Settled Lives:
That family which struggled for years to survive during Janki's childhood has now firmly stood facing all the storms. Janki's four siblings are settled in their lives with her younger sister serving in the state police department and her brother serving the nation in the Indian Army.
"I am happy this way. I feel I have a duty towards those who are in need of help," says the angel of Banbasa.
She knows that education makes lives better. She knows that spending time with useless activities gives nothing but a futile life. Thus she encouraged the children and the youth towards living a productive life. She is a teacher, a guru indeed who showed the path towards enlightenment through education to the people of Banbasa.