Police Constable uses his savings, avails a loan of Rs 13 lakh to fulfil his mission of planting 1 lakh Trees in 7 years.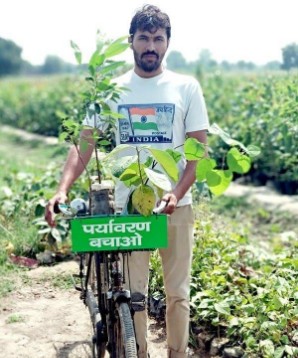 This is the story of a Police Constable and his dedicated team who planted over one lakh trees in seven years, as "His Duty towards Nature."
Just as the saying goes "home is where the heart is", there is another quote which says "Look deep into nature, and then you will understand everything better."
We, humans, have been abusing the environment for years now and we are finally paying the price for this. Pollution is the most talked about topic today.
Tree-Man living his dream.
Mr. Devender Sura, who works as a police constable in Sonepat in Haryana, has come forward to live his dream and is working towards a change into initiating greenery. He is implementing and has put all of his efforts to transform his village into "a Green Glory." Devender Sura is commonly known as the "Tree-man" of Haryana's Sonepat. It is hard to believe that Devender Sura has been planting trees for the last seven years in his place as well as in the surrounding other districts. His contribution towards the society only aims to make these places greener, healthier, and safer to live in.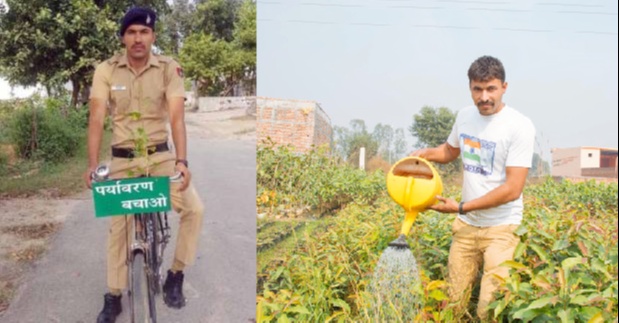 Inspired by?
During his posting in Chandigarh in 2011 when he was 30, he was mesmerized by the beauty of Chandigarh and was inspired to follow in the footsteps of the French "Corbusier" who had planted ONE type of tree on one road. He felt its no rocket science but simply initiate the concept and started.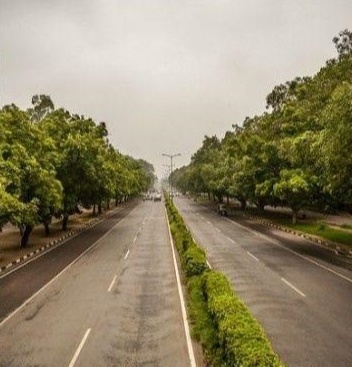 Where there is a WILL there is a WAY.
Devender believed that " First it is the Will to Do, then its Making time. Rightly so, had the WILL and since he had a 24-hour shift and a 48-hour break; made TIME to pay attention to his Plantation drive.
He put aside a bit from his salary and picked up a few plants from a nearby nursery and later found it cheaper to buy in bulk from the local farmers. Started planting in the police colony of Jhagsi Village of Sonepet.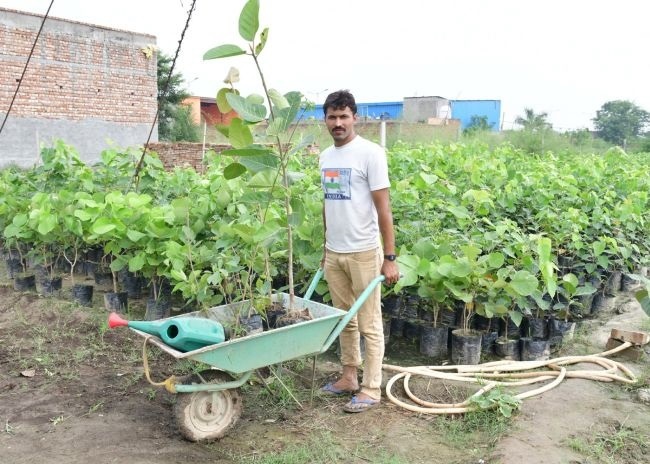 Funds for the Initiative:
Although his family was not supportive of this initiative, Devender earned Rs.51,000, of which he saved most of it for his plantation drive. His father who works as a security guard in State Bank Of India in Delhi takes care of the family with his salary and the army pension.
"Initially, his family was against it as he was not spending any time and extending any monetary help, but he explained that he will continue to do it for the rest of his life as it gives him great happiness, satisfaction and wants to leave a cleaner environment for the future generation. Today he proudly says "His family understood what great service he was into and decided to now extend help and join him"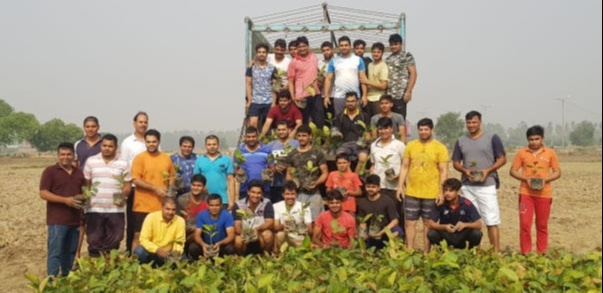 Devender claims to have spent over Rupees 28 lakhs to 30 lakhs in the last seven years on his entire Abhiyan campaign. He states that he does not have any qualms as he dedicates a significant amount of his monthly salary towards this initiative proactively.
Since his wish is to expand further he has been trying to raise funds through crowdfunding.
Expansion Plans.
Expanding to other villages was the need of the hour. Due to the rising costs of buying plants, he boldly took a loan of Rs 13 lakhs, picked up a 2-acre plot on lease and started his own nursery. He lived with some farmers and learnt the trick of growing saplings. Additionally, he had to deal with the challenges of getting water and manure resources and also security for the nursery. He further had to buy a bullock cart for transport.
The plants and trees that he grew in his nursery were Pilkhan, Neem, Babul, Sisam, and Peepal. "Pilkhan" particularly grows very fast. Once the saplings are big enough the volunteers then take them to the different schools, colleges, work-places, and other areas to be planted. His Birthday initiative is well received and gets at least a couple of requests daily.
Beyond expectations.
His self-driven and self-funded initiative in the year 2012 and later a "Plantation Drive" called the "Pariyavaran Bachao Abhiyan" (Save Environment Abhiyan) which aims towards building a Green village, was called in and his Green Crusade expanded further and reached out to over 152 village panchayats, and today, a network which consists of approximately 2,000 dedicated and passionate volunteers across Haryana.
What does the future hold?
Its time we took notice of the destruction around. Just as the mother nurtures her child, so does Mother Nature. If there are trees in the villages, the rains will automatically happen, fresh air plenty, birds and animals are attracted and eventually a better place to live in. He says "Its just not a passion but a duty towards Mother Nature". Each individual must feel the need and take initiative to have a few plants even if it means in their drawing rooms.
He concludes: LIVE in the Real World instead of the Virtual one. We have only ONE Earth and let's protect it.