You throw plastic while I am happy to clear is this man's story.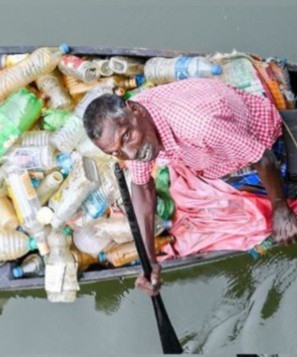 "I have seen one more news from Kerala which reminds us of our responsibilities. There is a Divyang elderly person in Kerala's Kottayam, NS Rajappan. He is unable to walk due to paralysis. But his commitment towards cleanliness has not faded."
If you follow Prime Minister's "Mann ki Baat" you would have come across his words praising a man from Kerala who is clearing one of its lakes from plastic bottles for not one or two but several years now.
Physically Challenged Man Challenging The Plastic Waste:
NS Rajappan is a resident of Manjanikkara in Kerala's Kottayam district. He is 69 years old and cannot walk as he is paralysed below his knees. He lives all alone in a house that's partially destroyed. Though the house was in a better condition earlier, floods that hit the state two years ago ruined a major part of it.
"During the time of the floods, I was living in a big boat here," Rajappan recalls. Rajappan suffered poliomyelitis at a very young age that paralysed his legs. His health never was on his side to do regular or daily wage work. But Rajappan never sat idle but did small jobs that suited him.
The Plastic Collector:
Rajappan, who says that rowing a boat is easier for him as compared to walking on the road, chose to collect plastic bottles thrown in the waters as his livelihood. But wait! He didn't consider this just as a means of his living because he would hardly get anything out of it. There's a bigger cause behind this - to clean the water body of the plastic waste. Rajappan rows the boat with his arms and goes across the Vembanad lake and other streams in Kumarakom in the Kottayam district. He hires a small country boat early in the morning, sail across the waters with the help of his stick or oar collecting plastic bottles that people dump in waters. Rajappan says that he won't be making much money out of this as the boat full of plastic bottles would be less than one kilogram. He says that as someone must do this, why not him? "I won't get much from this. A boat full of plastic bottles will be less than one kg. For a kilogram, I just get Rs 12.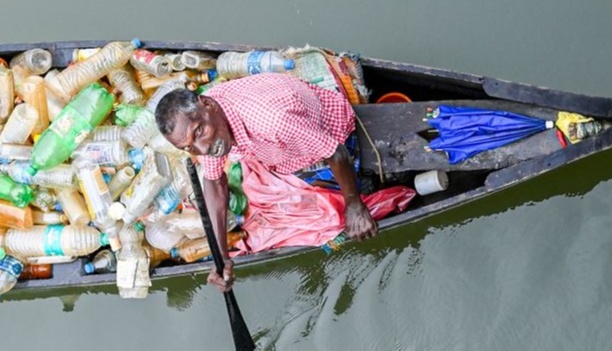 But somebody should remove the waste from the water. I have been living around these waters my entire life. I am doing what is possible for me," Rajappan says. He collects the plastic bottles, cleans and dries them up, later organising them into sacks. "Maybe after two or three months a local agency that collects the plastic would come and take them and pay me," he explains. For over half a decade now, Rajappan has been rowing in and across the Vembanad lake but the on-lookers thought that he is fishing. It is only when a photographer Nandu KS from Kottayam posted a video of his work on YouTube that people came to know what Rajappan's boating routine is all about.
Bigger Boat, More Plastic:
NS Rajappan says that he wants to get a bigger boat of his own so that he can collect and clear more plastic from the lake. He can spend more time on the lake collecting more discarded bottles thereby cleaning the lake more effectively.
Let He Not Get Plastic, He Is More Than Happy:
The COVID-19 lockdown stopped the flow of tourists and visitors to various places. Likewise, the number of people visiting the lakes and water bodies reduced significantly, thereby reducing the amount of plastic waste thrown in the waters. That means Rajappan's already low income went to zero. But this 69-year-old is happy about that. He says that the waters are clean. "Earlier, I used to get a lot of plastic. But these days it's very less. It is good. But my livelihood is in trouble. However, somebody will help," he expresses hope. Prime Minister Narendra Modi praised the efforts of this selfless man in his Mann ki Baat and said that his work reminds us of our responsibilities.
When his livelihood depends on the amount of plastic that floats on waters, he still celebrates when it is reduced. Love for the environment is what made Rajappan the talk of the nation.