PETS served and treated like KINGS at this Gujarati PEFETARIA.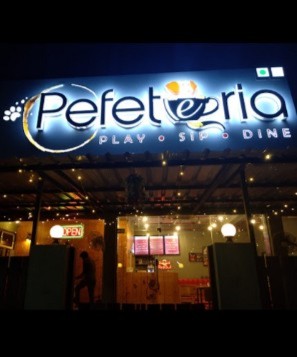 Do you have a pet? Then this is surely for you. Imagine there is a place where you can hang out with your pet, eat together and spend some quality time together. And what if that place prioritizes your pet before you? WOW! Isn't it? Yes, there have been pet-friendly spaces emerging in Indian scenario as well these days, but this one is undeniably special. When you want to hang out with family in a restaurant over the weekend, needless to say, you don't want to leave your pet at home. But, having said that the eat-houses you choose to go, do not allow the pets citing various reasons, you forcefully leave her home. But, at the restaurant, you will surely miss 'one of your family members' taking the chair next to you. A restaurant in Gujarat has come like a respite to all those who go through the same pain. Thanks to Himanshu Vithlani, whose 'Pefeteria' welcomes pets and treats them like 'kings'.
Himanshu, the man who never had a pet, thought of pets and their owners surprisingly. People say that we understand something better only if we experience it. But Himanshu hadn't ever had the pain of leaving his pet alone while hanging out because he never had one. Then how could he think of this concept?
Himanshu Vithlani hails from Vadodara, Gujarat. His parents are government employees but Himanshu always wanted to take up a private job or thought of starting his own business. He joined B.C.A. in Vadodara but later took up B.Com. in Ahmedabad. He always had the zeal to do something unique and big in life. After his education, when Himanshu was planning to start something afresh, his brother-in-law gave him a marvelous idea. He spoke about how pet owners feel bad for not being able to hang out with their pets owing to the notions that society has about pets. Pets are 'not allowed' as they are 'unhygienic'. This caught the pulse of Himanshu and he began to work in that direction.
The Man Who Doesn't Know How To Prepare Tea, Started A Café:
Well, after thorough research, Himanshu understood that there are hardly any pet-friendly societies. There are so many pre-conceived thoughts that pets are unhygienic and bringing them along, to the table is unhealthy. Almost every eatery rejects their entry at the door. Painful! However, when there are countless people who treat their pets as family, why is still there a gap? Himanshu thus decided to start 'Pefeteria', a pet-friendly space where pets receive the respect they deserve.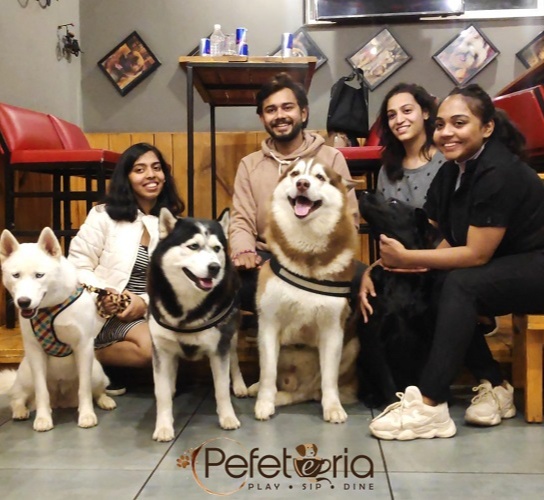 Himanshu's father who supported his idea, invested in his venture. Though he has done his bit of research, Himanshu was still an infant when it comes to the concept of running a café. He had to start from the scratch as there are not many successful ventures of similar sort, to look up to. He also had another challenge in finding the right place in a big city like Vadodara that is safe for pets. He crossed every hurdle one at a time. He managed to find a place away from the hustle-bustle of the main road, but still situated in the prime location. "We are lucky that we found a nice place in a prime location like Alkapuri which is not just a prime location but is also on the inside", said Himanshu. Eventually, as he started to settle things, he managed to curate menu cards both for people and pets. It all started with just one staff member but now has seven – all of them well trained. Himanshu has also learnt cooking from his chef and makes quality food. "Pets First" is the slogan that the café runs on. Even if the customer gets his food late, it's ok, says Himanshu, but pets are not kept waiting. "Customers are the gods for other businesses, for us, the real gods are pets", says Himanshu. He also talks about the myth that society has. "Pets are dirty and unhygienic" and the motto of Pefeteria is to burst it. He also says that way before lockdown was announced, using sanitizers and other precautions was a norm at his café. "We at Pefeteria take hygiene very seriously", he said. Himanshu did nit risk the health of anyone associated with running the café during the pandemic and kept it shut all long. The same seriousness, he says, is displayed every moment in all the aspects of the café's operation.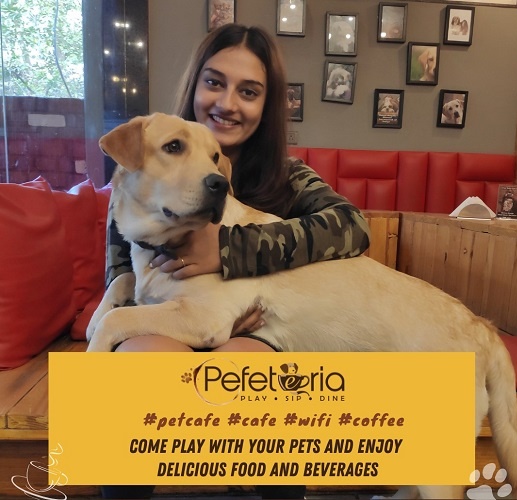 Success So Far And Plans For The Days Ahead:
Himanshu says that the business has been witnessing a growing growth curve so far. "I had repaid my father's investment within 6 months of starting the business. My idea is my USP", he said. Himanshu, who is also involved in social activities like feeding pets and providing shelter to them, is planning to grow his own franchise. "It not only helps in creating our brand but also helps in the welfare of more and more pets", he said. To all the aspiring entrepreneurs, he just has to say one thing, "Don't quit".
Congratulations to Himanshu who could very well establish a successful venture basing it on a unique formula. His story drives others to think different. It also motivates those who find it risky to take risk. "Sweat is sweeter at the end".

Follow His Work