Finnish artist exhibits a spectacular Origami piece made out of a single paper. It could be the best so far.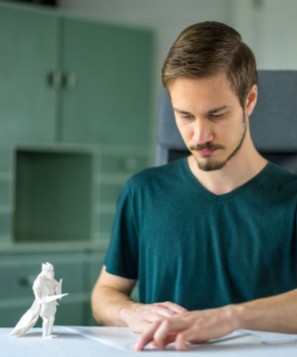 How many times is that we folded papers in order to make ships, purses, and fans since childhood? We made flowers, crafted pen stands, and many more such small pieces out of paper. Origami originally a Japanese word that means to fold paper - oru (to fold) and kami (paper), has been attracting many people these days. But today, this story brings before you, the specialist in origami who made sensational pieces with paper to date. His recent sensation is the model of a samurai. Juho Könkkölä, a Finnish artist spent good time and efforts in carving a splendid and detailed model of a warrior that netizens are admiring immensely.
Finely Crafted Samurai :
When Juho revealed to the world his latest piece of samurai made out of a single piece of paper, he did nothing less than leaving everyone in awe. He started off with a 95cm x 95cm sheet of Wenzhou paper. He nearly spent around three months planning and folding the intricate samurai sculpture with all its minute creases and folds. He kept all the other projects on hold to finish this samurai and finally released it to astonish the world with his mastery.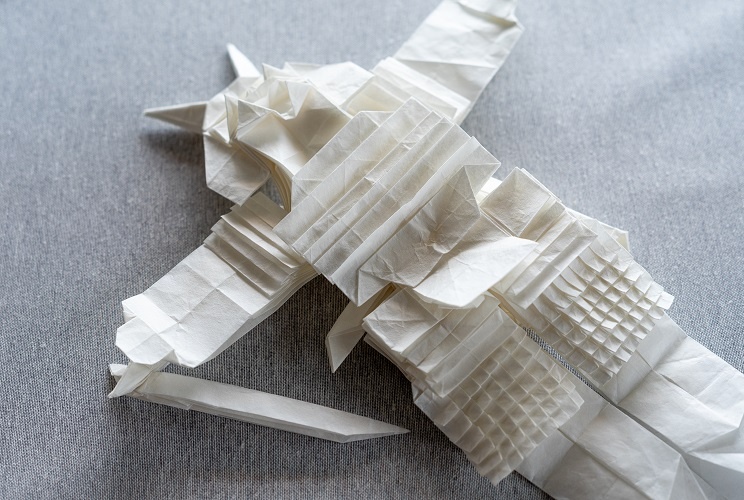 The Crafting:
In his origami, a warrior is seen brandishing a sword in hand. Every minute detail such as the folds in the dress, fine detailing in the armour was so beautifully taken care of that it seems like a real aggressive samurai ready to set foot on the battlefield. Every piece that the samurai wears like the traditional armour, sharp, pointed helmet and the thigh armour which is scaly is intricately and precisely folded. He used clips, water, a brush, a hairdryer to carefully shape the body. He completed the model without cutting or piercing the paper.
"My first work of 2021, probably one of the most detailed designs from me so far. It took a long 3-month process to design and fold the character, I decided to put some of the other projects on hold to finish it. There were a lot of challenges to make it work, but I am satisfied with the results''., his post description read. He posted a video showing various steps in completing another samurai origami. This step-by-step process video is inspiring many and netizens are admiring the work to a greater extent. In the description he wrote, ''50-hour process of folding an origami samurai from a single square sheet of paper. No cutting or ripping used in the process."
Netizens Hot Favourite:
As soon as his work is shared, his post received thousands of likes and comments. 'I'm in love with this design,' a user wrote. 'Best origami for 2021'. 'This is incredible! I admire your skill and patience,' 'Phenomenal, 'You're an artist with an incredibly rare gift. This is straight-up beautiful' were just a few praises among thousands.
When artists are born, art is born. When their art is displayed, art lovers are reborn multiple times.

Follow His Work