Girls relieve yourselves anywhere with PeeBuddy. Sounds weird?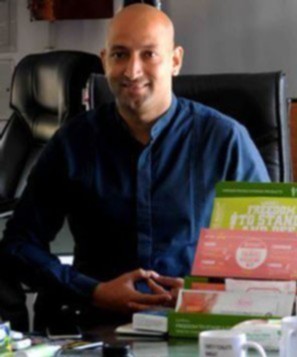 "I appreciate that the industry is actively adapting to the stigma-free dialogue that drives today's youth. It is great to be a part of a revolutionary movement, where the topic of period blood is not hushed anymore. In the long run, Sirona envisions redefining femininity for the modern times and making way for a more enabling environment for women", says Deep Bajaj. Who or what is Sirona? When this man is talking about period blood, redefining feminity, what is he all up to? Let's get into the path-breaking story of Deep Bajaj, an award-winning entrepreneur who founded a Delhi-based feminine hygiene startup, Sirona Hygiene Private Limited that is trying to provide ease to women's otherwise un-cosy moments in their lives.
A Solid Academic And Professional Journey:
Deep Bajaj graduated in Commerce from Delhi University and acquired his Post Graduation in Marketing from the Australian National University, Canberra, Australia. Post his education, he started his professional career that spanned over 14 years. He started his career as an Insurance officer with Birla Sun Life Insurance where he served for a period of 9 months, post which he became a Partner with Protocol Services, a call centre set up for General Insurance companies. His entrepreneurial journey began with an Events and Advertising company called Thyme Advertising. In the year 2015, he founded what was then called First Step Digital Pvt Ltd which was later renamed 'Sirona Hygiene Pvt Ltd', a New-age product innovation start-up.
A Road Trip Made It All:
Though it is a known fact that women cannot attend their bio calls while travelling and that public toilets as well are not hygienic, people don't seem to care about this much. But when Deep Bajaj's family went on a road trip in 2013 with his friends and their families, he observed the struggle of his wife and her friends for a hygienic toilet. The major problem was the fear of contracting disease-causing germs on the toilet seat. This concern is exclusive to women as men usually stand and pee. In a conversation among themselves, Deep came to know from them that a urination device is available in Europe that solved the daily toilet struggle for women. "It was then that the idea of innovatively solving this daily toilet struggle for women dawned on me", Deep said. After a lot of research and trials, Deep and his partners came up with their design that enables women to stand and pee avoiding contact with the dirty toilet seat. Thus foundations were laid to Sirona Hygiene in 2015 along with Mohit Bajaj and Rahul Anand. At Sirona, Deep leads major corporate decisions and manages cross-functional operations. Sirona Hygiene Private limited produced a range of category-defining Intimate & Menstrual Hygiene products for Women. The first product that was launched under this start-up was PeeBuddy, India's First Female Urination Device. PeeBuddy is a simple and portable paper funnel that aids women to pee without any said complications. It is also recommended by the best of doctors (for use during Pregnancy/Arthritis).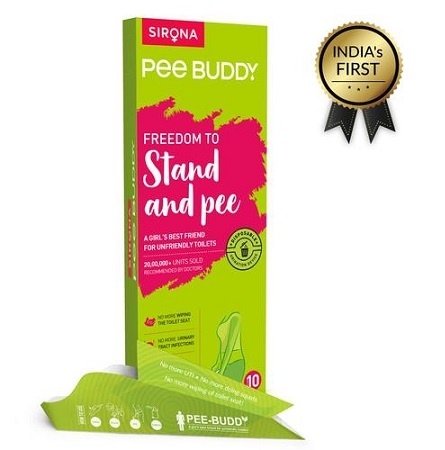 Sirona - A Woman's Buddy:
This unique startup raised funds that were invested into its get-going and has been profitable since 2019. According to the company filings with the Registrar of Companies (RoC), in FY20, it made a profit of over Rs 26.8 lakh, and in FY19, it clocked a profit of more than Rs 19.4 lakh. So far, Sirona has sold over two million units of PeeBuddy. Along with PeeBuddy, Sirona introduced ten more products that are first ever in the Indian market. They include Sirona Period Pain Relief Patches, Sirona Anti Chafing Rash cream, Disposal Bags, Coloured Biodegradable pads, Sirona Anti-Chafing Rash Cream – natural anti-chafing cream for inner thigh rashes, PeeBuddy PregRX - An HCG integrated FUD funnel for testing pregnancy at home, Sirona Ultra-Thin, and Natural Black Sanitary Pads – India's first natural coloured pads among others. Over four lakh women use Sirona Menstrual cups. Sirona also has a BodyGuard brand that manufactures N95 & N99 masks, along with everyday hygiene products like sanitisers. With the products priced from Rs 250 to Rs 500, the team delivers over one lakh orders every month. Right from the development stages, team Sirona ensures that the products are safe, both on the person and the environment, by using safe, and natural ingredients. With the huge demand for its products and the kind of reviews and love it has been getting, it can be said that the company's growth curve has been rising exponentially. In April 2021, the startup also announced that it raised $3 million as a part of its Series A funding from NB Ventures and IAN Fund.
Reaching Out To Costumers Was Initially Challenging:
As the company operated in a space that has to fight the taboo surrounding menstrual hygiene and health, Sirona Hygiene faced turbulence in the initial days. The team started to work on spreading awareness on the topic to help more women gain understanding and access to the newly introduced solutions without hesitation and doubt. Explaining how they dealt with this sensitive aspect, Deep said, "Even when they were willing, the ways to reach out to them were limited when we started. We faced a lot of resistance from the retailers against our first product – PeeBuddy. It did not have a place in the offline market, simply because of the word 'pee' on it. But eCommerce is more dynamic, welcomed us with open arms. The online channel brought us closer to our target audience. Since then, women with countless dreadful toilet experiences have been more than happy in adopting PeeBuddy,". Breaking the ice over the years, the team collaborated with healthcare experts and local NGOs and has organised period awareness campaigns and distributed free menstrual cups to women in rural areas across India, Nepal, and Malawi. According to the known reports, they could successfully educate over 10,000 women on menstrual hygiene, have 24,000,000 pads and tampons save and have provided monetary aid to 169,250,000 women.
Recognition To The Unique Venture:
Sirona Hygiene that has been revolutionizing the menstrual hygiene and health industry was honoured with several awards. The team was presented with the 'National Entrepreneurship Award' by the Ministry of Skill Development and Entrepreneurship, the Economic Times Startup of the year (Social Enterprise), Tie 'Spirit of Manufacturing', PhD Chamber of Commerce' Award for Excellence – Start-up' 2020. Sirona Hygiene also made it to the Amazon Global Accelerator Program. Just after one year of founding it, since 2016, Deep has won multiple recognitions and awards for his entrepreneurial skills. In 2020, he was named the Business World '40 under 40'. He was also named in Fortune 40 Under 40' in the year 2018 and received the Tie 'The Spirit of Manufacturing' award. He was also listed in 'ET 40 under 40' list by Economic Times in 2018. He was also declared the Winner, ET NOW 'Lufthansa Runway to Success' – Season 5 from amongst 64,000 startups. Deep's product was declared Winner, 'Wellness Product of the Year' at 'Entrepreneur' Magazine Start-up Awards in 2018. The company was listed among the Top '50 Emerging Global Companies' in the India Emerging program. It was declared Winner of '20 Most Promising Baby Health & Safety Product Companies'. Also received the Silicon India ABBY Gold Winner under Special Category for PeeBuddy 'Urine Control' video in 2018 and was the Silver winner at Indian Digital Marketing Award for Girliyapa-PeeBuddy campaign, 'To Pee or Not to Pee', listed among '100 Global Social Entrepreneurs' in SE's Inspiring Social Enablers program, listed in the100 Emerging Start-ups : India Network, was named as the 'Social Entrepreneur of The Year' 2016 by Entrepreneur Magazine and was named among the 'Top 12 Best Social Entrepreneurs' in 2016 by NDTV, The Real Deal.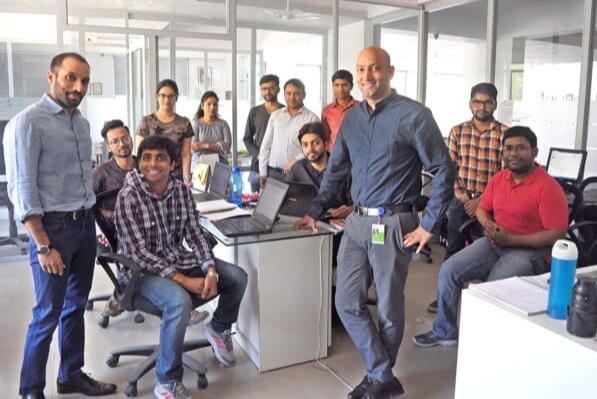 Days Of Change:
Talking about their future plans, Deep said, "Since last year, we have been working extra hard to expand preventive hygiene range tailored as per people's unique needs and will continue to work on it. In the future we are aiming to scale our operation and expand our team,"
While Sirona Hygiene was able to successfully educate and spread awareness on the topic that's feared to be spoken out about by majority of women, we wish that in the years to come, they will continue to bring about drastic change both in the mindsets and lifestyles of people. We wish that, through their initiatives and innovative products, women understand that menstrual hygiene products are not a luxury but a necessity.

Know More About Sirona

Follow His Work