Meet the life saviour from Mumbai who is supplying free oxygen to the needy.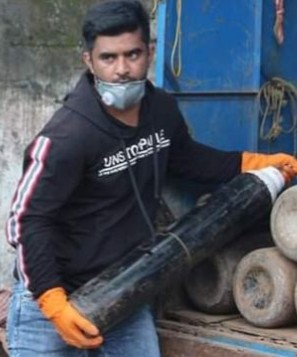 India is going through a tough phase with the rise in the seriousness of COVID-19. Lack of medical equipment and medicines, poor oxygen supply is what landing even the strongest doctors on to a zone where they are breaking down unable to see their patients dying in front of their eyes. Patients are to be kept on oxygen supply based on the seriousness of their stage. But lack of oxygen is taking their lives away. One can understand a life-ending due to the criticality of the disease but losing life owing to lack of resources is painful. This is what is getting the businessmen, Philanthropists, and other big shots on to the track who are extending their support in times of need. However, numerous stories of people who are not much well-off extending their bit to support the government are taking turns on the internet. While it's not a big deal to a big shot or a prominent businessman to spend a part of his earnings or profits on charity, it is definitely a big deal for a common man to do so. In times of pandemic, when jobs are lost and there's barely any source of income, common people, who are affected the most are also coming forward to work for the needy and here we have Shahnawaz Sheikh from Mumbai who falls into this bucket.
The Saviour From Mumbai:
Shahnawaz Sheikh from Malad suburbs, who is a part of Unity and Dignity Foundation, an NGO in Mumbai was deeply moved by the death of his friend's pregnant sister in an auto-rickshaw. The fact that this happened just due to lack of oxygen, left Sheikh devastated."My friend's wife died in an autorickshaw gasping for oxygen... This moved me, disturbed me," he said. He then decided to supply oxygen cylinders to the needy and do his part by saving as many lives as he can. He thus started helping people by distributing oxygen cylinders by forming a group, especially to that in-home quarantine. "In March 2020, the pandemic broke out in Mumbai, then the lockdown happened and in May the cases were peaking. I was mulling how to help and decided that an oxygen cylinder is the best option. In fact, taking the cylinder to the patient's home was the most difficult task and we as a group decided on that," said Shahnawaz.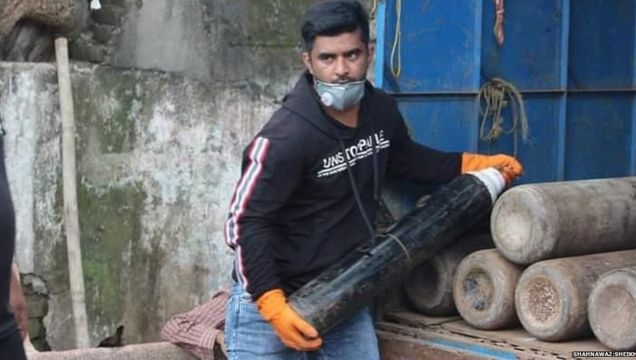 SUV? Not More Than Lives:
How many oxygen cylinders can this common man buy and distribute all by himself? He has no money but the zeal to help people is still burning. He then found a donor in his Ford Endeavour and immediately sold it for 22 lakh rupees in March 2020 to raise money for buying oxygen cylinders. "Once COVID-19 goes and when things are back to normal, another SUV comes. Earlier, we were not able to work properly due to a lack of funding. I thought things like my SUV can be bought again, what is important right now is to help others. That's why I sold my SUV and certain other things, and that's how we were able to help others.", he said. He got 160 cylinders and started distributing them free of cost to the patients, not only in Mumbai but also in the larger Mumbai metropolitan region. "We are targeting to reach all the people who are in need.", says Sheikh. His team requests people to come and pick up the oxygen cylinders, also helping them with the procedure to use the cylinders. "We explain to them the procedure to use the oxygen cylinders and provide them with the kit," he said. After his first 160 cylinders are distributed, he managed to organise more than 200 cylinders every day through his network during the first wave of the pandemic. After use, most of the patients deliver empty cylinders to their control rooms. Shahnawaz says that they could reach out to more than 4000 people since March 2020. Shahnawaz primarily depends on donors and the network of oxygen cylinder dealers.
A Special COVID War Room:
Shahnawaz and his team have now set up a war room where many youth are actively working. The team is trying to connect people and oxygen dealers. Shahnawaz says that currently, they are getting close to 500 to 600 calls per day. Earlier, during the first wave, while the team could cater to the oxygen needs effectively, Sheikh says that things have changed now and they are facing difficulty to supply oxygen cylinders during the second wave. "We are hardly managing 50 per day. The demand is very high and I am maintaining a stock of around 200 cylinders," he said. Sheikh said that though he is trying to accommodate all, his main focus is on those who are in-home quarantine. "The hospitals are crowded and hence people who can get treated at homes need to be helped.", he said. Comparing the scenarios of the first and second wave, he said that while during last year, he could provide 5,000 to 6,000 cylinders, this time the count is hardly 600. "I have been receiving calls from various parts of the MMR like Vasai, Virar, and Nalasopara in the western suburbs and Kalyan and Dombivali in central suburbs and Thane city," he said. The team also has been receiving calls from people in Delhi, Madhya Pradesh, Uttar Pradesh, and Bihar.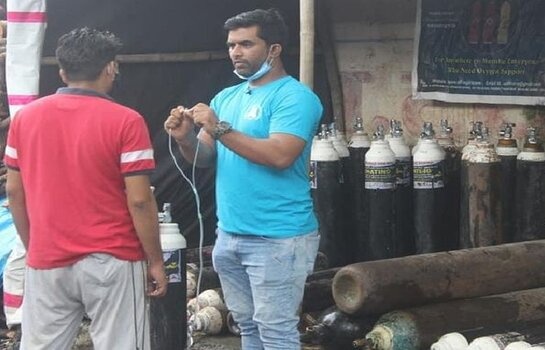 Praises All The Way:
Sheikh's oxygen supply scheme has earned him much praise on social media. IFS officer Sudha Ramen on her social media account wrote, "People like Mr Shahnawaz Sheikh and his team are the real heroes". Several officers and netizens also poured in praises for the oxygen man of Mumbai.
While the COVID-19 pandemic is resembling a rigorous battle, heroes like Shahnawaz Sheikh are helping people win the battle by extending all their support. They are the true warriors behind the screen.