OPod housing in demand in India. Affordable, compact, comfortable, designed well. Why not take a look.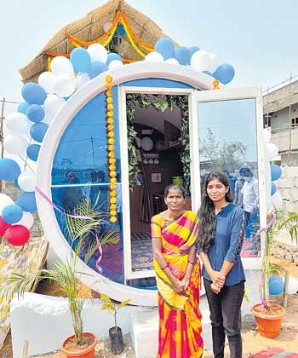 Have you heard of Hong Kong's micro-living housing? The affordable and compact housing model that was built out of 2.5m diameter strong concrete water pipe houses a micro-living apartment for one/two persons with living, cooking and bathroom spaces inside 100 sq. ft. It was first designed by James Law Cybertecture in Hong Kong. Why are we talking about Hong Kong's model today? When spaces to live are contracting day by day and with a growing population, housing people has become a million-dollar problem, and with the own-house' dream of lakhs of people in the country remaining a dream, a 23-year-old girl from Telangana, India, has brought to India, the concept of a compact, affordable yet decent housing.
Humble Life Made Her Empathetic:
Perala Manasa Reddy was born and brought up in a small village called Bommakal in Telangana, a southern state of India. She was in grade III when her father passed away. Since then, her mother took up paddy cultivation to provide for Manasa and her younger sister. Whatever the situation was, Manasa's mother never compromised on getting the girls educated. To make them self-reliant was the first thing in her mind. Manasa went to Telangana Social Welfare Residential Education Society and completed her schooling there, post which, she went ahead to pursue her civil engineering at the Lovely Professional University.
A Closer Look At The Underprivileged:
Manasa used to volunteer for social work in the slum areas of Telangana. During that period, she closely observed people living in temporary shelters made of steel sheets and large plastic covers. Some people, as per her, would live in bamboo or prefabricated houses made out of shipping containers. "But one thing was common between all the families here — they were migrant workers and wouldn't live in these houses for more than one year. They vacate these homes because the area gets too hot during the summer, or floods during the monsoon.," says Manasa. She was in the first year of her graduation then and so couldn't think of possible solutions. But in the year 2020, when she was in the final year of her engineering, she was home due to lockdown and had got enough time to work on it. She started thinking of possible solutions and tried various designs to address the problem. During this process, she remembered seeing homeless people taking shelter inside sewage pipes on the roadside. The thought of modifying their size to house a family then came to her mind. This idea was also an outcome of months of research that went into finding low-cost housing options that were otherwise found in Hongkong and Japan. She read numerous research papers online to know more about this housing model that requires just a small space. Manasa waited for the lockdown to end and once it was eased, she set to work.
Giving Shape To Her Thought:
Manasa approached a sewage pipes manufacturer in Siddipet, Telangana and procured a pipe longer than the regular one. The manufacturer provided Manasa with a pipe made using two of their regular pipes so that more space could be added to the pod-style home she wanted to build. Manasa also ensured that the pipe was tall enough for a person to stand and walk freely inside the house. The pipe was coated in white to reflect heat keeping it cool. Manasa borrowed Rs. 5 lakhs from her mother, who applied for a loan and supported her daughter to purchase the pipe and raw materials like door and window frame, electrical and sanitary equipment etc. required for the house. Manasa started to build her thought, a house that is spread over 120sq.ft. This 16ft. long and 7ft. tall house comes with a small living room, a bathroom, kitchen, sink, and a bedroom that has space for a queen size mattress. This customized all-weather home is movable and is made with a sewerage pipe of 2000 mm diameter. With a life span of 100 years, this house is strong and durable. Once the construction was finished, Manasa convinced a migrant worker who was a part of the construction team to stay in it for a week. He was provided with electricity, water and food. The man who enjoyed staying there also gave valuable feedback regarding the placement of the bathroom, ventilation etc. These suggestions, Manasa said, shall be incorporated into her future projects.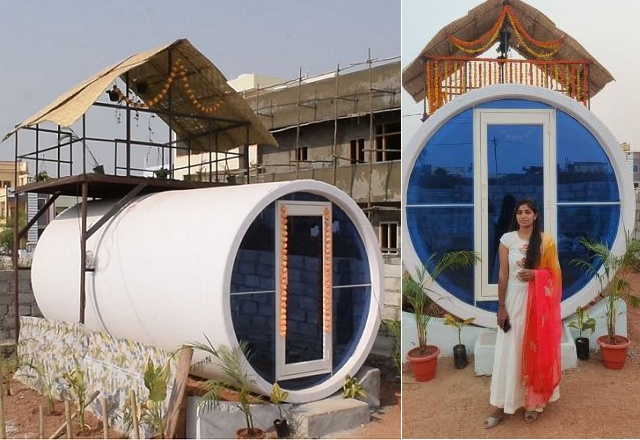 An Entrepreneur With A Mission:
The same day when Manasa launched her OPod, she also launched her construction company named Samnavi Constructions in partnership with a business management student from Lovely Professional University, Naveen Reddy.

Through this venture that has a team of 4, Manasa is currently working on designs for 2,3 and 4 BHK O-Pod houses. Samnavi Constructions aims to promote micro-living apartments for a small family with full facilities along with smart furniture that not just looks great but also minimizes the space inside. Manasa talks about her startup and said, "We have seen micro-apartments made with different materials like Bamboo. But there's not a single one that is in a circular shape. So, I think this is the USP. These homes are based on the concept of space-saving and have foldable tables and other similar things to save space. They are fully furnished which makes them perfect for a comfortable living. We are going to include more such concepts shortly which will save a lot of space. The house can be translocated easily, and apart from low-cost housing for the poor, it's as good as a regular house." Manasa who has invested Rs. 5 lakhs on the project, is selling them at Rs.3.5 lakhs each. Her company received 200 orders so far from various states like Kerala, Tamil Nadu, Andhra Pradesh, and Odisha to construct the OPod houses. Once the lockdown is eased, she would start to start work on these. "We have got a few orders from the farmhouses. Some have ordered it for their barren land to keep it occupied", she said. When asked about her future projects, this young entrepreneur said, "Right now we're working on the Cube Models. They will also have the same concept but will be square in shape. We will launch it as soon as the pandemic gets over."
Young India is not fearing and stepping back to think big and make a difference. They are ready to think new, fail, start afresh, make it big and gift their innovation back to the country for the benefit of the people. Youth like Manasa Reddy have so much to tell who are still being couch potatoes.

Know More About Samnavi Constructions

Follow Her Work