North-east women bikers combine adventure and To create awareness about the potential of NE.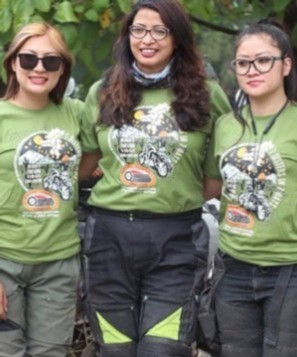 "We want to show that women in North East are not just sitting at home. We are not just women who are comfortable in the kitchen, we want to think beyond that, we are coming out of our comfort zones. We have the capability to do everything if you follow your passion, follow your dream, everything is possible." Onen Nenty, a female biker said in an interview with media after completing her 7-day tour along with two other co-bikers. This page today introduces to you, the woman power of the northeast. When on April 3rd, three-woman bikers flagged off on their mission, everyone waited for them eagerly to come victorious and they did, on 10th April 2021. What's the tour and what's the idea behind it? - Take a look!
The Power-packed Girls:
Nirmali Nath from Assam, Onen Nenty from Nagaland, and Rosalynn Lushai from Mizoram are adventure-loving women. Though they haven't met each other personally, they follow each other on social media. They shared one common interest - bike riding. This common love for bike riding germinated into the concept of the North East Tour. The theme of this ride was 'Breaking Stereotype and Redefining North East.' This is a 7-day tour that is aimed at breaking the stereotypes surrounding the NE States and portraying the NE as a safe destination for all types of tourists. While aiming at showing the world that North East women are much more than how they are perceived, it also aimed at promoting sisterhood among the seven sister states. This event was partnered with the Seven Sisters Holidays.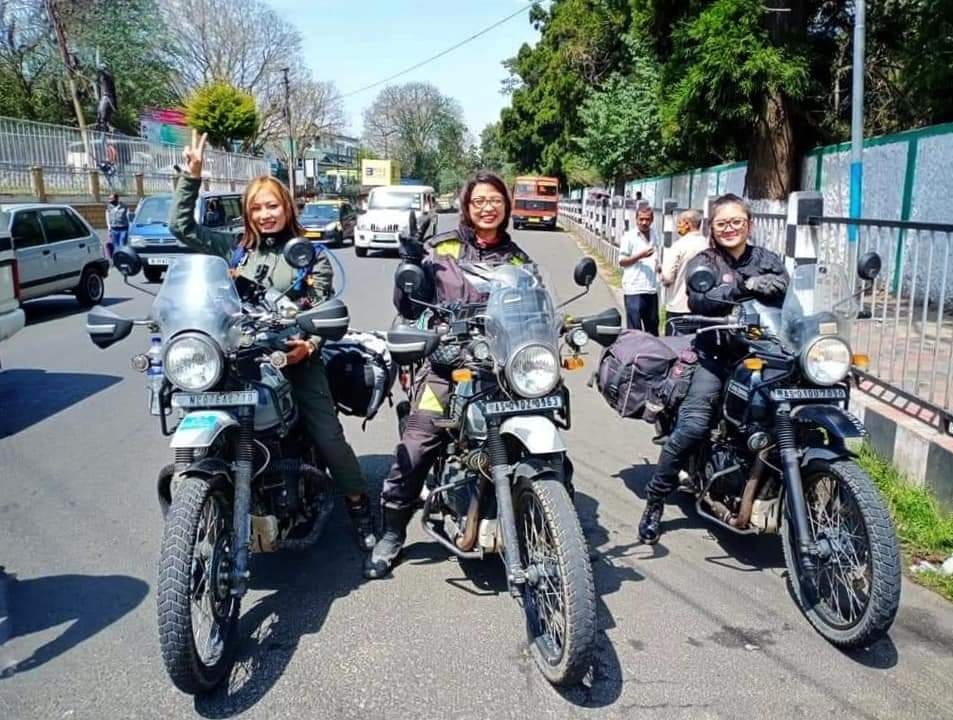 The trip started from Guwahati and was planned to end in Kaziranga 7 days after its start. The girls covered Silchar, Agartala, Aizawl, Imphal, Dimapur, Tezpur, and to Itanagar and back to Kaziranga, covering a distance of 2500 km riding 300-400 km daily all through their journey. The women bikers reached their last destination, Itanagar in Arunachal Pradesh on 10th April. The three women were warmly received at the heritage, organised by KK Motor Royal Enfield Kohima, before departing for Dimapur. Members of APTOA (Arunachal Pradesh Tour Operators Association) welcomed them in Itanagar with felicitation and hosted their breakfast post which they completed their tour at the 'Kaziranga National Park'. APTOA President John Panye along with treasurer Michi Rajen appreciated the courage of the young girls on behalf of all the stakeholders and Arunachal Tourism. "Our youth of North East States should venture out and explore the beautiful places and people to promote them to the outside world for the growth of the Tourism sector in the region," he said.
Warm People Of North-east:
Onen Nenty recollected how they were greeted by the people all through their journey. The warm hospitality of the people is something that they would cherish forever. Everywhere they went, they were overwhelmed by the hospitality of the people who poured in love and support all the way. The local people offered them water, fruits, and food, hosted them, and gave them shelter. "I got goosebumps whenever we were being received- local people. There are good roads, bad roads, off roads, and no roads but nature, landscape, and the warmth of people were amazing.", said Nirmali Nath. Onen Nenty said, "I can't come out with a proper line using the English word to thank all our supporters and our people from all the 7 sister states. I will be forever grateful to you all. Thank you all so much, may we live with the same passion and the zeal till death do us apart." While Nirmali and Rosalynn Lushai have both travelled more than 1 lakh kilometres on bikes earlier, Onen undertook a solo bike tour across Nagaland.
The Success That Speaks:
Nenty, who was excited about completing the tour, said in a voice filled with excitement and enthusiasm, "Well, we have done it! That's what I wanted to say for a very long time. To kick off my experience in this tour, I want to make a remark and this is what I want to say "The women folks in the northeast are special." She said that the main reason behind the success of this tour was not money or power but the willpower in them. "We have not met personally before. This ride brought us together. We want to travel not just for fun and adventure, but to also create awareness on potentials of the North East region," she said. Speaking about her co-bikers Nenty says, "Well, my ride was much more meaningful and much more fun because these two ladies, Nirmali and Rosalynn have shown and taught me so many valuable lessons, which will stay in my heart forever."
With deep gratitude, she thanked the almighty for keeping them safe throughout the ride and to all their sponsors and support system team from Guwahati, without whom the ride would not have been possible.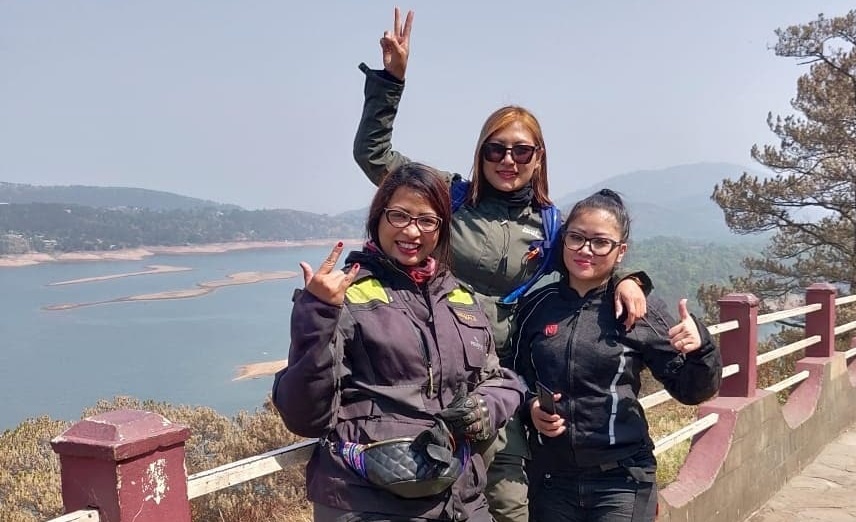 Going forward, Nenty said that the bike trip that was originally planned with seven women bikers for seven days narrowed down to three bikers as others couldn't make it this time. She expresses hope that women bikers from all NE states, including Sikkim, will join the next time.
Hats off to the ladies whose love for catering to their adrenaline rush didn't stop at giving them pleasure. Their love for adventure was intelligently coupled with a purpose, a message, and a mission that was successfully accomplished solely with their will power and confidence.

Follow Onen Nenty For More Updates

Follow Nirmali Nath For More Updates

Follow Rosalynn Lushai For More Updates