Rejuvenated more than 20 lakes n ponds around Noida. Lets join this young engineer.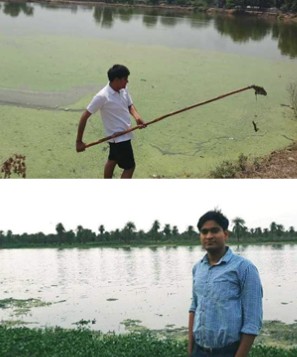 Imagine how would that life be, when after school, children relax in the lap of nature, play, and have fun. Amidst high-rising trees, flowing waters, bushy shrubs and grasslands, what words can explain the time people have in such places? Majority of the people, especially children, love to swim and dive in the fresh waters of lakes and ponds. But do we have all those today? The grasslands have disappeared, there are lakes and ponds, not with water but with buildings touching the sky. If there are any water bodies left, by any chance, they are filled with trash. While everyone laments about the condition of water bodies, Ramveer Tanwar, who couldn't come to terms with this, decided to act. He ventured into cleaning and rejuvenating the ponds and lakes and has revived more than 20 of them so far in his district alone. Let's read about Ramveer's journey and this might inspire at least a few to not to at least spoil the water bodies, if not protecting them.
The Shocking Fact That Led To Action:
Ramveer Tanwar hails from a village called Dadha in Greater Noida, Uttar Pradesh and has very good childhood memories associated with fresh water ponds. He went to Lucknow from his village to pursue Mechanical Engineering from Uttar Pradesh Technical University. After graduating in 2014, when he observed that urbanisation and increase in population have caused the water bodies of his native village disappear, wiping away all his childhood memories, he decided to act. Even during his graduation years, Ramveer had advocated the importance of water conservation. He began a campaign called "Jal Chaupal" in Gautam Buddha Nagar district of Uttar Pradesh and urged people to conserve water and save ponds and lakes. Ramveer also received training at the Central Pollution Control board, MOEF, Govt. of India. Once he saw the plight of water bodies in his village, his heart broke. "We think of ponds and lakes as places of beauty and repose and picture them as clean waterbodies surrounded with lush greenery, refreshing cool breeze and myriad birds humming beautiful tunes. Sadly, the reality is different. Across the country, wetlands have either been encroached upon for construction or turned into dumping grounds or simply left to fade away with neglect.", he expressed his anguish. For the conservation of ground water, Ramveer started cleaning the ponds and lakes.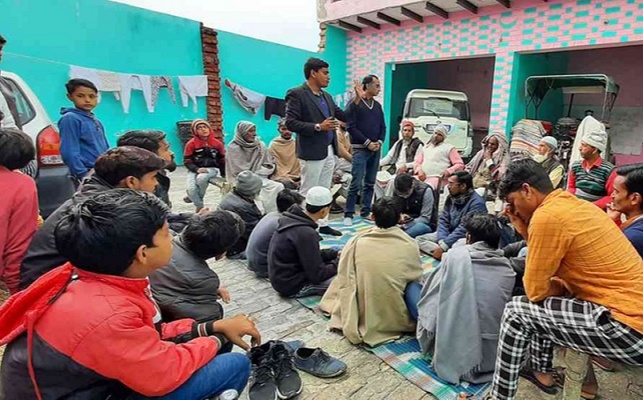 Big Change Starts With Simple Steps:
Ramveer started his campaign on water conservation in his village. He began to clean the water bodies himself and slowly people started joining. With the success of his initial drive, he bagged enough motivation to continue his work, left his well-paying job and became a full-time conservationist in 2016. It was not a smooth sail though. When Tanwar started his work, he failed to motivate people of the village. He faced backlash from them but he went on spreading awareness by conducting rallies educating people about the negative effects of wasting water. He started taking tuitions in the area and motivated his students to convince their parents not to waste water. Even that step seemed to have failed. "People said that water is never going to end and will always be available. I went from one household to another and conducted meetings and rallies to reach out to more people. People never took water crisis seriously before, but were gradually beginning to understand that water is not an unending resource, said Mr Tanwar. All these gatherings and efforts slowly came to be effective not only in his village but across villages in and around Greater Noida. Time, patience and persistence bore the fruits finally.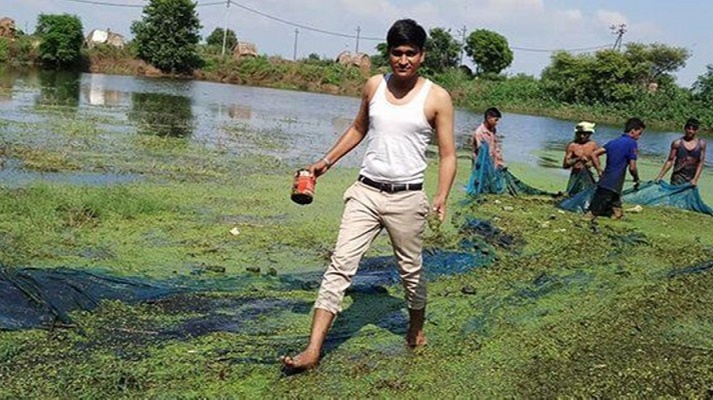 Rejuvenating The Waters:
As Ramveer and his team has started cleaning and rejuvenating the lakes, for every acre space of pond and lake, they pick up almost three quintals of waste including plastic. After cleaning the pond and collecting waste from it, the waste is separated into two categories. Plastic waste is disposed in designated dump yards, and the rest of the waste is sold off to scrap dealers. Students, members of various NGOs and village volunteers also come forward to join this cause. So far, Ramveer and his team have rejuvenated more than 20 fresh water bodies in their district.
Overcoming Resistance:
Ramveer and his team were not believed by the villagers in the beginning. They were angry and doubtful, Ramveer says, about why he is so interested in their dirty water reservoir. They turned hostile and even started demolishing the machines and the team's vehicles with stones. Rohit Adhana, one of Ramveer's team members says, "I remember, once we were working in Ghanghola village in Gautam Budhha Nagar. After what looked like a successful awareness drive, when we started to work on the water body, people turned hostile. They started pelting stones on the machines and our vehicles. They were angry and doubtful about why we were so interested in their dirty water reservoir. So, another round of conversations and convincing people had to be done before restarting the work and this shows how the mindset of people is a key factor in preserving the eco-system." The resistance was not confined to villagers, even the family members were not happy regarding their work. Having left good careers and well-paying jobs, when their children are running behind something that won't give them growth in their lives, how would any family accept this? The same happened with the families of both Tanwar and Adhana when they left their cushy jobs and took up conservation as a career. "In my family, I am the first person to study beyond high school. So, when I quit my job, the whole house was consumed with sadness and agony.", said Tanwar. However, they knew that when the cause is bigger and time-taking, things will get better with time. When impact is seen, they affirmed, that things will change. "Things have changed over the years after they saw the impact. Life has come a full circle – from nut-bolts to nature, from wrenches to wetlands," Ramveer said. Adhana, who also put in a lot of efforts to convince his parents about his decision, says, "Now my parents realise the importance of the work we do".
Ramveer Tanwar, the pioneer of this distinctive step, whose relentless efforts coupled with his never-look-back attitude have been giving the ponds and lakes, a fresh look.

Know More About His Work

Connect With His Team

Follow His Work