No Hands but her skilful foot created 38 paintings in a hour to set the world record.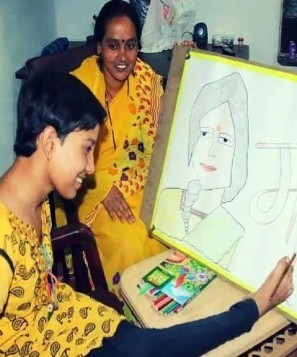 So an astrologer told that the lines on my palm aren't well lined up for me to gain promotion in my job this year. He asked me to perform a few rituals for "dosh nivaran" so I will be able to get a position hike and the pay hike. But somewhere I read a quotation that questions the fortune of the people with no hands. When this struck my mind, I respectfully took leave from the astrologer and walked to my writing table to set to work. Now there you go! I bumped into a similar story of a girl with no hands who has set two world records. She is Damini Sen and read her story to know how fortune can be created by ourselves.
Toes Are Everything:
Damini Sen, a girl from Virgaon in Raipur was born with no hands. So what? She had a strong mother who has been supporting the girl in every aspect, every moment of her life till date. Damini who was hit by life's red eye turned her shortcomings into strengths with the help of her family - parents and siblings became her hands. When Damini was three years old, it was time for her to start writing and learning new things. Her mother thought that the child shouldn't fall behind her peers and thought of a plan for Damini. Before teaching Damini to write, mother herself practised writing with toes. Once she gained mastery over this, she went on to train Damini. She taught the child the right way to hold the chalk, pencil and pen between her toes. Slowly, she made the girl used to write with her toes though it was challenging initially.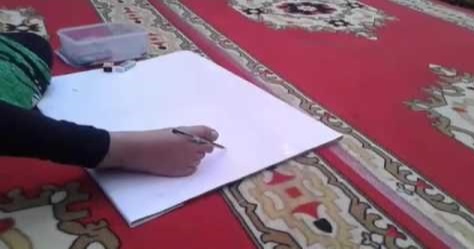 She instilled positivity in Damini every moment so she shouldn't feel inferior or lost among her peers. Damini absorbed all the positive vibes and with strong grit, learnt writing and drawing with her toes. Damini's father who is an employee in a school struggled hard to get admission for Damini into a good school. Though many schools were reluctant to admit the girl, Damini could finally get admission and studied till class 8 at Deepesh Vidya Mandir School in Mohalla. She went on to clear her 12th board examination from Gurukul School, Ravanabhatha with 73 per cent marks. Damini is an intelligent child and has never neglected studies. She knows that she can create a place of her own with dignity only with education.
Anything With The Toes:
Okay! If you think that the girl with no hands has learnt to write with toes, then that is not all. Damini does everything that the rest of the normal humans' do- all with toes. Damini is very good at rangoli making, mehndi designing and cooking. Above all, she loves to draw and paint. She has a skilful foot for drawing. With a strong desire to set a mark for herself, Damini took to hone her drawing skills.
World Record In Her Pocket:
Damini set the world record for making 38 paintings with her feet in one hour.
While making the world record, Damini took less than two minutes to make one painting. While a target of making 30 paintings in an hour was placed, Damini amused everyone by making 38 paintings with her toes.
Grateful For Everything And Is On A Journey To Inspire:
Damini attributes whatever she is today to her mother. "My mother never lets me lose hope. She was determined that I should grow up in a world where I could access quality education and nobody would discriminate against me. She wanted me to become independent in all respects," she says. Damini's grit has been inspiring many. Damini along with some of her peers also formed a Motivation Group and is motivating thousands of children with disabilities to keep going forward in life without cribbing about what they don't have. She wants to become an IAS officer and work especially for children with disabilities. May all her dreams come true and may she become the icon for everyone around.