Hated English language but ended up as a global Tik-Tok, Y-tuber, Manglish Teacher.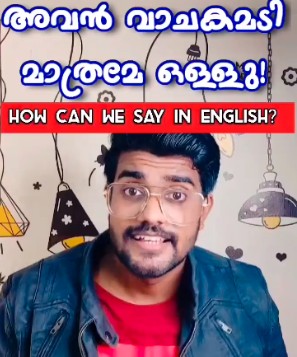 When you lack in something that you badly need to establish your life on, you will surely go on to acquire it. Be it money, be it a skill, be it a relationship - anything. And once you have faced so much in the process of acquiring it, you feel empathetic for those who you come across undergoing the same turmoil. You feel like making it easier for them with the lessons you learnt throughout your journey. Vineet, a young boy from Kerala is an apple from the same basket. With 23 backlogs in engineering and with zero communication skills, his future seemed a question mark to which he found an answer. This answer is also helping people, not just in his state or in India but across the globe. In a scene where a number of apps were banned in India, especially the Tiktok, it is surprising that a youngster made so much for his bright future with Tiktok as his platform.
Vineeth T Kurup hails from Pathanamthitta in Kerala. He is an engineering student who ended up with 23 backlogs and zero skills to attend and crack any interview. With four years of graduation life that landed him nowhere, he understood that he can clear his backlogs one day but without the English language, he cannot survive. He was confident that with his domain skills, he can secure a job outside India as well, but with zero English knowledge, he thought, it's hard for him to survive.
"I had no interest in the English language when I was a kid, even though I studied in an English-medium school.But, after four years of engineering and 23 backlogs, I understood that while I may pass the exam, I need to be fluent in English to find a job," tells Vineeth.
A Mechanical Engineer's Walk Into The World of English:
Though Vineeth could read and write like an average student with English as one of his subjects in school, he is not a fluent speaker of the language. He is not good at conversing in English and that dropped his confidence level. No one in his family or friends could speak English so that he could find them as help. He finally realised that only he can help himself in language learning. He started with watching English movies without subtitles. Though it seemed difficult to understand the dialogues initially due to the differences in pronounciation, he kept watching them repeatedly and this improved his listening skills.
"Even though I had improved my listening skills, I was still bad at speaking English", recollects Vineeth.
As he didn't have anyone to communicate with in English, he started repeating the dialogues of the English movies to himself. With this practice, he not only improve his pronunciation but also enhanced his vocabulary.
The Job Close To His Heart:
Though Vineeth was a mechanical engineering student, he was never interested to take up engineering as his profession. His wait for a job of his liking took him to an English Academy where he joined as a marketing executive in 2016. He attended the interview at Pathanamthitta district and started as a marketing executive. Eventually, in the same workplace, he emerged as an IELTS trainer without even having IELTS qualification. He later went on to clear his IELTS exam. "I trained students without having an IELTS qualification. And now, I have passed the exam, too," he says with pride.
TikTok - his Life-changer:
During his days as a tutor at the academy, one of his students suggested that he should do and upload a tiktok video. As Vineeth is not into singing or dancing or any other art, he decided to upload a short video in which he gave English meanings to a few famous Malayalam words.
"The Mollywood film dialogue I used was "pillecha savathil kuttharud", which means, "Do not add insult to injury"., he recollects.
Within one day, the video went viral giving him over one lakh followers and one lakh likes. This encouraged him to start uploading short videos on TikTok about how to learn English easily. This increased the number of his followers.
From TikTok To YouTube:
What is not possible in this digital world? If you just have the wish to accomplish something, the world looks at you in just a few clicks. One of his TikTok followers requested him to start a YouTube channel. Upon this request, Vineeth started Manglish World, a YouTube channel where he teaches the basics of English to his subscribers. With the following TikTok gave him, within no time, he gained 15.8 LAKH subscribers on YouTube. His Instagram page has 18.7 lakh followers.
A Bigger Business Idea - Helping And Earning - Lessons From Lockdown:
The Covid-19 lockdown has locked everything and everyone with no work and income. But for people who create light out of darkness, this too became an opportunity. Vineeth also can be seen designing his own doors to future out of this lockdown misery. As he had good number of social media followers, he decided to start an online academy. Requests also came pouring from many people to begin online classes. So, having been sure about people signing up for his classes, he launched an online academy, Manglish World under VINFOTRAIN Private Limited on 25th May 2020. He made three courses available at Manglish World Academy - Spoken English, OET classes by health care professionals, and IELTS classes. There are students ranging from 15 years to 50 years of age including school students, college graduates as well as government officers. The online classes are available six days in a week with 1-2.5 hours of training everyday. Manglish World Academy trains students from across the nation as well as students outside India. Along with students from the Indian states of Jammu&Kashmir and Tamil Nadu, Indians living in UAE, Oman, Baharin, Qatar, Saudi Arabia, Israel, Canada, New Zealand, The UK, Australia, Germany, France, Italy and South Korea also enrolled for the online classes.
That young engineering student who never learnt English in all of his academic journey became an English tutor.

Know More About Manglish World Academy

Follow His Work