Teen on a mission to protect child rights. Obvious reasons that she herself was subjected to.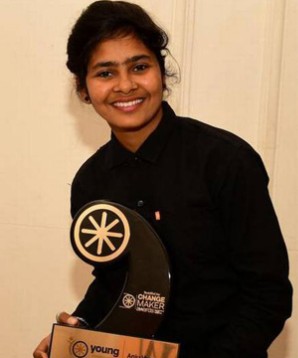 Anju Verma, a girl from Fatehabad, Haryana was just 10 years old when she went to her aunt's place on a summer vacation. There, she was made to do household chores from sunrise to dusk. She was made to work just like a servant and that is when Anju was introduced to the concept of gender inequality. "I was around 10 years then, and while my parents encouraged me to study because they felt education was the only means to empower girls, that was hardly the mindset in most houses. Although I could not explain my feelings, I knew that I was being mistreated. After completing all the household chores, I would go to bed after everyone fell asleep. I was the first one to wake up in the morning to start off my day. I was also a victim of child abuse", she recollected while speaking in an interview. That little girl is now 18 years old whose father was a truck driver and mother is a homemaker. Anju met with the graveness of child mis-treatment yet again when she was in Class VI. At the government girls' school in Fatehabad, girls were regularly punished for not completing their homework. "Right from tending to the buffaloes, washing, cooking and doing the utensils, the girls were compelled to do household chores while their parents worked on agricultural lands." Because of this reason, the girls couldn't concentrate on their studies and failed to complete their homework. Anju's Hindi teacher then told them that child labour is a punishable offence that attracts a fine of Rs 50,000 and imprisonment of upto 6 months. This information helped convince the villagers and the parents of the girls. Anju also encouraged the parents to attend the parent-teacher meetings. Thus, Anju who started thinking of children right from a very young age also became a part of Save the Children' organisation in 2015-16 and was associated with them as a Child Rights Champion.
A Concrete Shape To The Mission:
Anju Verma who believes that both child labour and child education are two sides of the same coin, is working towards child empowerment. In 2017, she founded an NGO called Buland Udaan whose meaning she explains - Buland' meaning bold and courageous, and 'Udaan' meaning flight and elevation.

The mission of this NGO is Child-Friendly India (Eradicating child labour, child marriage, female foeticide and child abuse)'. The NGO has 67 members by 2020 mostly of the age group 15-30. The NGO works to eliminate child labour, child marriages, sexual harassment and female foeticide. With no fixed source of funding, Anju and her team use their pocket money to carry this mission forward. Anju's father who is always a strength to the girl contributes half of his monthly income, Rs.20,000 towards the activities of the NGO. "Beyond the usual rhetoric, few influential people are keen to work at the ground level," says the teenager.
Buland Udaan:
The NGO team would meet every Sunday for formal meetings, collaborating with other like-minded people, thus making regular communication, a key to the smooth and consistent execution of the plans.
"Buland Udaan stands united, as an organisation against the prevailing crimes against children, and wishes to eradicate these. Every child has the right to have a splendid childhood, but the abysmal essence of inequalities has decayed this gift. We wish to allow all the children to comprehend the importance of education and demand their right to education," said Verma to a release. They have also conducted an online research with 1000 participants, released a short film on menstrual stigma along with a special podcast. Recently, the organisation inaugurated a new branch addressing menstrual hygiene that would educate women about menstruation, spread awareness about the stereotypical mindsets and helps eradicating them. It is directed by Gurnoor Suri. It also explains the importance of maintaining hygiene during menstrual cycle. A new initiative they took up invites reputed teachers to their social media pages, brings them live and makes their audience interact with them. This is called Ek Lavya, Ek Nayi Soch which was headed by Saurabh Mishra. This focuses on emphasising the importance of teachers as the torch bearers in our lives.
लेन - देन - बैन जागरूकता अभियान

गांव बनावाली में बुलंद उड़ान की महिलाओं की विशेष टीम ने लेन देन बैन जागरुकता अभियान को लेकर गांव की महिलाओं को विभिन्न समारोह जैसे शादी या परिवार में लडके के जन्म पर जरुरत से ज्यादा खर्च ना करने को लेकर प्रोत्साहित किया। pic.twitter.com/g8RGLeodHt

— Buland Udaan (@buland_udaan) September 9, 2020
Notable Achievements:
Anju who is in Grade 12 now studies at a private school and spends her after-school hours in teaching rag pickers and migrant labourers in makeshift classes. She tries to impart basic skills in them and is on a mission to remove the fear of school and punishment from their little minds. Buland Udaan has so far enrolled over 700 children who belonged to either economically backward families or were facing inequality because of which they were kept at home, into facility packed schools. The team has already stopped about 65 child marriages and has been successfully convincing families that child marriage is a legal offence. The team was also successful in eliminating a few cases of female foeticide and helped over 15 sexual harassment victims get justice. During the lockdown, the NGO has catered to over 700 families for a period of two months. Anju Verma was also felicitated for her exceptional work during the MHRD's Women's Week celebrations.
Eyes Forward:
Anju Verma says that she dreams of becoming an IAS officer one day. "It would also help me to bring about change in the education system," says Anju. Coming to the future plans of her NGO, she says, "The first five-year plan focuses on achieving our mission in three states of our nation- Rajasthan, Haryana and Punjab. We wish to make these three states completely free of child labour, child marriage, and child abuse and want to make every woman take pride in discussing about menstruation."
What more can we tell about a girl who is still in her teens and has accomplished so much already. Her life is not just for her but for every child and woman out there facing discrimination and troubles.

Follow Her Tweets

Follow Her Work

Follow Her