Wait is long while the perfect moment is short but its all worth the while. Award-winning Wildlife photographer's wise words.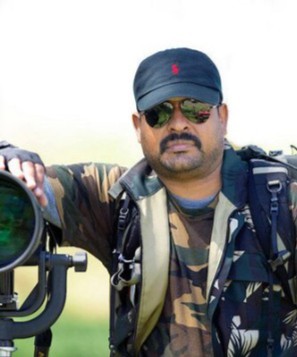 Well said that a picture could speak a thousand words. Photographing nature in its purest form to further spread awareness on vast issues drives this Indian-origin Canadian photographer, Thomas Vijayan, whose breathtaking photograph of an orangutan sticking to a tree won the photographer £1,500, entitled Photographer of the Year for Nature TTL in 2021. The annual contest receives over 8,000 submissions from amateur and professional photographers worldwide. There are eight categories: Animal Cognition, Camera Traps, The Moonlight, Diving, City Native species, and Wildlife Portraiture. In an international photography competition, Thomas's stunning photograph of a jaw-dropping orangutan on a tree won him first place out of more than 8,000 entries. He is the first Indian from Kerala to win such an award from London's Natural History Museum. His photography, Peek A Boo, won the Grand Prize in Nature's Best Photography Asia in 2019.
His images have been published worldwide on magazine covers and distribution, including AAP Magazine, Wildlife Photographer of the Year Desk Diary 2020, Wildlife Photographer of the Year Pocket Diary 2020, NBPA Magazine, Emirates Flight, Nature's Best Photography, RussianPhoto Magazine, Lonely Planet, National Geographic, and others. He has been the brand spokesperson for Nikon in the Middle East and Africa since 2015. There is no end to the tales he has to tell, from getting confused by a human penguin in remote Antarctica to traversing crocodile-infested waters to capture this photo.
A childhood passion for clicking nature …
Since he was 10, Vijayan was captivated by photography. He began taking pictures with a simple camera, and from there, he has never looked back. Originally from Kerala, Thomas's family is from Kottayam. In the years before his birth, the family moved to Bangalore. Nonetheless, he visits Kerala a few times a year. Currently, he and his family live in Canada, where he is an architect by profession. Thomas's talent for capturing the untamed life and nature never fades.
The photo must stand out for him to be recognized even if the photo does not have a watermark.
Photography is a blend of adventure, training, tolerance, love, affection, concern, friendships, and technology; most of all, it is the gift of the almighty that enables him to experience the wonders of creation.
An Orangutan Tale with a message!
A passage from Thomas Vijayan's title-winning chapter was subtitled 'The World is Turning Right Side Up.' It depicted a Borneo orangutan scaling on a branch, but it was shown to be reflected in the pond underneath the tree upon more profound analysis. Thomas has had some honours; however, some of them are unusual to him, like this one since it allowed him to spread awareness on the plight of the world's most giant gorilla worldwide and the cutting down of trees aeons-old without a second thought." Tomas described such mind-boggling clicks as the result of tremendous hardship. "Certain enclosures demand weeks, if not years, of polishing."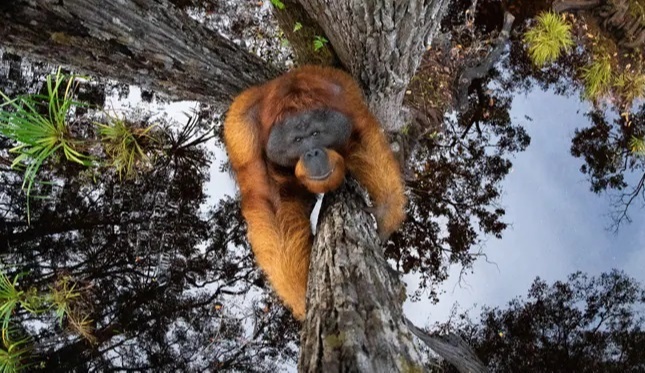 It cost Thomas a couple of journeys to the spot, and we waited for a windy season for photographing this case, Thomas recalls. Thomas adds that, although challenges exist, his "enthusiasm" makes him persevere. Introducing the award-winning image, Thomas says,
"This particular orangutan outline was challenging."
In his efforts to reach the photographing location, the jungle got so dense he could not go by boat anymore and had to proceed on foot into deep, crocodile-filled waters, holding high his cameras. He finally reached the giant old tree. Thomas sat in awe and watched as a nearby orangutan climbed in the manner he had captured on camera. The excursion was intense, making it more difficult to stay quiet while the orangutan was in front of him.
The flavour of expeditions and experiences…
Thoma's lifetime campaigns strengthened his passion for nature-untamed life photography. He explored seven continents from the Arctic Circle to Antarctica, from East to West. And he realized that earth is a haven for the largest and most diverse species. Thomas believes,
We can have no true appreciation for nature until the point that it is obliterated. More photos are better than fewer. Snaps are experiences; our actions are obliterating and reducing their ability to endure." They vanish and can only be seen in uncharted territory.
His photographic passion brings these hidden wild beauties of nature to the commoner so that they start loving and respecting Mother Nature and stop exploiting it. Furthermore, he portrays another frightening experience while searching for the perfect shot. Thomas wanders through a variety of natural life land to capture some captivating images. Savannas in Africa are his #1 photography location. He had been searching for Grizzly bears upstream when he abruptly slipped into a stream. He, unfortunately, was stung by dark honeybees on every branch that he caught. Thomas had to cling to the tree for just about 20 minutes until a rescue group arrived.
His advice to amateur photographers...
He advised, "To capture nature in photography, tolerance is the key. The image must evoke a feeling of connection between the viewers to remain memorable. An image's spirit and feelings are transmitted through the eye. So eye contact is a must." Thomas continued, "Imagine the casing when you reach a photography location and wait for the perfect moment. Use quicker shade speed when shooting long focal points to prevent vibration and camera shake. Therefore, always choose photographs based on their qualities rather than their numbers." In conclusion, he stated that "Security is a need," irrespective of whether it be your security, your subjects' security, or the security of all beings.

Follow His Work