940km marathon to promote the anti-drug campaign. Don't get into the DRUG trap warns the runner.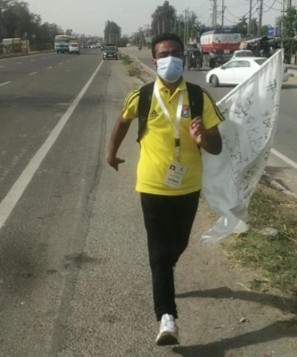 "It is disheartening to see our youth falling prey to the drug menace. I was carrying a small banner all along to create awareness of drug abuse. I wish our youth who have become addicts quit the wrong practice and get a new hope of living a better life again". These words are quoted by Srinagar's 25-year-old, Uzair Fayaz Khan who ran a distance of 940 kilometres between Srinagar and Delhi in seven days to promote a cause.
The Marathon Runner:
Uzair Khan is a resident of Nowhatta, Srinagar. This 25-year-old is a student of B.A. Psychology at Amar Singh College in Srinagar. Ever since childhood, Uzair has been inclined towards running and he took part in numerous marathons since Grade 6. His growing up years also didn't separate him from running. He used to run 50 kilometres every day and has also participated in marathon runs from Srinagar to Sonamarg, Gulmarg and Pahalgam. He ran under the able mentorship of his coach Mushtaq Ahmad Bhat, who, Uzair says, is his pillar of strength.
Run For A Cause:
Uzair was deeply moved by how youth is succumbing to ill habits like drug addiction. He wanted to educate youth and decided to create awareness of drug abuse. The best way to do this, he thought, was to run a marathon. He thus took a challenge to run from Srinagar to the national capital Delhi. For this, he took rigorous training under his coach Mushtaq Ahmad Bhat for seven months. Uzair said, "Mushtaq has been my main support and encouraged me in taking this initiative." With an aim to create anti-drug addiction awareness among the youth, Khan put his feet to run a distance of 940km from Srinagar to Delhi. He kicked off his run from Bakhshi Stadium in Srinagar where he was flagged off by the Deputy Superintendent of Police, Traffic City Srinagar, Ghulam Hassan on April 2. This relentless run came to an end at Rajghat in Delhi on April 8 and 25-year-old Uzair finished 940Km in just seven days. In Delhi, he was warmly received by the CRPF jawans who presented him with a bouquet.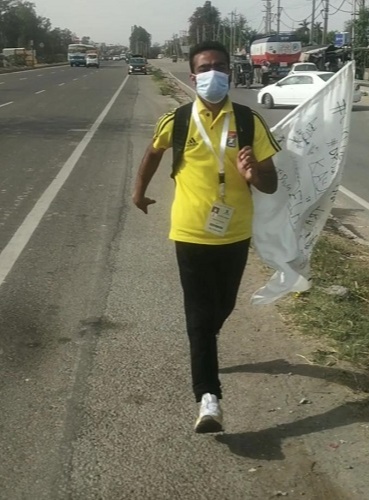 A Smooth Run? Nah!
Uzair Fayaz Khan had to face numerous challenges and many difficulties on his way. Climatic conditions tested his mettle and patience. Uzair who reached Banihal on the first day said that his foot was swollen. However, he could recover quickly and resumed running the very next morning.
"My foot was swollen but fortunately I recovered from it and started running again the next morning and reached Jammu by evening," he said. Khan admitted that he faced a lot of struggles in Haryana where his bag and mobile phone were stolen. When he contacted the Haryana police, he received no help. Uzair continued to run by adapting to the extreme weather conditions as well. "I was away from home although I was closer to my destination. This was a challenge," he stated. Uzair also had to carefully watch his diet in order to avoid any running difficulties. He preferred eating salads whenever he was hungry. "Diet was very important to me because it kept me going. It's all about challenging myself and testing those unknown limits.", he added. Uzair said that though he sought help from multiple government agencies, he did not get any response to date. He further said that he received a warm response from people who encouraged his cause. "Response from people was immense. While running people used to take pictures with me and many came to me and talked to me about this initiative and they were very happy with me," he said. Uzair expressed his gratitude to the Deputy Superintendent of Police, Traffic City Srinagar, Ghulam Hassan who helped him all the way. "He would often call me to see how I am doing," he said.
Support Would Take Him A Long Way:
Post this feat, Uzair Khan has applied for registration in the International Book of Records, Indian Book of Records and World Records India. For this, he has to pay around Rs. 22,000 which he cannot afford owing to his family's poor financial conditions. Fayaz Khan expects the intervention of both the administration and private sector so that people like him get ample support to work for a better cause. He is looking forward to registering for the Guinness Book of World Records in the days to come.
His Expectation:
Fayaz Khan says that the government should extend its support to the athletes so that financial constraints don't deter them from accomplishing their goals. He expresses hope that when they are encouraged to pursue their dreams by providing the required support, they can excel and thereby make the nation proud one day.
"The government should support our athletes financially so that young kids don't get demoralized. We need our society to be diverse and participate in multiple fields," he concluded.
Let's give it to the man of sheer grit and endurance who used his strength to promote a cause that is the need of the hour.