Prana E Bikers Smile along with Nature. Tesla Guru inspires the Tesla Engineer.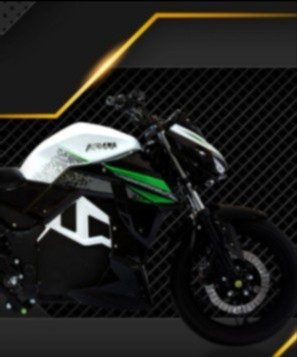 Fuel prices in India have touched the sky and people are afraid of even taking their vehicles out. But does everyday commuting to schools and offices happen without personal vehicles? Taking public transport isn't feasible for everyone owing to time constraints. With the increasing population and also the alarming levels of air pollution, people are looking towards alternatives that can say "Check" to all the above concerns at one go. Mohanraj Ramasamy says that his company's electric bike is a destination to people's search for alternatives.
"India is a country for two-wheelers, specifically for motorcycles. Many recent national surveys revealed that people are ready to use the EV solution if the product has the quality and range", he says. So, how is the product he wants to launch satisfies the public as well as the environmental needs? Let's take a look.
Walked Beyond Shores For A Better Future - Came To Give Back:
Mohanraj Ramasamy hails from Tamil Nadu, India. He left for the US on an H-1B visa aspiring for a good life. There, he worked with some reputed MNCs like HP, Lam Research, Tesla Motors etc. He wanted to make his dream of becoming an entrepreneur true and pursued Masters In Business Administration from the University of San Francisco. This automobile technologist whose passionate desire is to give back to the world especially India laid foundations to his own company "Srivaru Motors" - an upcoming e-motorcycle manufacturing company in India. Now this company gives an answer to various questions that every common man and an environmentally responsible bike user looks for.
The Advanced Technology e-solution:
In a country with a growing population and pollution, where people are looking for alternatives to fuel-run vehicles and where the demand for two-wheelers is high, Ramasamy says that he found a great business opportunity in manufacturing e-bikes. Through his company Srivaru Motors that was officially launched in March 2018 in Coimbatore, he set up a unique facility to design and manufacture eco-friendly motorcycles that run on lithium-ion batteries. "It's a unique bike". While most providers are still working on low-end scooters, SVM is working on an affordable motorcycle.", he says. Ramasamy who stays in California along with his family often visits India to monitor the work of e-bike manufacturing in his company. "One can very well manage teams across the world using technology these days. I see the entire world as a global village", he said. True though! His e-bike stands apart from the rest of its counterparts according to Ramasamy.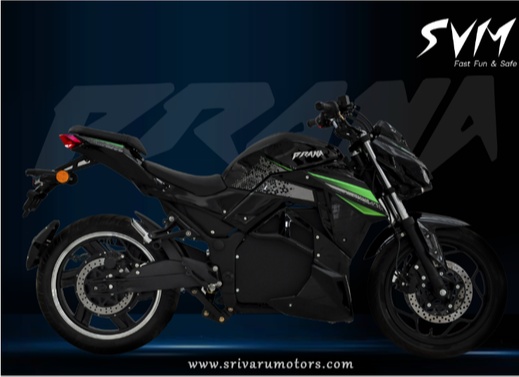 'Prana' - The e-hero:
Mohanraj says that the lithium-ion battery is a cleaner and safer technological solution for the environment and that technology, he says, he embedded into his two-wheeler. Speaking further about the golden features of his vehicle, he said that the lithium battery technology offers a longer battery life, longer range, quality, and easy serviceability. While a mobile phone can be charged just 500 times or cycles, Lithium-ion battery technology allows providing 2000 recharge cycles. That means the user can charge his bike 2000 times and for every charge, the bike travels to around 126km. On average, a battery pack can offer a ride of up to around 3 lakh kilometres in its lifetime. This, when compared with other fuel vehicles cuts down the user's fuel expenses by 2-3lakh. The charging of the battery is also very easy and Mohanraj says that the bike can be charged using a regular Indian plug and also a DC fast charging. "A 100 per cent charging on a normal household outlet would take 4 hours while DC fast charging station can charge 80 per cent of the battery in less than 45 minutes.", he states. In a scenario where most of the premium vehicles can turn electric in the near future, Mohanraj says that his "Prana", the electric bike from SVM, comes as the sustainable option to everyone with its zero-emission engines that do not cause any pollution. Ramasamy has got three patents for his dream project of 20 years to help secure critical components and design to avoid any duplication of products.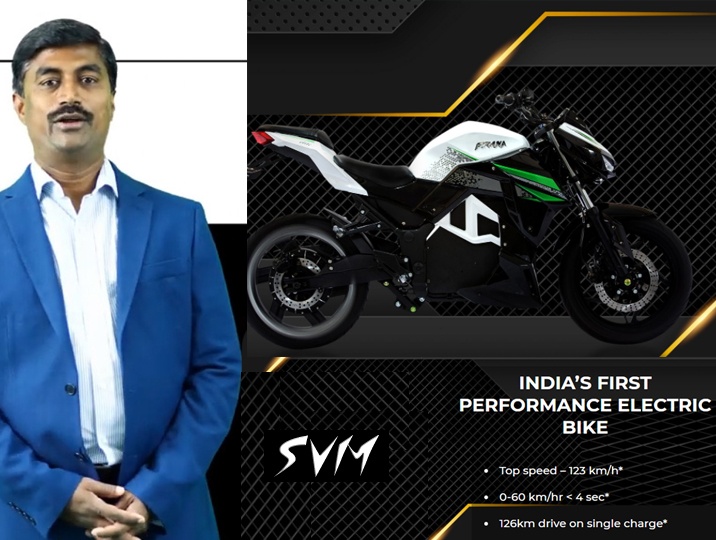 'India-Made' With A Few Western Touch-ups:
Ramasamy, who worked in the US for creating a better future for himself, said that he was always in awe of how Tesla manufactures its products. He was determined to associate himself with the company and gain more knowledge about the design and development techniques. At Tesla, he gained hands-on experience in "Lean model technology", brought his learnings and experience back to creating the Indian model of e-bike. The bikes are assembled in Coimbatore. Though a majority of the process is done in India, much technology is not available here and so a little of it, he says, is driven from Europe, Taiwan, and China. "We do as much as possible locally, but there are technologies that we partner to produce from outside.", he says. However, those technologies are incorporated in the bikes and are designed by SVM, serviced and sold by SVM. He says that the vehicle holds western safety performance and stability that has been designed and tested by Indian engineers. What the Indian market was lacking in terms of design, style, and details - are available in SVM's unique e-bike. He claims that SVM offers the best comfort and is customer-centric. The company plans to manufacture around 40 to 50 thousand motorcycles each year. "The SVM bikes provide a comfortable ride while virtually eliminating the battery range and service-related issues. "There are more details specifications which will be revealed during product launch", he told a reporter.
With A View To Promote Green Living:
Mohanraj, who said that the company he set up satisfies both his entrepreneurial needs as well as environmental needs along with addressing the issues of users, came up with an exciting offer. He handed out an interesting deal that those who plant 10 saplings will receive a discount of Rs.25,000. "Rs. 25,000 is not a small amount. And the amount of benefit that 10 plants give to the earth is also not small", he says.
Indian made brand when flies on the Indian roads with no emissions at all certainly brings a smile on nature's face! It shall surely become the users' fave owing to its self-healing and low-maintenance costs. We are waiting for the launch of this e-bike and our team wishes this thoughtful entrepreneur great success.

CheckOut Prana 360° View

Know More About Srivaru Motors