The government teacher who received the National award from the President of India is on a mission to transform the face of government schools.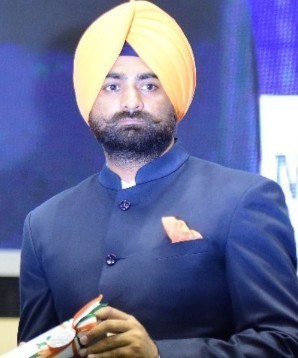 Garlands adorning his neck gleamed under the sun. While hundreds of people gathered at the railway station, his journey began on an open gypsy escorted by youth on motorbikes. The sounds of dhols reverberated in the air and he was overwhelmed at the love, reverence, and respect showered on him. Who is he? Why did he receive such a grand welcome? He is neither a political icon nor a film star. He is the teacher at a Government School.
A

Letter That Got the Good News:
Amarjith Singh, a 39-year old, is a science teacher at the Government Senior Secondary School, Ranghrial, Mansa district in Punjab. On 20th of August 2018, he received a letter from the Union ministry of human resource development. The letter posted him with the news that he would cherish forever. He was selected for the National Awards to Teachers, 2018. The letter read that the award shall be presented to him on 5th September, 2019 in New Delhi. On that day, Amarjith Singh received the honor from the President of India, Shri. Ram Nath Kovind. Best teachers are appreciated and rewarded. Inspiring teachers are remembered forever. But those teachers who revolutionize the system of education and dedicate their lives to change the face of deteriorating education receive nation's honor. One such teacher who is not just a teacher but also a reformer is Amarjith Singh. He set his spine to make considerable changes to the government schools, introduced notable methods to classroom education and made a remarkable contribution to the lives of students. What is so special about this National award winner? Let's see.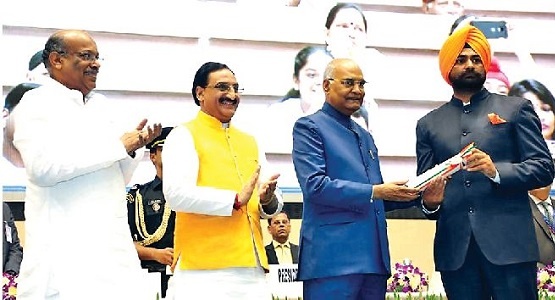 An Incident That Changed Everything:
It was 2007. Once when Amarjith was trying to explain about Whales to his class 5 students from Ralli School, they were unable to comprehend. After a few futile attempts, he decided to take the students outside the classroom, drew a Whale on the boundary wall of the school and tried to explain the concept. The students then understood and asked Amarjith how the Whale would pass through the canal if it was so big! Amarjith couldn't answer this question. Well! This incident taught Amarjith two things. While one is that he could practically understand why teaching is a continuous learning process and the other is something that changed the shape of his teaching methodology. When students were taken beyond the classroom boundaries and were taught in an interactive manner, they understood the concept clearly. A healthy classroom environment coupled with motivating students to ask questions will make them inquisitive about knowing new things. This, he started incorporating into his teaching since then. He taught the subject by framing interesting tales and anecdotes giving students a chance to think, imagine and interpret. Also, when Amarjith took the help of internet to find out the answers he didn't know, his students also took their parents' smart phones and googled educational content. In a primary school in Jeetsar Bachhoana he observed that students were struggling with vocabulary and sentence framing. He focused on their weaknesses and tried to improve them. Later, he captured videos of them reading the chapters without fumbling and uploaded them on his Facebook timeline. The next day, he showed all the positive comments that the students got to motivate them further.
Transforming the Face Of Government Schools:
Amarjith, who started his teaching career at Shekhupur Khudal village in 2006 slowly, incorporated changes in his teaching methods in a way to make learning an act of fun. Not only did he bring changes into his teaching, he also walked extra miles without caring the financial barriers, and set to transform the way government schools looked and functioned. He reportedly transfigured primary schools at Ralli and Jeetsar Bachhoana and senior secondary schools at Boha and Ranghrial into 'Smart Schools' with an investment of Rs. 2 lakh from his side. He built special models in schools to explain students the concepts of math and science. To give students a better understanding of what he teaches, he brought into picture, DVD players and YouTube in classrooms. He got the schools renovated with interesting elements on their walls. He asked the painters to paint math symbols, syllabus, vocabulary, adjectives, and synonyms of words on the building walls.
"I saw kids loitering around in corridors if a teacher was absent. Now, they would see paintings of a math table on the wall and probably attempt to learn". Which school allows students to draw on its walls? But Amarjith encouraged his students to draw on walls. He has set up a computer lab, a projector and U-shaped colorful benches in the school and BOOM! the students slowly started walking towards the school. While government introduced mid-day meal plan to get students to schools, Amarjith made it more interesting for students to stay in the school and learn new things. He designed a smart lab that came with a recorder in which he recorded his teachings giving access to students whenever they wanted. The educational park he started inside the school premises displays amazing models like Bhakra Nangal Project. The student enrollment in the school thus increased from 43 to 120 by 2018.
Raising Funds To Raise The Standards:
Though he contributed 2 lakh rupees as an initial capital for the reformation of schools, it is not sufficient. He will require more funds to implement his innovative thoughts. So, to build models and to develop smart schools that can give students good quality education equal to that of corporate schools, he sought help from Panchayats and NRIs. He understood that the schools have limited resources that cannot cater to providing facilities to children. So, as an initial step, he made his own contribution and thus paved way for the progress. By witnessing his work, the local administration raised budgets for the school. Parents and NRIs started donating money. He uses government grants and requests parents, who can donate anywhere from Rs 5 to Rs 10,000. As they have invested in the progress, they also take the ownership of this project that makes it mighty and successful.
"This interest and enthusiasm from various sources shows that with the right efforts, change is possible," Amarjith said.
Recognition to the Dedication:
Many district administrations reached out to Amarjith to take his suggestions on improving their local schools. Amarjith also makes frequent visits to other villagers to extend his help. He was honoured with the state award in 2016 and received an appreciation letter from the former Punjab School Education Minister, Daljit Singh Cheema. After receiving the National award, his come back was planned in a grand way by the students, youth, and the local village people. Sarpanch Jarnail Singh organized a grand welcome party for him and said, "We have never seen a teacher as dedicated and committed as Amarjith. He has completely changed the face of education and showed us that a government school can be on par with a private one. The creative digitization of classrooms with smart labs and projectors is giving our kids more exposure to the outside world."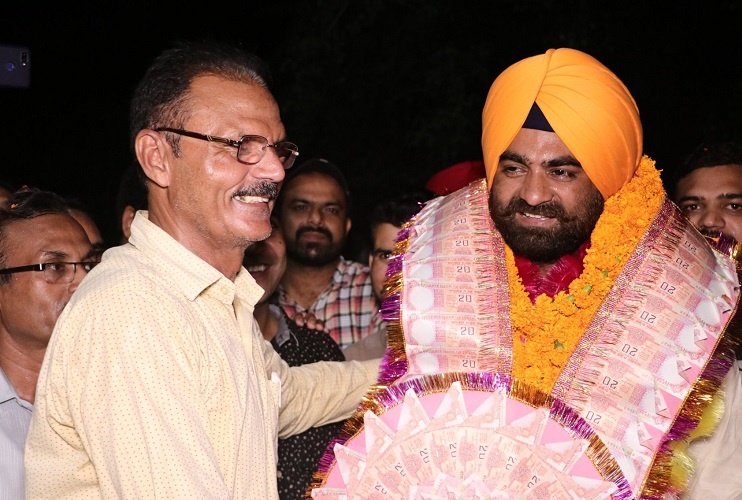 Lockdown Teaching:
Amarjith is currently rendering his services at Government Senior School in Ranghrial village where he has set up a science park, math park and smart labs. During this lockdown when schools were shut and digital classes started their sway, to help students who have no access to digital devices and internet, he took a distinct step. He took to the local Gurudwara and started announcing the day's study plan and schedule on the speaker. He convinced the local village people to donate their unused, old smart phones to the students.
"A majority of the students in India cannot afford private education. But it is absolutely unfair to deny them a good education because of a lack of money or resources," he mentions.
While a teacher is the one who teaches, the one who aims to transform and enlighten is a GURU. Such a selfless soul who has dedicated his everything to change the image of distorted government schools is on a mission to gift enhanced education to the students from deprived backgrounds. Salute to the soldier who is battling to achieve a great cause. As education is the fundamental aspect of nation building, Amarjith is striving to strengthen its roots. Kudos!