My purpose of living is to save lives says Padma Shri awardee. Provides primary medical aid too.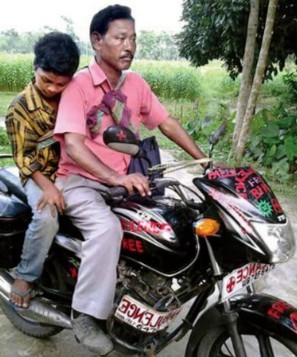 Experiences turn you into a better person. Especially when the experiences are bitter and you have chosen to take the lesson out of them, then they are the best teachers. They turn you into thoughtful and sometimes into an empathetic human too. When you are hit badly by fate you can choose to start hating everything that comes your way from then on or you can choose to make sure that your fellow humans don't have to succumb to fate. What you choose to do makes all the difference. Here is the story of a West Bengal man, Karimul, the supervisor in a tea garden earning Rs.5000 per month, who chose to not let anyone become slaves to fate after he suffered a never-fading trauma.
Mother - An Emotion:
It was 1995, Karimul Haque, a young man from West Bengal was going door to door to seek help as his mother needed emergency medical treatment. He could get neither an ambulance nor any vehicle to take her to the nearest hospital. Eventually, his mother suffered cardiac arrest and passed away in the house. This incident traumatized Karimul who then decided to not let anyone else around him suffer the same fate.
Incident That Ignited Thought:
Two years passed. It was 1997 and while Karimul was working in the garden, his colleague, Azizul, suddenly collapsed while working. Immediately, Karimul shifted him to the nearest hospital that was 50km away. While Azizul recovered, Karimul's neurons got ignited with an idea. As Azizul's life was saved because he was given timely medical help, Karimul resolved to start a bike ambulance service. Owing to the poor terrain that's surrounded by forest area which doesn't support a four-wheeler ambulance, Karimul thought that a two-wheeler can serve well.
Motorbike Ambulance - All Doubts Cleared:
The locals initially expressed doubts about his motorbike ambulance. "Even neighbours laughed at my initiative. Some thought I had gone insane and others attributed ulterior motives. But I was determined to continue my work and save the lives of people without any incentive or money," says Karimul.
All doubts in his mind as well as in people's minds wiped out with yet another incident where Karimul was shifting a patient bitten by a snake to the hospital. At the same time, he also happened to see a four-wheeler ambulance, also carrying a snake-bitten patient. Unfortunately, it was stuck in traffic and couldn't move for the next three hours leading to the patient's death. On the other hand, karimul could take his patient within time to the hospital thereby saving his life. With this incident, Karimul became sure of his motorbike ambulance service and continued it without hesitation.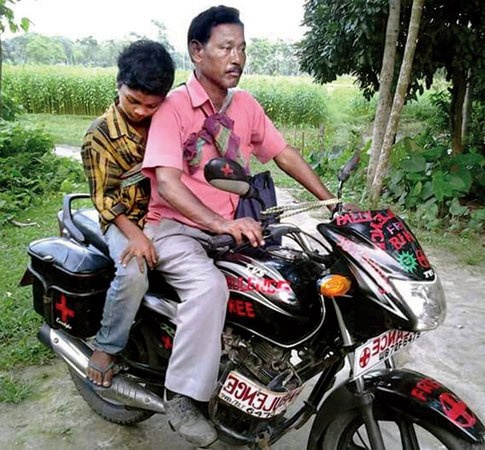 Time No Bar:
Karimul started receiving requests from people seeking help. Without caring for the timings they called in, Karimul set to render his service. Be it noon or midnight, the ambulance dada readily appeared with his absolutely free service.
Also, poor roads and the forest habitat pose threats to Karimul on this journey. The dense forest is inhabited by elephants and other wild animals. Karimul has to cross this forest to reach the hospital, that too, the patient's safety being his top-most priority. There's also a local bridge that succumbs to floods during heavy rains. In such scenarios, Karimul has to take a long route to reach the hospital owing to delays in reaching them out to the hospitals.
Helping With First-Aid:
The doctors have trained Karimul in doing emergency first-aid to the patients before he gets them to the treatment. Karimul also conducts regular health check-ups in the surrounding tribal areas. This is helping people to get immediate access to basic health and first-aid even before they are transported to the hospital. "I have shifted more than 5,500 patients from the village to the hospital since I started this service in 1997," says Karimul.
He continues to shift patients with Covid symptoms after taking due precautions. "I am in touch with doctors at the district hospital and inform them whenever I come across patients with Covid symptoms. I conduct a check-up on the advice of doctors and shift the person to the hospital if the case is serious," he says. Bajaj, the leading automobile company, upgraded his bike fitting it with a waterproof stretcher and included a provision to carry oxygen cylinder as a part of their corporate social responsibility initiative.
Recognition To The Good Samaritan:
Karimul who lives in a small tin-shed house with his wife Anjuya Begum, sons Rajesh and Raju and their wives, and grandchildren, was conferred with the country's fourth-highest civilian honour, the Padma Shri.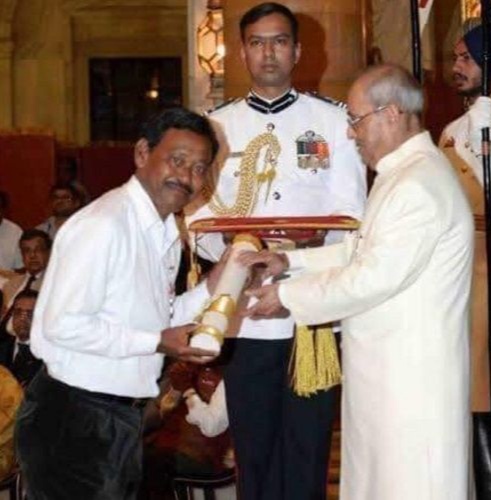 Future Plans And Request from The Government:
Karimul is planning to construct a small clinic near his house. As there is no hospital nearby, with an aim to extend primary medical help to patients, he is taking up this project and wants to serve free of charge. "Our clinic will offer primary medical aid to patients before shifting them to a bigger hospital. The service will be free of charge,".
This man of selfless service urges the government to build a permanent bridge as the Bamboo bridge is too risky to travel. Also, he says that the permanent bridge reduces the distance from 50km to 15km.
Thanks to this kind-hearted man whose tireless service for over two decades now has saved numerous lives and brought smiles to many families. May you live a long, happy and healthy life, our ambulance dada.