It scarred my face but not my service to patients says the acid attacked mysuru doctor.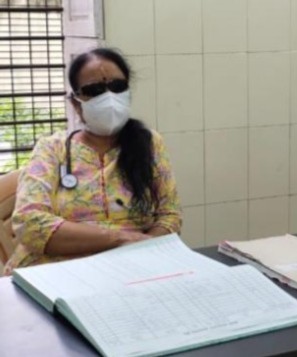 "As a doctor, one of the first things that got me through all the fights is my health. It's not just physical health, but mental health too. Taking care of one's mental health is of utmost importance to fight. It's not easy but it's worth it," says Dr. Mahalakshmi. It's not easy to fight battles. But if they are not fought, if they are given up, then there wouldn't be any purpose of starting or being involved in them. Once a fight drops at your door, you either avoid it by peace treaties or you win over it with courage. There's no mid-way. But if you are dragged into a battle and left with no option but win it, you can't take a backstep. If you are a woman, the fight becomes tougher, says Dr Mahalakshmi, a doctor by profession and a courageous soul by nature.
The Background:
Dr. Y.N Mahalakshmi hails from Mysuru, India and is an Administrative Medical Officer of the PHC at The Agrahara Old Primary Health Centre (PHC), Karnataka State Health and Family Welfare Services, located in Chamaraja Double Road, Mysuru. This graduate of Mysore Medical College has been practising medicine for several years now and is a renowned doctor in the city. She is firmly looked upon by many people to get their
and Mahalakshmi treats them not just as a doctor but also as a well-wisher. Behind her smiling face, there lies a violent story that left her with only one eye and one ear. She smiles and comforts her patients diverting them from her disfigured face, providing them with the best quality treatment with compassion. That's what made her the woman with power.
The Unfortunate Incident That Turned Her Life:
It was 11th January 2001 and Mahalakshmi was 26 years old then. She was also the mother of a four-year-old child. It was the time when Mahalakshmi was running her clinic from a rented space whose owner was Chikkabasavaiah. The owner used to constantly harass Mahalakshmi who filed a complaint against him with the police. She also vacated the rented space and moved to another part of the city. However, on January 11, 2001, around 8 pm, while Dr Mahalakshmi was returning from the clinic, Chikkabasavaiah attacked her with acid. Dr Mahalakshmi was rushed to the hospital. She went through intense pain and has undergone around 25 reconstructive surgeries. On one hand, she was undergoing treatment to get her life back and on the other hand, she was fighting a legal battle against Chikkabasavaiah. While Dr Mahalakshmi was left with one eye and ear with her face totally disfigured, the District Sessions Court acquitted Chikkabasavaiah mentioning the lack of evidence. It was only eleven years later, in 2012, that the Karnataka High Court convicted him and punished him with an imprisonment of three years. Just three years of imprisonment to the person who damaged the whole life of an individual, that too after a decade? Well, that's how it works here.
Life After Attack:
After surviving the most devastating attack on her, Dr Mahalakshmi experienced severe depression. She had to accept her disabilities. To lead a normal life and to face society without fear took her quite some time. During the process of her recovery, she experienced immense pain physically and mentally. But she never gave up. Her life changed completely after the attack and she had to face many circumstances but she didn't leave her medical practice. "I'm grateful to be a doctor and serve the needy," Dr Mahalakshmi said. She firmly believes that it is her education and profession that kept her going. "Education is important to fight every kind of injustice against women. The perpetrator should feel ashamed for committing the crime and not the victim. Bringing survivors to the mainstream, and encouraging them is very important. You have to fight for justice, for everything in life, and if you're a woman, it's not an easy fight," Dr. Mahalakshmi says.
During the COVID-19 pandemic, Dr. Mahalakshmi has been working relentlessly with no track of time and no day off. She has been working at the forefront of treating the covid patients. She is also being a part of the district administration's efforts in vaccinating citizens. She is also educating people about the importance of vaccination and is leading the PHC's vaccination drive.
Kudos to the strength of this steel woman who could bring her life back with her zeal and determination, who never even thought of succumbing to distorted physical and mental health. She remained firm in times of adversity and though all her life, she has to bear the scars of the devastation that happened, she is ready to do it for all the love of life and profession. We need more women like this who we can seek inspiration from.