Multipurpose cleaning product out of organic waste. The Minister calls innovators to set up businesses in Hyderabad.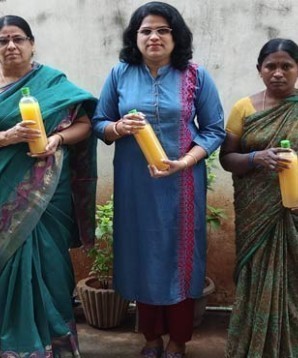 She was born in Warangal but moved to Kolkata post her marriage. She set up a flourishing business empire in Kolkata and is successfully ruling the world of Energy systems. Her lone objective is to introduce and implement projects of social impact through her businesses. She recently shifted all her businesses to Hyderabad. Let's get into the story of Madhuchandrika Chattopadhyay and know more about her entrepreneurial journey.
An Engineer by Choice:
Madhuchandrika Chattopadhyay hails from Warangal but was shifted to Kolkata after her marriage. She pursued Electronics & Communication in Government Women's Polytechnic College and graduated with a B.Tech degree from Kakatiya University, Warangal in 2004. She pursued her Masters in Renewable Energy Science & Technology from the School of Energy Studies at the Jadavpur University in 2008. She has numerous publications under her name, a few of them being, Effect of varying temperature on the performance of solar modules used in Indian climate conditions
Volume 1, Issue 10, IJIRSTMar 2015, Assessment of rooftop PV potential in Kolkata using various solar cell technologies. Volume 3, Issue 4, IJSRDJun 2015, Performance Analysis of Solar Rooftop Power Plants in Smart Cities of India under changing Climatic Conditions.
1st International Conference on Large Scale Grid Integration of Renewable Energy in India Sep 2017, A Comparative Study on Performance of a Grid Connected Solar PV System installed in the Urban, Rural and Coastal region of India, IEEE, Proceedings of the Second International Conference on Inventive Systems and Control (ICISC 2018)Jan 2018, Simulation and Performance Analysis of a Grid-Connected Photovoltaic System in Cold Climate Region of India
Volume 13, Number 8, pp. 5904-5908, International Journal of Applied Engineering ResearchJan 2018, Solar PV Technology for Smart Cities of India.
Entrepreneurial Journey:
Madhuchandrika founded Chandradeep Energy Systems in September 2009 that had designed and developed Solar Energy based household products like LED Solar lamp with the mobile charging facility, CFL Solar Lamp, Solar Home Light Systems. The company also has designed and installed Solar PV Power Plant. In September 2011, she went on to lay foundations Chandradeep Solar Research Institute and has been serving as its Project and Training Head where she also provided training in Renewable Energy Science and Technology to Engineers, Students of Science, and other disciplines helping them in getting jobs or to start their own ventures. She also supervises research projects on Energy and Environment. Madhuchandrika provided training to more than 360 students in Renewable Energy Science and Technology and has also created employment opportunities for them. She also mentored startups in the field of solar energy. "I want to prepare young engineers for the solar industry. People should start becoming more environment-friendly. At least start by using solar lights at home that cut down power costs. Little changes pave the way for bigger changes," said Madhuchandrika in an interview. This entrepreneur was running her businesses successfully ever since her marriage to date. However, she now decided to shift her entire business to Hyderabad where she also started a new venture.
The New Venture:
Madhuchandrika started Chandradeep Innovations & Services in March 2020 with the prime focus on the area of research and innovation directed towards the benefit of rural India. Through her new venture, Madhuchandrika came up with a home-made multi-purpose cleaning product. The main reason for this, she says, is to make the hygiene products accessible to even the people living in the remote points of the state. She says to a release, "One of the most important things the pandemic has taught us is hygiene and cleanliness. From sanitizing our hands regularly to keeping our surroundings clean with disinfecting products, everyone has become extra conscious over the past one year." Thus, Madhuchandrika developed a cleaning product out of organic fruit and vegetable waste and flowers, especially to help the rural people of Telangana maintain good hygiene. She further said that during the Covid-19 lockdown period, people found it difficult to find good quality cleaning products even in metropolitan cities. Madhuchandrika's relatives also mostly are the residents of the interiors of Warangal where they found no access to a good cleaning product. "They find it so difficult to follow hygiene protocols in the Covid era," she says. This made her manufacture a cleaning product using fruit and vegetable waste in her house. She also began collecting waste from fruits and vegetables from vendors in the surrounding areas to prepare the product. She used it herself for four months and then distributed it to her neighbours for their feedback. "It's completely chemical-free and doesn't harm our skin or our pets in the house," tells Madhuchandrika. She got the product tested in the Lucid Laboratory in Balanagar, and got a 99 per cent effectiveness report.
KTR's Call:
Madhuchandrika Chattopadhyay attended the Ink Wash Conference where she was inspired by the words of the IT Minister, KTR. After hearing his call, she decided to shift her business from Kolkata entirely to Hyderabad. "We need a young and dynamic leader like him to inspire innovators like us," says Madhuchandrika.
In The Days To Come:
Once her product is launched in Warangal successfully, Madhuchandrika wants to work in all rural areas across Telangana and provide employment to women. She is also planning to market her product online.
"For those in cities, I plan to sell the product on online platforms. It will be available from April first week, at a very affordable price," she says.
Entrepreneurs like Madhuchandrika are truly an inspiration and an honour to the state as well.

Follow Her Work

Know More About Her Projects