Bhilai boy receives the Global Child Prodigy Award 2020, for his mind boggling memory skills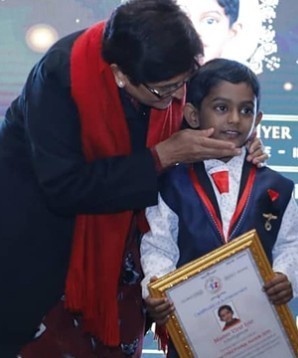 Well! We have already brought before you the stories of many child prodigies so far. But this one, we are sure is going to shock you utterly and you will surely run a background fact check. But trust us, everything we are going to tell you in this article about Virat Vijay Iyer is absolutely true and he is indeed an 'out-of-the-ordinary' boy.
The Mastermind:
Virat Iyer was born on March 11, 2015, in Bhilai, Chhattisgarh. He was just seven months old when his mother used to play with him teaching him about the surrounding objects like vegetables, fruits, etc. The Play way fun learning that his mother incorporated brought immense joy to the child and he eventually got immersed into learning new things unknowingly. The curiosity of knowing about everything around him was identified by his parents. Virat's outstanding grasping and retention power were thus honed by his parents going further.
By the time he was just two years old, he was able to name the Indian State Capitals along with the capitals and flags of more than 60 countries of the world. He will confidently tell you the names of countries that are the leading producers of Gold, Silver, Aluminum, Copper, Iron Ore, Zinc Coal etc. He talks about the solar system and can name the planets, discusses the inventions, and discoveries based on the law of Gravitation, tells you about the Electric Bulb, talks about Radium, Electric Iron, Photoelectric Effect, Steam Engine, Radium, TV etc.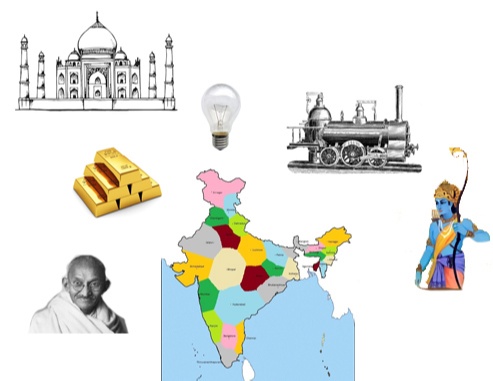 He is ready to answer any questions based on the topics like Indian Mythology, famous slogans of freedom fighters and national leaders. He also identifies Indian Saints and poets by looking at their pictures and even tells the authors of Ramcharitramanas, Hanuman Chalisa and the Sanskrit play "Shakuntala". While children of his age are just beginning with letters and numbers, Virat answers almost any questions related to India. Virat enjoys playing with coins and toy cars showing interest in writing and drawing. When he was just 32 months old, he astonished everyone by answering questions on the National Animal, Bird, Game, River, Song, Aquatic Animal, tree, fruit, and also famous monuments of India like Taj Mahal, Red Fort, Meenakshi temple, Lotus temple, Hawa Mahal, India Gate, Gateway of India etc. The "when", "why" and "how" questions keep evolving relentlessly from his brain. The answers to the questions about the CEO & Founders of Facebook, Microsoft, Google, ICICI, Paytm, HCL, PepsiCo, Patanjali, Reliance, Birla, Jio etc. dance on his fingertips. Ask a question and expect an answer before your eye blinks. If you show this tiny boy, the logos of cars with little differences in their size and shape, he quickly comes up with brands and their models. More than 30 English and Hindi rhymes remain on the tip of his tongue. Aartis in Hindi and Marathi also flow from his divine voice. Virat flashed on the popular TV show hosted by the Big B, Amitabh, and his out-of-the-ordinary mind landed everyone in amusement.
The Global Child Prodigy:
The Global Child Prodigy Award that recognizes children with extreme competency in their field of interest such as painting, modelling, writing, entrepreneurship, martial art, music, social work, etc. was conferred upon Virat for his intelligence and knowledge at such a young age. His name was listed under the top 100 prodigies of the year.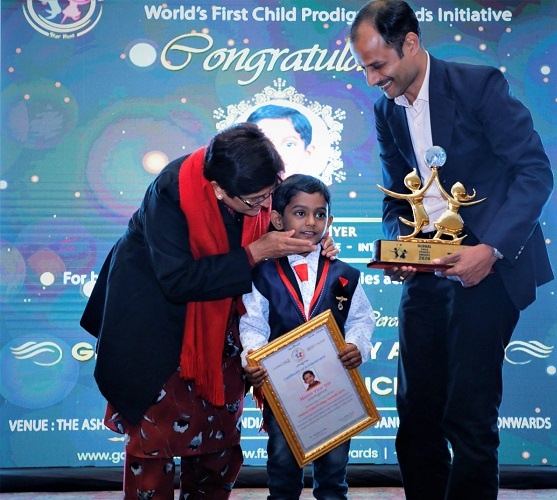 Many More Exceptional Victories on the Way:
The little genius with a lightning-fast brain is looking for a bigger platform to display his exceptional abilities. He wants to represent India on a global platform. We are sure that this boy would soon let the Indian tricolour fly on the world sky.