8-year-old Mexican girl creates a solar water heater out of recycled materials.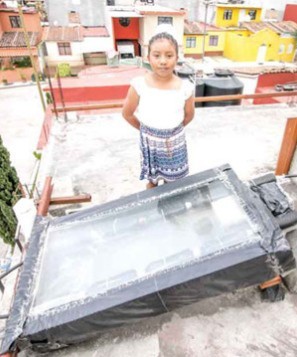 When you have empathetic attitude, age doesn't come your way. Neither knowledge nor experience would become your hurdles if you really want to do something to address a social cause. That's what has exactly happened with Xóchitl Guadalupe Cruz López, a third-grader from Mexico. Looking at the pressing problem her community people are facing, she designed something at such a young age in order to help her people. Let's know the story behind Cruz becoming the first girl to receive the "Recognition of the Institute of Nuclear Science for Women"- a recognition generally given to adults.
Small By Age, Big By Thoughts:
Xóchitl Guadalupe Cruz López hails from the Mayan area in the South of Mexico. She is just eight years old and is a third-grader. Her observations of her region are so intense that she understood much about the living conditions of the people in her area.
70% of the population in Chiapas struggles in poverty and over 30% in extreme poverty. Most of the population is confined to the highlands of Chiapas where the temperatures are extremely low. People here, often use firewood, gas, or oil to heat water which is expensive for them to afford as most of them are poor. Moreover, usage of such fuels releases harmful contaminants such as carbon dioxide into the environment leading to environmental hazards as well as health hazards. In view of all this, Cruz, who noticed the difficulties people in the region are facing, decided to build something that is easily accessible and affordable.
Baño Calientito:
Xóchitl developed a solar water heater from recycled materials and installed it on the roof of her house with the help of her father. She named the water heater as "Baño calientito" which has a capacity of 10 liters. But how could this 8-year-old even think of designing a solar water heater with waste? Well, ever since Cruz was four years old, she has been attending scientific workshops through a program called PAUTA - Adopt A Talent Program. It is an educational project sponsored by the National Autonomous University of Mexico (UNAM) that seeks to stimulate an interest in science for girls and boys using experts and mentors throughout Mexico. It was because of this initiative that Cruz was inspired and decided to make a solar water heater out of low-cost recycled materials. She then collected and joined different materials like a 15-meter black hose, 10 PET bottles painted black, plastic cable ties, a wooden base, black nylon, and recycled glass. "I used the glass doors of a broken cooler to create a greenhouse effect", Xóchitl described in an interview. After building the heater on the roof of her house along with her teacher father Lucio Guadalupe, she tested it and found that it was capable of warming ten liters of water between 35 and 45 degrees Celsius in cold weather. For the construction process, Xóchitl requested the support of Dr. Neín Farrera, who inturn formed a team with the students of Energy and Sustainable Development of the UVM Tuxtla Campus, and students from the Unicach. Dr. Nein Farrera, from the Universidad del Valle de Mexico Tuxtla Campus along with a group of students and teachers from both institutions assisted Cruz in completing the project. The heater has a 65 liters capacity and it uses solar energy to heat the water up to 70 Celsius degrees.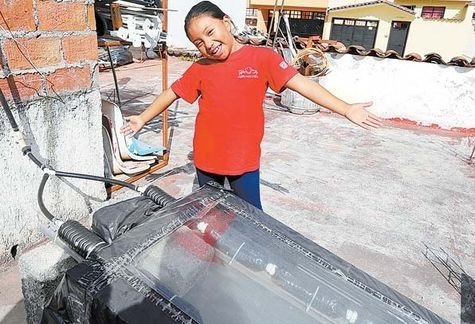 Recognition To The Achievement:
Xóchitl Guadalupe Cruz already became a famous name in her home nation. She became the first girl to receive the "Recognition of the Institute of Nuclear Science for Women", an award usually given to adults by the Universidad Nacional Autónoma de México (UNAM).
Xóchitl aspires to pursue doctorate in mathematics and wants to make her mark in her favorite game, soccer. As far as this invention is concerned, she wanted to build a larger water heater for all her neighbours with the support of local universities and government.