Pradhan Mantri Rashtriya Bal Puraskar Awardee is crowning Vizag with her multifarious persona.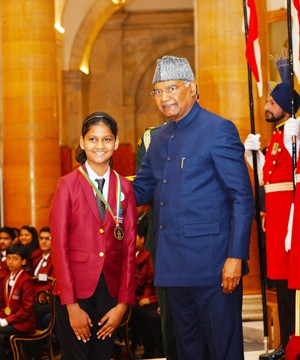 How do I mention her? Do I introduce her as a Karate champion? Or do I mention her as Little Miss United World? or do I present her before you as an International Olympiad? Amidst this confusion, she comes back as a vocalist to amaze everyone with her enchanting carnatic music renditions. So, here we bring before you, a polymorphic baby girl, Sharanya Mudundi and it's upto you how you wanna acclaim her!!
The Little Rosy:
Let's turn the clock back to the year 2017. Sharanya won the title, Grand Prix Winner 2017 and Interview Winner in an International Children festival of Art and Culture, Little Model Earth 2017 held at Johannesburg,South Africa. There she rendered Vocal Carnatic music. In the same year she was crowned as 'Little Miss Grand Sea Intercontinental 2017'. The name of a 9 year old girl from Vizag echoed in Sofia, Bulgaria. She performed the acts of Yoga. She also won the titles Little Miss Asia, Interview Winner, Little Miss Popularity. After winning these awards District Collector of Visakhapatnam Mr.Praveen Kumar congratulated and felicitated her.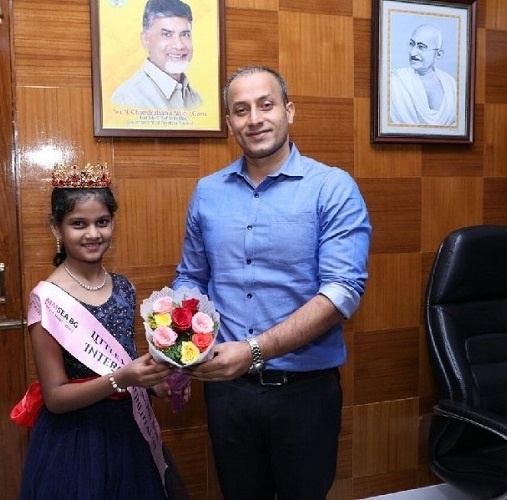 Forward Your Feet To 2018:
Sharanya proudly represented India in the 18th International Children festival of Culture and Art- Little Miss and Mister United World 2018 held at Thessaloniki,Greece. She won the prestigious title 'Little Miss United World 2018' in her category. She was the first Indian girl to win this title. Around 30 countries participated in the festival.15 judges were there from different countries to judge the participants. Sharanya win the jury members heart by delivering her vibrant introduction, Interview and presentation of her Social project ' Run Marathons for Noble cause'in which she explained that Marathons are not only for fitness but also aims to raise awareness about Cancer and underprivileged girl child education to raise funds for prevention programs and education.
After winning this title, Chief Minister of Andhra Pradesh, Shri N.Chandrababu Naidu and Minister of Human Resources Development of Andhra Pradesh, Shri Ganta Srinivas Rao congratulated and felicitated her for her spectacular achievements.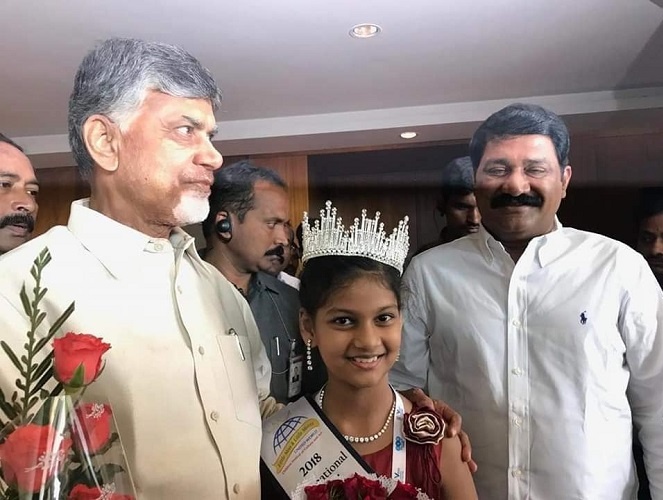 2019:
In 2019, at a six-day gala event, Little Model Earth - 2019 that brings talents across the globe in to a single platform conferred 12- year old Sharanya with the'International Child Jury Award'. The National director of India, Mrs Valentina Mishra congratulated Sharanya.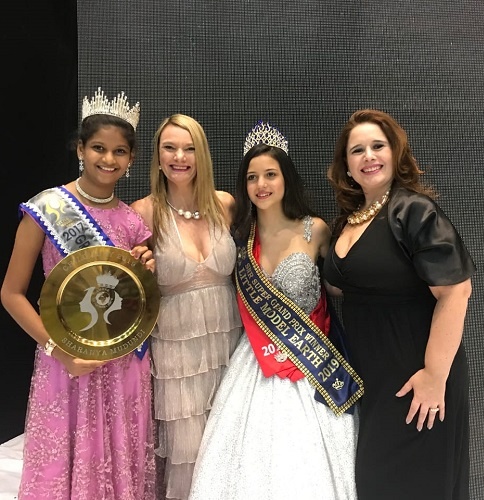 Not Just Beauty, This Baby Girl Is Crowned Also With An Exceptional Brain:
If you think that she is just a little model bagging awards at the Children's festivals, then you should look at the other side of Sharanya Mudundi. This little charmer is a Karate top dog. She has won Gold and Silver medals in the NSKAI State Karate championship. This student of Delhi Public School is also the winner of National Cyber and Science Olympiads. This victor ludorum is also the winner of International English Olympiad 2017. She is a marathon runner too. Now, count all that she does!! Beauty and skills displayed at the Children's festivals, might and vigour displayed in the Karate court and marathons, smartness and wit unveiled in the International Olympiads, brilliance on stage during vocal concerts, tranquility displayed during the Yoga performances, and goodness of heart as a Goodwill ambassador of an NGO, Rohit Memorial Trust for Project Gyan Patashala, the Brand Ambassador of Inner Wheel Club of Waltair, District 302 for Environmental project- what more can you think of coming from a child? We wonder where this tiny Everest reaches as she grows up!!
Highest Civilian Honour - A Recognition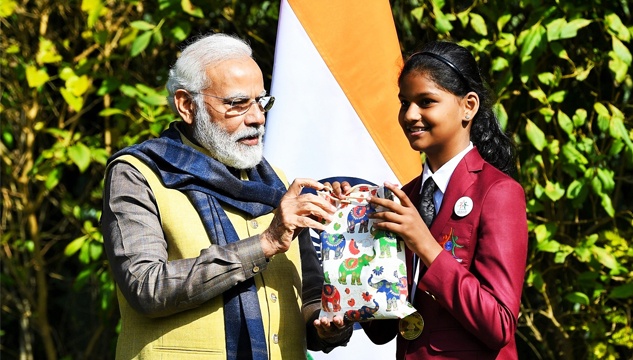 While the appreciations of the then District Collector Mr.Praveen Kumar,Chief Minister of Andhra Pradesh,Shri N.Chandrababu Naidu,HRD Minister, Shri Ganta Srinivas Rao post her success in the International contests are still fresh, Sharanya Mudundi was nominated for the National Child Award for the year 2020. She was conferred with National Child Award- Pradhan Mantri Rashtriya Bal Puraskar 2020 by Honourable President of India,Shri Ram Nath Kovind at Rashtrapati Bhavan ,New Delhi in the category of Art and Culture.She is the first girl from Andhra Pradesh to receive this award in the field of Art and Culture.This award is India's highest Civilian honour bestowed upon exceptional achievers under the age of 18 years. One lakh cash prize,a certificate,and the goldmedal of excellence,a citation from the Government of India and a digital tablet-all these stand as the emblems of her distinctive flair.While the tri- colour flew high in the 71st Republic Day's sky,Infront of crores of nation's gleaming eyes,a girl from Andhra Pradesh arrived in decked up open- top jeep at Rajpath along with the other awardees.Honourable President Shri Ram Nath Kovind Honourable Prime Minister Shri Narendra Modi and the Honourable Chief guest Brazilian President Mr Jair Bolsonaro greeted and gleefully waived at Bal Puraskar Awardees.
What a supreme point was in her life when she along with her parents Mr M.S.N.Raju and Mrs M.Swati and her elder brother M.Rohit Varma was invited by the Prime Minister,Shri Narendra Modi to his residence! Narendra Modi who felicitated the young talent with a watch signed by him and a book.Her parents joy must have known no bounds.When Smt Smriti Zubin Irani,the minister of Women and Child Development expressed her admiration for this little girl, Sharanya Mudundi became the nation's daughter.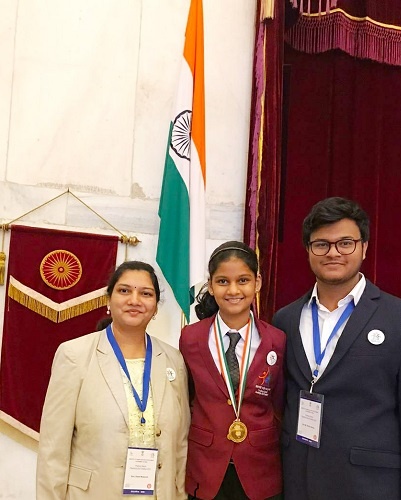 After receiving Pradhan Mantri Rashtriya Bal Puraskar 2020, Honourable Minister of Tourism and Culture of Andhra Pradesh Shri Muttamasetti Srinivas Rao congratulated and felicitated her for the exceptional achievement.Director of the Navel Science and Technology Laboratory NSTL-DRDO,Dr O.R. Nandagopan congratulated and felicitated her.Delhi Public School Anandapuram,Rotary Club Visakhapatnam and Inner Wheel Club of Waltair also felicitated her.
Born To Win:
This Bala Mitra and Sangha Mitra Awardee is surely not going to relax as the zeal to accomplish the infinity in her will keep her roaring like wind. We are here to clap for you little girl and we'ld shout your triumphs to the world until every corner of it comes to learn inspiring lessons from the self-driven you!! You Go Girl!! More Power To You!!

Follow Her Work