MasterChef Australia 2021 bagged by an Indian origin. There is nothing like Indian spicy varieties says this chef..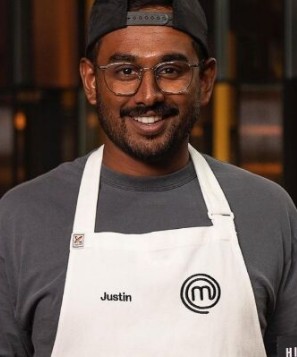 "Lamb and purple cauliflower -roasted, pickled and purée". "Rib-eye cap basted in a kombu butter served with pickled green mango, fermented chilli pumpkin purée and a charred spring onion oil". "A lentil curry, with pickled onions and a coriander chutney served with a crispy rice cracker". "Murray cod fish wings and a tail drumstick with a tamarind, chilli and cumin caramel served with some fresh grapefruit and coriander." "Curry spiced Sweet potato, on a blue corn tortilla, crispy potatoes skin, tomatillo salsa, avocado crema, fresh onion and coriander with a sprinkle of feta". Wondering what all these are and I'm sure, even before you would like to know what we are talking about, you would first like to get those dishes tickle your tastebuds. Isn't it so? When you check out the Instagram handle of Justin Narayan, you are sure to quickly DM him for recipes. This story brings before you, a 27-year-old culinarian who became the second Indian-origin man to bag the most coveted MasterChef Australia title.
When Justin said, "It is a very humbling experience and I am absolutely honoured to be a part of it. I'm going to be a sponge and try to enjoy as much of it as I can", it looks it he really meant it. When he participated in the 13th Edition of MasterChef Australia, he seemed to have driven home whole lot of knowledge from a versatile group of participants and knowledgeable judges, also presenting before them, his unique culinary skills.
An Amalgamation Of Cultures:
Justin Narayan hails from Perth, Western Australia. He started cooking at the age of 13 and he always displayed interest in cooking tasty food to people. The curiosity of looking at how people felt after tasting his food drove him more towards experimenting with dishes. Justin, who was born in Australia has Indian and Fijian roots. Having his mother, who he calls, the unprecedented cook ever, at the centre of his inspiration, Justin always wanted to become the best cook like her. Justin is the eldest of the three siblings and also shared close association with his grandparents. He watched cookery shows along with them and cooked for them. After his grandfather passed, Justin misses him badly but says that he carries with him, what his tata(grandfather) left behind – "significance of living a life well, leaving a legacy and laying the groundwork for future generations". Justin worked as a youth pastor where he helped create a fun-filled and safe community for teenagers. However, in order to embrace his love for cooking and take it to the next level, he resigned to his job and dedicated his clock to take up his passion.
The Indian Flavours:
When Justin travelled to India in 2017, he started admiring her rich culture, history, lifestyle, heritage, people and most of all, food. With his deep inclination towards cuisines, Justin inquisitively looked at Indian kitchen recipes. He was attracted towards salty and spicy food preferring savoury over sweet.
Mastering The Chef In Him:
Justin, who also kept his Masters' study on hold wanted to try out his hand in the MasterChef Australia contest. His love for experimenting with different cuisines and his exposure to different cultures like that in Australia, India and Fiji made him impress the judges with his versatility. While on the show, he cooked many Indian dishes like Chicken Curry, pickle salad, Indian Chicken Tacos, Charcoal Chicken with Toum, and Flatbread. He also amazed the judges with his own version of his mother's chicken curry. The final challenge in the show required the contestants to recreate two of the Australian Chef Peter Gilmore's dishes which are shaved southern squid with koji butter and shiitake custard and a golden crackle. While Justin scored 40/40 for the first dish, he scored 36/40 for the dessert. With this, he beat his competitors winning the finale. While Justin won a sum of $250,000 as prize money along with the MasterChef trophy, the other finalists Pete Campbell, the first runner-up received $30,000 and Kishwar Chowdhury, the second runner-up bagged $20,000. With this achievement, Justin became the second Indian origin person to win the contest after the prison guard Sashi Cheliah who had won the title in 2018. Talking about how he felt after winning the title, Justin said that it was a surreal feeling. "Huge thanks to the judges and other contestants. It was the best experience of my life," he added. The news was also announced on the official Instagram page of 'MasterChef Australia', who shared a video of Justin's reaction on winning the show. "We think it's safe to say @justinnarayan's mind is blown right now," it read. To all those aspiring achievers out there, Justin said, "Find people that believe in you. Back yourself. Go hard and hopefully you will surprise yourself. Whoever's reading this I love you".
The Road Ahead:
Justin is planning to start a food truck in the years to come. If not, he is also in plans to start a restaurant featuring the Indian flavours. He said that a portion of profits he would receive from his business shall be directed towards feeding the needy and educating the slum children back in India.
Congratulations to the Master Chef who has made his mark in the area of his interest, giving hope to all those who leave their passion behind fearing societal pressures and "Log kya kahenge?" (what would people say?) phobia.