Plant your mask and watch it grow into a tree. Checkout these "Seed Paper" masks.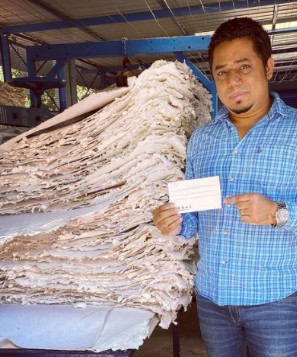 Are you throwing the masks you wear? Do we have any idea of what they do to the environment? The masks we use to protect ourselves are extremely harmful to the environment as they are non-biodegradable. They interrupt with several nature's activities causing irreversible harm to the ecosystem. But not anymore! The youth of India, who are proving themselves to be pro thinkers, especially in times of pandemic, are coming up with innovative solutions to protect the environment from the harm caused by the protective gear. Roshan Ray is one such genius whose mask develops into a plant after use. Let's know more about his invention and be ready to clap for the young man.
The Brainstorming:
When a newspaper article that wrote about how devastating it has been becoming for the earth with added PPE kits and protective gear to its scrap list, Roshan Ray went into thinking. "It was mentioned in the news that nearly 500 metric tonnes of waste are being generated currently in India due to the Pandemic. It is filling our landfills and our oceans very fast! So, these masks are a way of giving back to nature all the oxygen we had taken for granted. ", said Roshan Ray, who started to think of possible solutions to the problem.
The Nature's Man:
Roshan Ray, who is an admirer of nature and works for the cause of the environment, founded an organisation called Seed Paper India in April 2014. Seed Paper India makes eco-friendly products like seeded Ganesha idols, Replantable Independence Day flags, flower extract Holi colours with seed bombs, and Plantable tulsi-seeded rakhi kits. All these are made of replantable seed paper and stationery.
The team converts old clothes into biodegradable paper and embed seeds into it. This paper is further used to make various items including the visiting cards and wedding cards that can later be planted to grow into trees. Roshan, who obtained his Master's degree in Business Law from the National Law School of India, pursued his Mechanical Engineering from Dayananda Sagar College Of Engineering. He also obtained his Associate's Degree in Business Administration and Management from Xavier Institute Of Management and Entrepreneurship. With his education and experience, Roshan, who has been successfully running his company for 7 years now, says, "Seed is a starting point of every idea, every growth, and that is where my inspiration came from. I am an avid reader, a lone traveller, a passionate biker, a photographer, and a fitness freak. I believe this idea of seed paper can tweak the system and make the world a better place for our Future Generation."
The Masks With Seeds:
The team at Seed Paper India collects the waste generated from the garment industry. They take everything from the side cotton cuttings to cotton trims that are generally dumped into landfills. The waste is then washed and cleaned at their facility and is then converted into a pulp with the help of a beater Machine. This pulp is converted into handmade paper using traditional Vats and the seeds are embedded into these handmade papers. Once the papers are dried, they are moulded into masks. These masks are free from chemicals and are biodegradable. The earloop of the masks is made using the jute thread making the whole mask eco-friendly. Paper Seed India makes around 500-700 masks per day owing to lockdown, which otherwise manufactures 2000 to 3000 per day. "These masks are made of 100% cotton material. So, it is safe to say that these masks are much better than a regular cotton mask which is available in the market.", says Roshan. Once used, these masks can be buried in fertile soil and there you go! You become the spreader of green waves.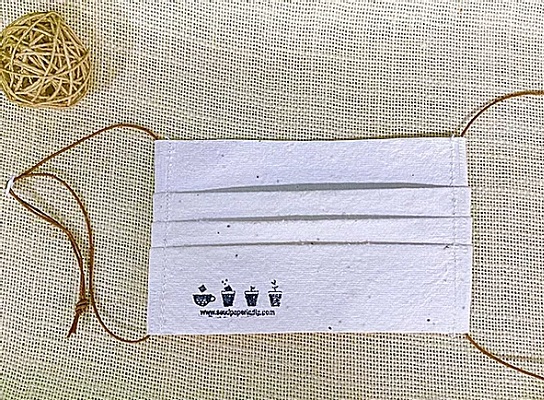 Thanks to the eco-warriors like Roshan Ray who are striving to protect the environment, thereby mankind. When people like him are working towards the environment, can't we do our bit at least holding ourselves from irresponsibly spoiling it?

Know More About Seed Paper India

Follow His Work