Not one or two, this large hearted man shouldered the responsibility of every sphere.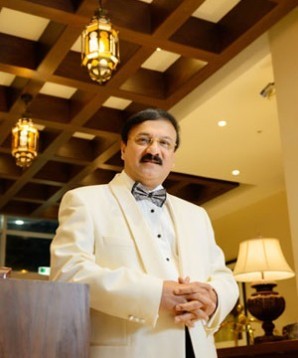 You must have seen people taking the responsibility of a village and change its shape providing all the amenities and helping improve the people's lives there. There are people who help children, there are people who take care of the homeless, the destitute, or the abandoned and abused. There are people who take the responsibility of saving animals and few others shoulder the responsibility of the plant kingdom. But this story is going to bring before you, a man who has taken the responsibility of multiple sections of the society including the judiciary, the Panchayat Raj sectors, and others. When I say that he is a philanthropist, after you listen to his story, you will say that he is much more than that. Maybe the word is not sufficient in itself to describe him. We will take you through the philanthropic activities taken up by Ronald one by one. So get ready to be jaw-dropped.
First-Ever Citizen To Think Of:
Never in Indian history was there any citizen who has taken up the task of re-modelling the police stations but Ronald Colaco. He has set to fully equip and furnish a Police station in Frazer Town of Bangalore with 5000×3000 square feet. He has also initiated an ultra-modern building for lawyers near the Bangalore International airport. Also, at Devanahalli, he established a fully-equipped taluk office. Furniture was provided for the Mini Vidhana Soudha near the Bangalore International airport. Half-built and abandoned Kannamangala Gram Panchayat Building and that of Jalige Panchayat Building was completed by providing full furniture and fixtures.
Contribution to The Health Sector:
Ronald started an organization called 'LINK' in 1991 in Mangaluru- a fully equipped hospital with 65-bed capacity, with counselling and de-addiction facilities at this centre that has played a crucial role in saving and normalizing the lives of the victims of narcotics, alcohol, and tobacco. He contributed for the establishment of free eye clinic at Mulki near Mangaluru. He provided financial aid to the cancer centre at the prestigious Father Muller hospital in Mangaluru. He donated huge sums to Diocesan Medical Relief fund of Mangaluru. He contributed to fixing artificial fingers of palm to a priest who lost his fingers in a railway accident. He provided the protection and CCTV camera facilities at Red Cross Hospital, Chikkamagalur, and offered help to CSI REDFERN Memorial Hospital in Hassan.
Assistance to The Police Department:
Colaco re-built the 3000 square-feet traffic police station in Frazer Town. He provided uniform, school bags, and books to about 500 to 550 children of police personnel of Mangaluru and Udupi for two years continuously. In two years nearly Rs 26 Lakhs was presented a scholarship to meritorious 10th and 12th-grade children of police personnel of Dakshina Kannada and Udupi. Nigel Colaco, the eldest son of Ronald Colaco bore the scholarship expenses in the second year. Chikkajala Police Station, senior Police Officers' mess and club in Bangalore City, Bangalore North D.C.P's Office, etc.were provided with furniture.
Enhancing The Glory Of Education:
Moved by the sight where the children were being taught under a tree, Colaco equipped the Government High School at Sadahalli Village of Devanahalli Taluk in 2003. Colaco contributed to an international standard Higher Primary School at Navaratna Agrahara of Bengaluru with hi-tech facilities in 2019. He provided huge sum for the establishment of Rambhapuri Jagadguru School in Balehonnur of Chikkamagaluru district, Sri Rama school of Dr. Kalladka Prabhakar Bhat in Bantwal taluk of Dakshina Kannada district and Jagadguru Renukacharya School at Uddeborenahalli of Birur Taluk of Chikkamagalur District. He has built a computer block for the new campus of St.Aloysius College of Mangaluru, a Computer Block for Sophia High School in Bangalore, one wing of the St. Josephs PU College at Chikkamagalur, one section of PU College of Rosario Cathedral in Mangaluru. In 1991, Colaco donated one building for ITI courses for Xavier's Education Trust. He collected a fund of Rs 14 lakh from his NRI relatives and friends towards the construction of an administration block of the organization. Arunodaya special school for differently-abled children was constructed by Ronald Colaco at Karkala. 30 computer centres were provided for 850 slum children in Bijapur. Financial aid was given for the construction and management of Mahatma Gandhi residential school established by the former chief minister of Karnataka M. Veerappa Moily. Five Anganwadi Schools in Bijapur and 3 Anganwadi Schools in Mundugod of Karwar Taluk were built by Colaco. Uniform and books are being sponsored for thousands of poor children studying in government and charitable educational institutions for many years now. Huge financial support is being extended to more than 64 schools and colleges of Mangaluru, Udupi, Karwar, Bengaluru Rural, Hassan, Shivamogga, Chikkamagalur, Bijapur, Bihar, and Goa for 25 years now. Colaco also took up the food, clothing, and educational expenses of 18 orphans in KGF of Kolar district since 2004. Colaco has helped in recruiting and paying top 12 teachers in various government rural higher primary schools for all these years since 2000.
Shelter Aid:
Ronald Colaco has built 20 houses at Rs 2.25 Lakhs each at Souhardanagara Colony of Moodbidri taluk of Mangaluru for the poor people belonging to Hindu, Muslim and Christian communities. A number of farmers and villagers received financial aid from Ronald to build their houses.
The Savior Who Rescued From Water Scarcity:
To distribute water to various water-scarce villages in Bengaluru rural district and Kannamangala panchayat area, tractor and trailer, mounted with the water tankers, were sponsored. Many bore wells were dug to address the drinking water concern. He has also installed electric transformers in many villages under Kannamangala and Jalige gram panchayats.
The Developer of The Panchayat Raj Department:
Colaco completed the abandoned building and sponsored furniture to Kannamangala gram panchayat of Bengaluru Rural district. He took up the finishing works and sponsored furniture to the Jalige Panchayat building. He also donated an ultra-modern printer and photocopier machine to Kannamangala gram panchayat to help speed up the distribution of Khata and other records. Similarly, a Hi-tech photocopier was sponsored to the Devanahalli's Sub-Registrar's office to expedite the public attending for completing the registration formalities.
A Citizen Who Took To Aid the Indian Judiciary Department:
Colaco has donated a fully-equipped Lawyers Bhavan at the campus of the judiciary department, near Bengaluru international airport is the first citizen to have gifted to the judiciary department.
HopCom Shops:
Modernised HopCom shops were provided where the fruits can be sold in the most hygenic and attractive manner at Fraser Town in Bengaluru.
The Man Who Gave Roads:
Colaco sponsored a four-lane asphalted road with pavements and stormwater drains on both sides with a central median consisting streetlights for a total stretch of about 2.5 km near Bengaluru international airport. The local body honoured Colaco by naming the road after him and it was inaugurated by the then chief minister Sadananda Gowda. Colaco has donated huge sums to the City Corporation of Mangaluru, laid a Tillery road near Mangala Devi temple at Bolar with asphalt and constructed pavements and drains on either side.
Renovating the Community Centers:
Colaco gave funds for the construction of Sarvadharma Samaja Bhavana of Brahmakumaris at Vijayapura and Vokkaligara Bhavana at Doddaballapur of Bengaluru Rural district. 30% of the costs of fully furnished magnificent Konkan Bhavan in Bengaluru was donated by him. Nigel Colaco built and sponsored furniture for this Bhavan helping to establish Non-sectarian Universal Peace and Service Center on Dharmarayanagara - Bangarpete road in Kolar. Colaco established a 4-Star luxurious Catholic Club at Chikkamagalur and contributed for one wing of accommodation, a mini-auditorium with bar and restaurant facilities.
Aids to the Revenue Department:
Colaco has donated furniture and computer hall for the Devanahalli taluk office in Bengaluru Rural district in 2006 making it easy for distributing the required records for the public. He also provided a public toilet block along with eight stalls in the campus for public requirements.
A Helping Hand During natural disasters and Covid-19 pandemic:
Ronald donated a huge sum towards the government relief fund during the 2004 Tsunami disaster. INR 2 Million was donated to construct emergency houses for victims of earthquake and landslides in Kodagu district. He donated sewing machines and set up a sewing training centre at KGF in the event when Kolar Gold Fields mining was closed and many people committed suicide due to livelihood crisis. He provided various food grocery packets consisting of 17 to 20 different ration items for more than 18,000 poor families of various villages under Kannamangala, Jalige, Doddajala, and Settigere gram panchayats during COVID-19 pandemic. He provided food groceries to personnel of health department, Anganwadi, Asha workers, differently-abled people, journalists, and personnel of all the seven police stations of these areas. All this, he did with no publicity.
Religious Contributions:
Colaco constructed and donated to the Sri Muneshwara temple at Bovipalya of Navaratna Agrahara of Bengaluru in 1999 and became the first-ever Christian for having contributed to a Hindu temple. Colaco received acclaim as the largest donor in the construction of Suryanarayana temple at Mangaluru, the largest donor for the newly re-built Sri Chennakeshava Swamy temple of Hoysala period's ruins near Chikkajala and second-largest donor of Goddess Mutthiyalamma in Doddajala and the single largest donor of Sri Muthuraya Swamy temple at Ilathore village of Bengaluru Rural. He donated for the cold-water drinking facility at Kateel Temple in Mangalore and catered to the Kitchen facilities at Gokarna Temple in Mangalore. Similarly, he has contributed to the construction and renovation of above 34 Hindu temples in Karnataka.
Ronald is the first person in Indian history who, along with his son, Nigel Colaco, constructed a 1000-seater church at Yelahanka of Bengaluru. He also gave financial assistance in building more than 60 churches in Karnataka, Goa, Maharashtra, and Bihar.
Carpet for the Gurpur Masjid of Mangaluru is donated by Colaco. He provided financial aid to the mosque at Sringeri.
Art and Culture:
With an overall cost of Rs. One crore, Ronald donated the administrative block for the Konkani Kala Kendra at Ashoknagar of Mangaluru. He donated huge amounts to the World Konkani center established in Mangaluru. He contributed 25% of the total cost of Rs 4.5 crore for the land that is procured to build Konkani Museum. Colaco's role in establishing the Konkani Sahitya Academy in 1994 as per the guidance of the then chief minister of Karnataka M Veerappa Moily was commendable. Financial aids were provided to the Gulf Voice of Mangalore aiming at encouraging Konkani Singer Talents, foreign tour and programs of Konkani, Tulu and Kannada Artists in Gulf and London region.
To The Field Of Athletics:
Colaco has encouraged a number of sports stars. He provided financial assistance to the bodybuilder Raymond D'Souza and Rohan Ferrao, a bodybuilder who secured a gold medal at the international level, Rose Mary Prescill, the women's Kabaddi champion and G.A.Stany of Chikkamagalur who bagged the state-level championship in chess. Colaco has given Rs.10 lac towards the training and travelling expenses of Bhavani / Rachana of Kodagu in mountaineering and skiing. Colaco was the main sponsor to the 50th All India Senior Ball Badminton championship in February 2005 and also the main sponsor of the 53rd National Amateur Body Building championship in 2006. Colaco was the main sponsor for the under-19 national level football players in Bengaluru.
Mass Marriages of Economically Weaker People on His Hands:
Ronald Colaco has contributed to the mass marriages of poor people organized by Rosario Cathedral of Mangaluru. He also has been providing financial aid to the mass marriages of Dalits being organized by Koramangala Muniyappa for many years in Devanahalli taluk.
A Backbone to The Differently Abled:
Colaco is shouldering the expenses of two lunches per month for all inmates of St Joseph's Prashant Nivas of Destitutes, Mangaluru. He sponsored to install the pavement for the wide verandah and the asphalting of the inside roads of St. Antony's Orphanage in Mangaluru which looks after the destitute and orphans. He has been looking at the books and food expenses of 18 orphans in Kolar for many years. Colaco has given financial aid for the construction of St.Jude Ashram at Pakshikere in Dakshina Kannada district in the year 2008. One million rupees were contributed to the ashram of mentally challenged and lunatics established at Belthangady, Dakshina Kannada district.
Youth Skills Enhancement Program:
Colaco donated Rs 2.5 million to provide the youth of Dakshina Kannada and Udupi to buy auto rickshaws and taxi vehicles on loan from MCC Bank of Mangaluru and find a livelihood. He donated Rs 11 million towards meeting the expenses of educational institutions in the Diocese of Shivamogga.
Colaco has been financing Rs. one million per year and off late half million since a few years for conducting training workshops for Christian youths of Karnataka. Colaco has set up 60 IFKCA centres at Hobli, taluk and district levels and through elected committees is inspiring the youths to contest for gram panchayat, taluk, and Zilla panchayat elections. Colaco helped for the training of talented Christian Youth to prepare for the KAS / IAS / IPS exams organized by the Red Cross Society of Bangalore diocese.
An Advisor to The State Government:
Based on the suggestions given by Dr. M. Veerappa Moily and Ronald Colaco for the development of essential Civic Facilities and Infrastructure in the capital, Bengaluru, Agenda Task Force was formed in the year 2000-01. With the initiative of Dr. M. Veerappa Moily, the Coastal Agenda Task Force was formed under Dr. Vinay Hegde and Ronald Colaco was nominated as the Chairman of Infrastructure Task Force and the team suggested the government for the expansion of Mangaluru international airport, up-gradation & development of seaport facilities and infrastructure, expansion and betterment of Mangaluru railway station & railway line work between Mangaluru – Sakleshpur which was possible for Colaco with the help of the then Defense Minister George Fernandes.
The Demised Are Safely Sheltered:
Colaco provided the cold storage facility for preserving the mortal remains of deceased in the town of Chikkamagalur, and also provided hearse to transport the bodies of deceased belonging to the poor families of Chikkamagalur. He extended financial aid to the construction of cemetery at Mukkamar of Udupi, and aid is given to construct Cemetery and boundary wall around the same at Newtown Church of Yelahanka. Colaco helped the families of Indian, Mangaluru, and Goa origin who settled in Mississauga, Canada to buy land in cemetery. An enclosure for the graveyard and room facility was provided for the settlement of Budga Jangam community at Singrahalli Village of Devanahalli Taluk.
Rewards and Recognition:
For his exceptional contributions to various fields, Ronald was conferred with numerous regional, national, and international awards. Here they go:
The 'Australian Meritorious Service award' on October 28, 2015, in Melbourne for his leadership in serving mankind. The 'Times Now Global Indian of the year Award 2017' was conferred in July 2017. Karnataka Rajyotsava Award 2017, Premier of Ontario, Canada in 2018, the 2018 Canara World Visionary Award, Indian Club Centenary Award' to Ronald Colaco in 2015 at Bahrain by the President of India, late Dr Abdul Kalam, the title "Vishwa Konkani Samaja Ratna", presented by the former deputy prime minister of India L K Advani, Vishwa Konkani Samaja Ratna award, The Pearl of Konkani Community title by Konkani Cultural Association of United Kingdom, 'Konkan Ratna Award' in 2013, the Title of 'Konkan Kunvar' by KCWA, Kuwait, 'Konkan Rai Saheb' award by MCCP, Muscat, the title of 'Tulunada Bolpu' by Doha Qatar Tulu Koota (TKQ), and the title 'Daya Samrat' by MCC of Doha Qatar, Konkani Samaja Seva Award in 2004, 'NRI entrepreneur of the year 2006, the title 'Dharma Prabhodhana Chathura' in 2009,
Samajika Atmasakshiya Prashasti, the title Good Samaritan, the World Rajiv Gandhi Award on November 14, 2004, the Chaitanya Shri Award by the Shimoga Diocese, the 'Vishwa Bhushan' title are a few worth mentioning. Clarks Exotica Convention Resort & Spa headed by Ronald Colaco received 12 international awards in various countries around the world such as Spain, U.S.A., Germany, Austria, Singapore, Oman, U.A.E., U.K., etc. The organization has got 9 awards in India too. Donald Trump invited Ronald for the National Prayer Breakfast Meeting for two years consecutively and that's surely the nation's pride.
Huff!! Maybe the people who write about and read about his philanthropic activities might get tired looking at the long list at some point but this big-hearted man is never exhausted to extend his hand to the ones in need. Kudos is again a small word to appreciate and applaud this man. Salute!
If this Man can give so much why can't we do just a little bit...