From being overweight, critical health conditions to winning marathons. It's all about lifestyle changes.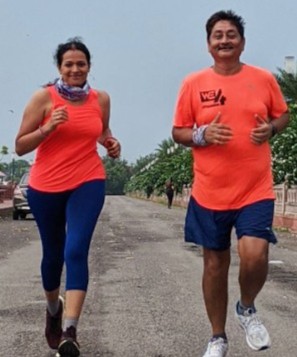 What would unhealthy eating and weight gain do to your body? Leave behind your favourite clothes not fitting you, your body becomes a hub to a galaxy of problems. Your metabolism is affected badly, you might develop health conditions like hypertension, diabetes, acidic issues etc. that might lead to severe problems in the long run. Eating junk can turn your body into junk. When improper eating is coupled with a sedentary lifestyle, then imagining the consequences of this alone can be terrible. That's what has exactly happened with Amartya Sinha. When he was alerted about his deteriorating health condition, he realised the reason behind it. With the help of his wife, Amartya changed his lifestyle and from not being able to run 500m to running marathons, Amartya's story is a motivating force.
A Blood Test Reavealed It All:
In 2018, Amartya Sinha, who hails from Lucknow, Uttar Pradesh went to a routine blood check-up. The doctor diagnosed him with high blood pressure and recommended him with required medication. But Amartya decided not to depend on medicines and asked the doctor to suggest natural ways to control it. Amartya was a foodie and munched on a lot of fried food. He also weighed above 100 kilos. But his knowledge about the rise in blood pressure triggered in him, the zeal to switch to a healthier lifestyle. This might sound like a routine fitness story but it has quite a lot of driving force in it.
Wife - His Best Companion:
Amartya Sinha runs an IT firm and his lifestyle needed drastic changes in order to be back in health. In this journey, his wife Nutan stood by his side. In order to motivate him everyday, she decided to exercise with him regularly. On the day when he started his journey towards a healthy lifestyle, he weighed 104 kilos and had complaints of high cholesterol and high blood pressure. Day one started with a walk in the nearby park. Amartya walked around the park in the evenings and eventually, he bumped into some YouTube videos where he learnt doing some stretching exercises. Slowly, he began to run around the park and on the road. Never he could run beyond 500 meters. Also, Amartya could not maintain consistency in his exercise routine. Had he been late to home in the evenings, owing to work or meetings, Amartya would skip his workout. Things didn't seem to work and it is then that Amartya sought the advice of senior runners who suggested him to work out in the morning. Following their advice, Amartya and his wife Nutan framed a workout plan. They would begin their day at 5:30am. Nutan had to cook for her son who goes to college. So she woke up at around 4am and finished her work in the kitchen and then set to workout with her husband. The couple motivated each other and stuck to their routine. "The workouts helped her stay active throughout the day", said Nutan.
Noticable Changes:
Three months of consistency brought great changes. Before talking about Amartya's weight, it's good to talk about how fit he turned. Casual walking and running around the park turned into running for longer distances. Amartya and Nutan could run to about 10km. Eventually they also started to follow cross fitness training method that included strength training, yoga, cycling etc. which improved their endurance. As months passed, the duo became fit enough to run 50km. "Doing this helped us improve our stamina and even gave us the confidence to participate in our first marathon," says Amartya. The duo never took formal fitness training and have never been to any fitness centre. All they followed was the YouTube videos. They worked on changing their diet plan and said NO to oiled and fried foods, sugar and refined oil. "We also ensure to eat before 8.30 pm so that our digestive systems wouldn't affect our morning run," says Amartya.
The Marathon Runners:
Amartya and Nutan participated in their first competitive marathon in Lucknow in 2018. It was a 10 km race in which Nutan emerged in first place in her age category. "I completed the race in a decent time but needed to practise more. And even though I did not win a podium place, the biggest victory was that I did my first run," says Amartya.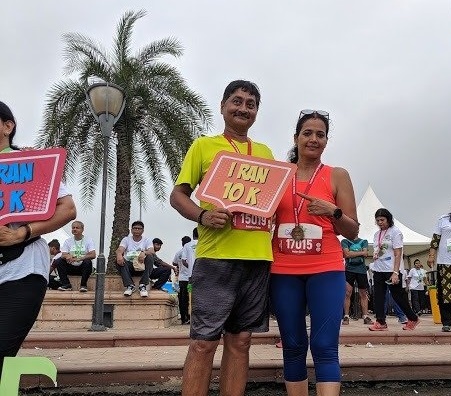 In the year 2019, they participated in 42km and 21km marathons. Amartya now weighs 84 kilos and is an ultra runner. He is free of blood pressure and other complications like diabetes. He is also the recipient of PROCAM-SLAM medal that which is presented to the participants who run 10, 21, 25, and 42 km races across four cities in the country — Bengaluru, Delhi, Kolkata and Mumbai, within a stipulated time. On the other hand, Nutan is a long distance runner and is also the brand ambassador for marathons organised in Lucknow. So far, the duo ran five marathons in three years and participated in in-stadium runs too. "In one race, Nutan completed 46kms while I completed only 38kms. She will always be a better athlete than me.," says Amartya.
This is not a fat to fit story. This is the story of resilience, determination and hardwork. Those individuals who couldn't run 500 metres started to run marathons and reached a point where they were chosen as the brand ambassadors for marathons. That's where it made all the difference. We wish more people come forward to change their lifestyles and stick around to them without giving excuses. May we all become healthier and happier.