What does it take to become a renowned photographer. Patience and only Patience says the teen.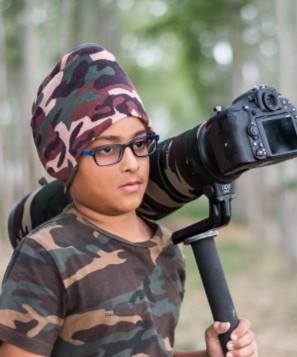 "I still recall the moment when I spotted greater Coucal who was on the ground, bird was very quiet and calm. Whenever, I travel to Kapurthala I often see this bird almost on weekend trips. It's obvious incessant call, red eyes, copper brown wings on a black body cannot be missed. My best sighting of this was when I got to watch it foraging on the ground from just a few meters away." A young wildlife photographer who has accomplished much beyond his age has said these words expressing his love for birds and photography. Jalandhar's Arshdeep Singh made India proud by bagging the most prestigious photography award when he was just 10. Let's walk into the world of woods with this young photographer to know about his journey.
Held The Camera At Just 5:
Arshdeep Singh belongs to Jalandhar, Punjab. He was born in 2007 to Randeep Singh and Supreeti Kaur. Randeep Singh himself is a wildlife photographer. On his fifth birthday, Arshdeep received a camera and lens from his father. Ever since then, his friendship with the camera began and he started to view the world through the lens. He would click the pictures of their pets and birds in the surroundings. With him, grew the photographer in him. Arshdeep's family goes to wildlife sanctuaries and spots during his vacations and thats how his parents encouraged his passion. Though Arshdeep hasn't ever taken any professional training, he just learnt basics of photography from his father and started to script his success story.
A Keen And A Creative Eye:
In 2018, when Arshdeep and his father went to the wetlands in Kanjili, Kapurthala district in Punjab, they saw a pipeline. Well, his father saw a pipeline but Arshdeep spotted an owl sitting inside it. He then plunged into action wanting to sieze them using his camera lens. He rested his camera on the half-open window of the car, maintaining the eye level. Meanwhile, a second owl popped up. With no further ado, Arshdeep captured the moment. Little did he know at that time that this picture would give him immense recognition and honour. Another picture where he captured a peacock sitting on the branch of a tree is sure to grab the viewer's eye. The photograph of a lion ferociously seated in the dry grasslands looks like as if he is setting the jungle in order with his roars.
Wildlife Photographer - The Youngest:
Arshdeep's creative photography received wide acclaim within no time. His work was showcased in national and international publications such as Lonely Planet UK, Lonely Planet Germany, Lonely Planet India, BBC Wildlife UK etc. For his owl photography, called the 'Pipe Owls', he was awarded the 2018 Wildlife Photographer of the Year. The contest is organised by the Britain's prestigious Natural History Museum. Again, in 2020, his picture of Treetop Douc got him the Wildlife Photographer of the Year 2020 award under 11-14yrs age category. Arshdeep was also honoured for his Colugo image as the Junior Asian Wildlife Photographer of the Year 2020 under 18yrs category. Prior to this, in 2019, for his Greater Coucal image, he was honoured as the Junior Asian Wildlife Photographer of the Year under 18yrs category. He was also featured in renowned newspapers like Indian Express, India Today, and Times Now. Earlier in 2020, he was presented with the Global Child prodigy Award for his incomparable talent in photography. He was named one of the Top 100 Child Prodigies in the world. "It is a big achievement for us. We are proud of our son. Very few children get this type of opportunity and I think we are blessed as parents," Supreeti Kaur said.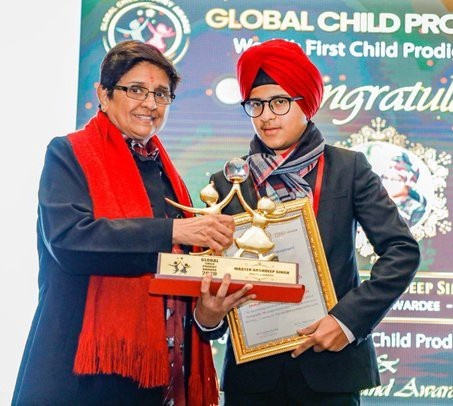 Patience Is The Key:
To all those who aspire to become wildlife photographers, Arshdeep says that it's not the age that matters. All a wildlife photographer needs is patience.
"As far as wildlife photography is concerned, the first thing that a photographer must have is 'Patience.' I believe, if a photographer can practice this art then anybody can click photographs no matter what his or her age is. According to my experience, I have seen old uncles holding cameras in the forests on one side and it's me on the other side", says Arshdeep. Arshdeep, who takes inspiration from Tim Laman, an American Wildlife Photojournalist, says that he wants to become a professional wildlife photographer in the future.
Why not? The boy who has accomplished so much in what he loves at such a young age, can achieve all that he aspires to, in the years to follow. We wish him lens full of success.

Know More About Him

Follow His Work