Lockdown is a boon for this little champ who is sharpening his Rubix solving skills to beat the world record.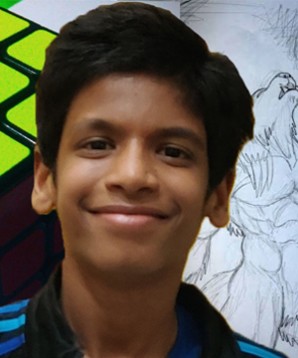 Children are innately inquisitive. Give them a pencil, they will sketch a masterpiece. Offer them colours, they will paint a rainbow. Feed them good thoughts, they display the power of enlightenment. Here we have brought to you, the story of one such lad who is relentlessly working to fulfil his dream of setting a page of his own!! He is Anish Kumar, a Class VIII student of Aavishkar Academy, Bengaluru. Raised by Ms. Sarita Devakumar under the able mentorship of his uncle Mr. Avinash Devakumar, Anish is the hero of our today's story.
Tiny By Age, High In Spirit:
An All-rounder trophy winner of Grade V from Jack and Jill School, stepped into Aavishkar Academy, Bengaluru. New school, new surroundings, new people and everything new. It takes some good amount of time for students to get accustomed to the new surroundings and Anish is no exception to this. A week before this, the school announced the celebration of Talents Day. While most of the new admissions refrain themselves from participating out of fear and anxiety, Anish strongly decided to use this opportunity to break his fear. He resolved to display his talent and show everyone what he is. This event, as he considered, is a ticket to get closer to the new people around. So, he tuned to YouTube and practised Micheal Jackson's "Beat it". He learnt the song not missing on with lyrics and dance moves including the Moon Walk. He gave a scintillating stage performance and the air was filled with loud cheers and huge applause. A new student who boldly chose to outperform everyone taking into his hands, an enchanting piece of "The King Of Pop" mesmerized everyone right from the management to the students and the result - Anish was elected as the Cultural Captain of the School. Since then, there's no looking back for this boy.
Creating A Centre Of Excellence:
Anish, the boy with a burning zeal to accomplish excellence in everything he does, is a pro at academics. He has been consistently bagging the Academic Proficiency Award every year for the past few years now. Not just the bookish content, Anish made his mark in the reasoning and logic-based competitive exams too. He has been securing gold medals in the National Olympiads every year. He has been contributing his thoughts to the Times of India, News In Education edition. In an event organised in association with the TOI, this Grade 7 boy shouldered the role of a reporter, effectively interacted with the Nutritionist/Dietician Ryan Fernando and left everyone jaw-dropped. Wait!! This is not all! This boy steps into the playground again to sweep away the medals and is an intelligent game changer. He is an ace sportsman who brings home medals for his outstanding sportsmanship. Silver and Bronze medals secured in Running and Relay races stand as emblems to his mastery. He is a pro at playing football and basketball too. He is an avid reader too. He ponders over Harry Potter, Eragon, Sherlock Holmes, Secret Seven, Goosebumps, The Shiva Trilogy and the Catcher in the Rye. He enjoys reading the Malgudi days,The Tale of Two Cities and Ruskin Bond's short stories.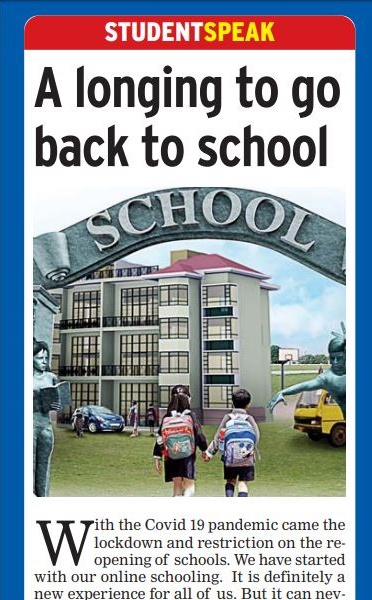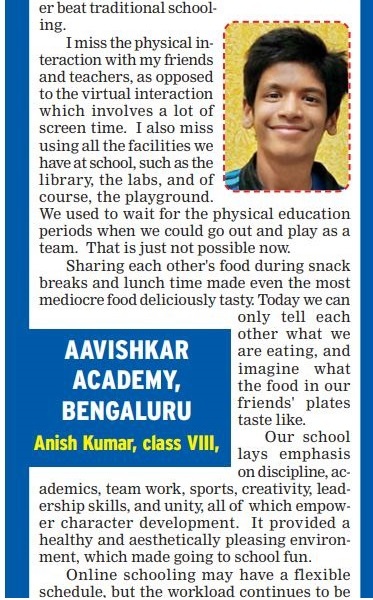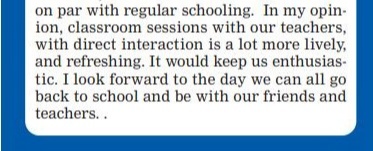 Check the Below Link to View the Article on TOI - @ 2nd Page Left Bottom
The Fact-giving Falcon:
"Panther- It is a leopard with "special genes" that randomly show up in the litter of cubs.
Giraffe- It has long tongues used to clean ears. Have prominent horns that have almost disappeared over time.
Penguin- Very rare swimming bird with special oiled feathers.
Eagle- Golden eagle is big enough to hunt dear.
Sea horse-Only fish that can swim backwards. Male seahorses instead of female horses become pregnant with "Special Pouches".
So, this is again another face of Anish. Ask him about any bird or animal, he churns his neurons in a minute's time and extracts all the interesting facts about the animal. He spends his time researching and learning new aspects about the animal world.
On A Mission To Break The World Record:
Busy brains find holidays to be extra beneficial and productive. They spend extra hours in fine-tuning their skills and build new ones. The lockdown period came as a windfall to Anish who used this leisure to understand and decode the techniques of solving a rubix cube faster. He initially set his target to one minute and achieved it within 58 seconds. The appetite to cut down the time increased and his next target was 30 seconds. He explored and learnt a new method called CFOP (the Fridrich method) and practised it with his might and main. Finally, he could accomplish this at the 30th second. Now, his desire is to finish off the same in 20 seconds and then in 10 seconds' time. But not to stop here, his objective is to break the world record set by Felix Zemdegs from Australia and solve the rubix cube in less than 5 seconds. When we see his perseverance, we are sure to tell that he would achieve this even before he steps back into his much-missed school building.
A Long Way To Go:
Not everyone gets an opportunity to be visible to the world. It takes a great deal of time, hard work and pain for a caterpillar to gain admiration from the spectators and receives it only after it turns courful to the eyes of the world. Same way with Anish. Though he hasn't got an opportunity to show his worth to the world yet, he has been proving his flair to eberyone around him till date. He has been consistently performing well and sharpening his skills every minute to create a sphere of excellence around him and in that whirlpool of brilliance, his burning desire is giving him the shine of a star. Academics, cultural activities, sports, arenas of mental ability - what is it that this multi-skilled lad has not touched? Anish, who is inspired by Sundar Pichai aims to become a scientist in future. Let's wish this little master a blessed and brilliant life ahead. May the fire in him light up this world.