Confident and Stylish 6 year old, walks away with "Little Super Model 2017 Title".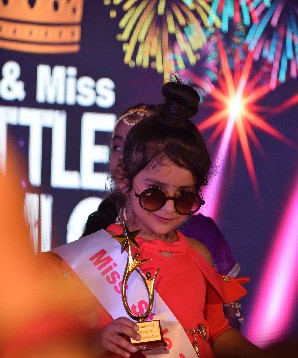 Kids on the Ramp.
Without much effort, this gen 'X' or 'Z' Kids are confidently Cat Walking and each day you see a new face on the Ramp. Clearly, a new trend has been emerging in the last couple of decades and parents are comfortably adapting to the change and so is the society at large. Is it because of the
Social Media?
arguably so and especially FaceBook has lured everyone into making the best use of its FREE services.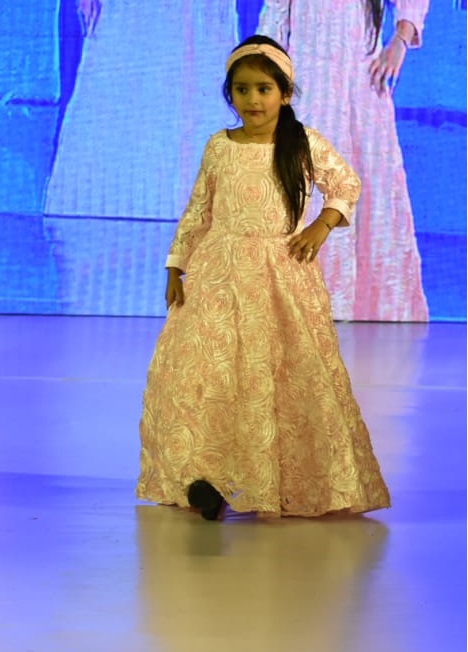 Similar Path
Vaishnavi's parents followed the same Social Media path and when they noticed the Showoffclicks Online Voting Competition in 2016. Their daughter in 10 days won 7386 votes and stood 5th amongst 130 kids and this happened when she was just 5 years old.
2017 Lucky
2017 seems like the little girl was walking the Ramp and Photo Shooting all the time, but the fact of the matter is that her parents and she found time to do everything else like any other kid.
Imagine at this age confidently walking the Ramp at Kair International Brand, MGOWN competitions. Immediately after the competitions, Vaishnavi bagged an offer from Manish Dev, Fashion Choreographer for FOG Fashion Studio.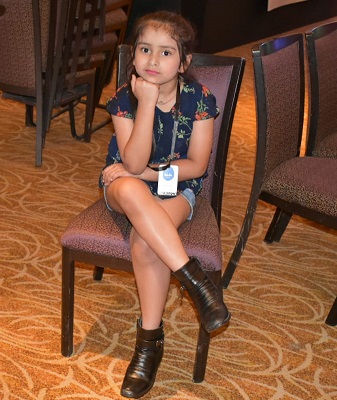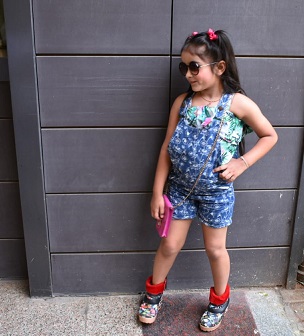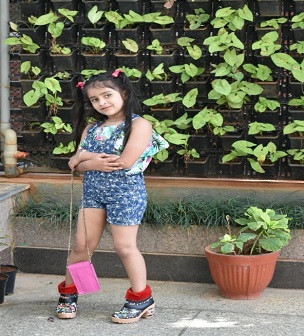 In October she grabbed the attention of everyone when she became "Little Super Model of the Year 2017" & "Best Costume 2017" held by SM Fashion Institute Bangalore. Her pics were flashed all over the newspapers as "Uttrakhand Ki Beti"
As the winner of "Magnitude Miss Style Bangalore 2017" - it's commendable that this little princess walked away with a whopping 35 K prize money from Redbridge International School, a Gown from GownTown and a Portfolio Shoot from Magnitude.
Supportive Parents
Vaishnavi says "My Dad is really really busy with work but makes sure he spends time at home and helps her with studies, plays with her, showers her with loads of hugs and kisses and Mom, undoubtedly for her is a super Mom who is her Make-up artist takes care of proper healthy food, timely sleep, pick and drop for auditions and she is beside her all the time." The parents just love doting on their daughter and its a sheer joy for them. Vaishnavi says her parents Don't Give Up but Yes it can get stressful but they are extremely cautious not to overburden the child and it is noticeable in her confidence, poise, and style with which she carries herself.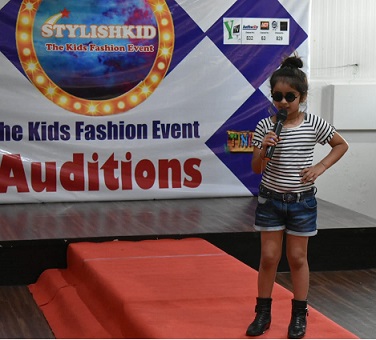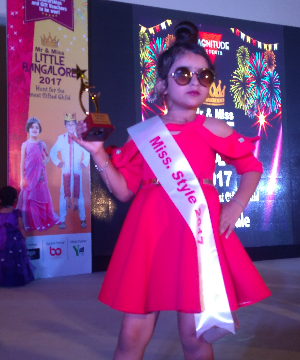 All three believe that family time is very important and ensure have their meals together. She loves cartoon and horror movies and playing with other kids in the park, video games and travelling. She smiles and says "Loves the Winner Sashay, the Ramp, and the cameras, the audience applause, seeing her pics in the news and the social media and the likes and comments" Isn't she a true glamour girl?
Stay Fit
Vaishnavi accompanies her Mom on a one hour brisk walk and another hour of cycling and diet is nothing extraordinary as she loves rotis and thrives on veggies, fruits and follows a strict routine and of course understands what is meant by a Cheat Day when she gets pampered with ice creams, burgers, coke etc., Being in the glamour world is good in a way as it teaches her to be healthy which is probably a pre-requisite.
Future Plans
Vaishnavi's family asserts that studies are equally important but there is absolutely no harm in encouraging their little girl to pursue her hobby turned into a profession like every parent nurtures their child's talent. They are keen that she makes her international debut soon and are working towards it. "I will make my country proud - signs off Little Princess Vaishnavi"
Also, she seems to be a natural actress and has already done commercials and short ads.
Watch out for this little kid as she may well be dazzling on the Bollywood and Hollywood screens. That's the way to look at life Vaishnavi and May all your dreams come true and our best wishes will always be there.