Amazing how this Lawyer's over 20 books became bestsellers on amazon.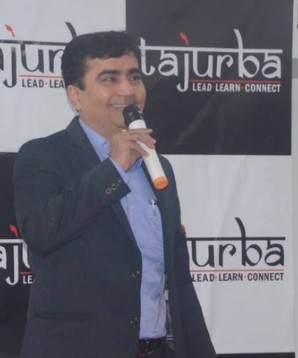 Read his books and go through the articles in his blog, I'm sure some spark ignites you and drives you forward to do something on a constructive note. You will understand how to become a good author, you will learn the importance of consistency in work, you will understand how to gain mastery over a skill, you shall turn ready to conquer your fears and what not! All you need to trek that path to success, you will get them through his words -spoken and written. A former Lawyer and now the best-selling author, Som Bathla is inspiring thousands of people who are aspiring to become writers as well as trying to reap the best out of their lives. Let's get into knowing more about this influencing personality who is on a mission to explore and share.
A Corporate Lawyer With A Successful Profile:
Som Bathla was originally a Corporate Lawyer. He also has experience of close to 17 years in general, corporate legal, food, FMCG industry-related legal matters. He undertook and solved issues related to Mergers & Acquisitions legal due diligence and corporate restructuring, was adept ar drafting/vetting/negotiation of contracts including commercial and M&A transactions contracts, shouldered tasks of dispute resolution, civil/criminal litigation at district, High, Supreme courts, tribunals, CLB, BIFR etc.; handled domestic and international arbitration matters, handled compliance & Ethics, developing compliance system to automate monitoring, reporting statutory/regulatory compliance, automating litigation and contract management, dealt with Intellectual property (IP) related registration and IP infringement matters, Involved in interacting with trade/industry associations i.e. FICCI, CII, Assocham, edible oil-related associations i.e. SEA, SOPA, IVPA etc., would give strategic legal advice on legal matters including corporate laws, employment laws, industry-specific laws i.e. Food Laws, manufacturing, FMCG industry related laws, Legal metrology, standards weights & measures, was adept at maintaining cordial business relations and liaison with RBI, CLB, MCA, ROC, MCA, and other government/ statutory/ regulatory agencies, maintained strong relationships with external Legal Counsels. Thus, while managing all the above-said activities for 17 years, Som Bathla was ably exposed to working in a multi-cultural team environment and maintained good relationships with the team. This effective communicator with great relationship management skills is an avid reader too. His interest lies in researching human psychology and behaviour and loves to learn and share the fundamentals of optimal living in order to lead and help others lead better lives. He believes in human potential and thinks that negative emotions like self-doubt, fear, and low self-esteem dry down the strength in a person. He thus wants to encourage and teach people, the ways to overcome fears and unleash their potential.
The Writer In A Lawyer:
Som Bathla who is an avid reader himself was driven by his thought of penning a book in the year 2014. He collected all that he learnt from reading the greatest minds, coupled it with his personal life experiences, and finally prepared a manuscript. "My early mornings and evenings (remained after my day job) sub-consciously pulled me towards writing.", he mentioned in a release. He said that he kept himself open to all new things and experiments happening in his life during the whole process of writing, thus making every page in his book, a culmination of real-time experiences - both his' and inspiring others. He self-published his first book in November of 2014 and he didn't think at that time that his first creation would become a sensation by becoming the No.1 in the Time Management category. Post the publication of his first book, som bathla was again immersed into his life's routine juggling between family, job and other priorities giving his love for writing, a temporary halt that continued for the next three years. However, his desire for writing didn't fade away and he slowly started feeling some void. In the mid of 2017, he finally took a call and quit his corporate job. He wanted to create a series of books that educate, enlighten and empower.
The Power-packed Series:
som bathla who enjoys writing has published 20 books so far. Most of them stood as Number one Bestsellers on Amazon.com. His books focus on listing the effective wats to improve personal productivity, overcoming negativity, adopting practical strategies that help in smarter thinking etc. Along with books, he also writes articles in his blog and his powerful issues can be found on medium.com too. Some of his well-acclaimed articles are 7 Keys to Increase Productivity, 2 Principles To Put You in Consistent Action Mode, Why You Need to Show Up to Grow & Change the World Too, The Four Mandatory Stages To Becoming an Expert in Any New Skill, 2 Best Practices To Gain Mastery In Any Skill You Want, A Simple Technique to Transform Fear into Exhilaration, How Highly Successful People Develop Growth Mindset, 3 Instant & Effective ways on How to Stay Focused, The 6 Quiet Rituals of Enormously Successful Humans etc. Some of his books include Intelligent Thinking, The Gift of Grit, The Power of Self Discipline, Discover Your Why, Think Out of The Box, Intelligent Thinking, Think With Full Brain etc. All his writings focus on how to transform your mindset and enhance your performance to achieve better results in life. His webinars and sessions were proved to have helped people effectively in making better choices in their lives.

His Vision For Future:
som bathla says that he is on a journey of exploration to learn and grow. He is continuously striving to create more action guides and make them accessible to readers so they can lead a resourceful life. "I am on a journey of exploration, open to embrace all possibilities on my way and share with the world. If you come along with me, I am sure, we will make this a journey full of fun and learning.", he says.
Everyone needs motivation in life, that push to move forward, and a force to drive ahead. If you are the one looking for something like that at the moment, go get in touch with Som Bathla and his inspiring words. You are sure to take home something.

Follow Him

Follow His Works

Follow His Tweets

Know More About Him