Coconut waste gets new avatars with this entrepreneur's creation. Thenga Products go.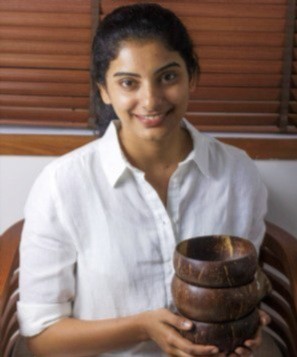 The concept of recycling and reusing items is not a new one; however, we never considered the possibility of reusing waste coconut shells before. When energy emerged from the idea, it culminated in a stunning made-in-India brand ' Thenga' manufactures long-lasting and attractive silverware in which coconut is the central element. Malayalam's word 'Thenga' means coconut, and the creator, Maria Kuriakose, is a Keralite. Born and raised in Thrissur, Maria Kuriakose has always envisioned a business that would benefit the people working behind the scenes, which prompted the creation of this brand. Thenga also crafts coconut shells into kitchenware by reshaping them. This company is owned and managed by women and aims to empower craftspeople and help the environment.
Persuasive flashes….
Maria Kuriakose completed her undergraduate studies at St. Xavier's School of Economics in Mumbai and a postgraduate diploma in Business Administration at Comillas Pontifical University in Spain. Thrissur's coconut oil plant was her root of inspiration. Maria mentioned, "Coconuts are a versatile harvest, containing useful parts in every single piece. However, I realized that coconut shells were being thrown away."
Investigating further, she found that those skilled workers who once rehearsed this practice to fame have also vanished today. Yet, she is not willing to put enormous financial resources into buying equipment for a preliminary test. Her father and mother are the two most significant supporters of this 26-year-old entrepreneur. Her journey begins with collecting coconut shells from her terrace and the nearby oil plant. In response, she said, "Sanding machines are built by my dad from spare parts from stores." Her father repurposed a handheld drill into different fittings, including cushions, circle sanders, and hammers. Maria asked her mom, Jolly Kuriakose, to help collect coconut shells from our terrace and the nearby oil plant. Maria then began contacting organizations that would buy her bowls. Maria has successfully sold more than 8,000 items to Tamil Nadu, Karnataka, and Kerala in this process. The young entrepreneurs have further developed a brand image related to coconuts called 'Thenga', serving both soup and cold drinks in these bowls. Coconut-seasoned candles from her collection are the best on the market.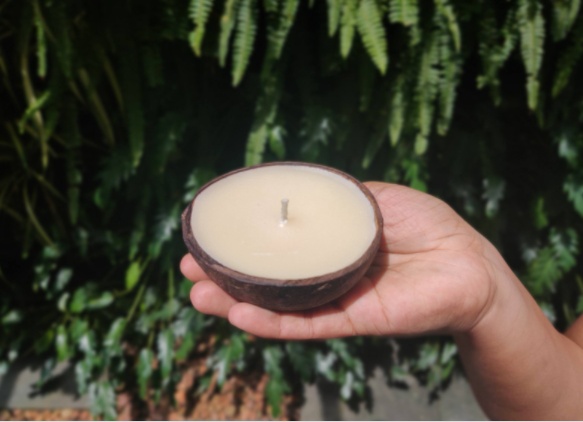 A " PROMISE" more than a "BRAND"…
Coconut oil adds the final touch to these food-safe and eco-friendly dishes. Coconut shells are handmade by artisans in Kerala, using 100% regular coconut shells. The different cover markings, grain patterns, and shading varieties make each bowl unique. When can utilize all of a coconut's components, Maria considered using the water and husks before settling on shells. The majority of the shells are scorched in factories to be used as fuel, explains Maria. "Her mission is to lead the creation of pure ecosystems through convenient and conscious living." Using the patio and plants nearby, Maria gathered crude materials. By imprinting their logo on the product, they offered it to eco-friendly cafés and restaurants. Maria named the craftsmen after thoroughly examining the request.
Maria clarifies," We did as such to guarantee their reliable work".
The craftsmen who the brand employs originate from Thrissur, Kottayam, Wayanad, Kodungallur, and Alappuzha. In addition to their traditional kitchenware made from coconut shells, these artisans also produce home stylistic layout decorations. Because of declining interest in their items and no regular pay, most of these craftsmen have taken other temporary jobs for employment. Maria shares that Thenga offers better reach and has also helped them acquire. The negligible maintainable dishes, cutlery, candles, and much more are sold through Instagram, Amazon, and Flipkart. Follow @thenga_coco on Instagram. "It makes sense to live sustainably." They assisted Maria to expand the range of accessible items, so she was able to accept more orders. Until the end of 2020, Thenga had four sizes of bowls. The smallest was a 150ml bowl that cost 250 Rupees, and the largest was a 900 ml bowl used to serve mixed greens plates for 950 Rupees. Additionally, they offered teacups, candles, cutlery, and hanging plants.
A practical dilemma…
A pile of shells makes it challenging to find the right one. Maria and her team use shells they pick together with the craftsmen to create a group of identically sized items. Maria says coconut bowls come in three sizes-small, holding 150ml, medium, holding 200ml, and Kerala Jumbo coconut shells having 500-600ml. Vietnamese coconut shells are also available that will hold 900ml for people who require larger compartments. Maria can enjoy these homemade eco-friendly kitchen wares at room or cool temperatures but should avoid hot temperatures. All Thenga coconut products do not contain synthetic, inorganic mixtures that degrade the original quality. Finally, coconut oil is used instead of stains for the last coating. If the shell becomes dull after being washed several times, Maria suggests applying coconut oil to restore its lustre. The oil can absorb into the surface and prolong its life. After sorting through several organizations, whom Maria would not like to distinguish, she prepared some food at home. Moreover, she printed logos for the company on them. A third-party company has performed laser printing on wood stock. "In the next few months, Amazon will begin delivering to Germany", disclosed Maria.
Maria's efforts as an ecological and sustainable business pioneer set an example to budding business visionaries who are equally anxious and committed to reshaping the world in the same way.
Know More About Thenga Products

Follow Their Work