Kenyan 10 YO girl is a painter, designer, model, singer, and a Global Child Prodigy Award winner.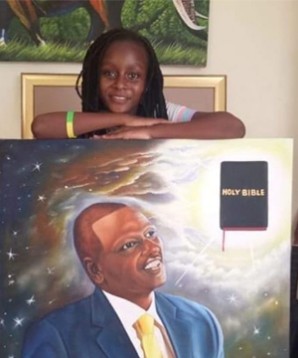 Painting is her identity. She paints her heart out and everything from wildlife to female icons are the subjects of her artwork. She is not a painter whose hair has gone grey. She is just 10 years old she is already global fame. Call her a painter or an artist, surprisingly; a singer emerges from within her. The next moment she takes the role of a designer and a model. She then takes the form of a public speaker and says that she is going to be the future actress. Woah! Okay! Let's get into the interesting world of Sheila Sheldone Charles.
A Multitude of Skills:
11-year-old Sheilah is from Kenya in Mombasa who lives with her parents and younger brother. She studies in Light International School, Mombasa – Kenya. She discovered her love for art when she was 5 years old. When she told the same to her mother, she said that all children scribble on their books but Sheilah knew that she did the best. She showed her drawings to her mother which left her surprised. When the family went to Mombasa, her mother asked Sheilah to draw her portrait and Sheilah did it. With this, the mother realized her potential and started encouraging Sheilah.
I don't know actually why I draw, but it's just God-given. It's something in Me, she says.
Sheilah also loves to design her clothes. She creates outfits for herself and then models them herself.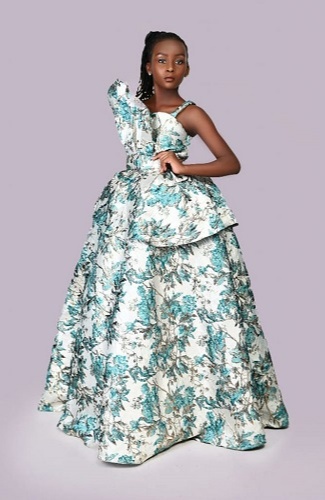 She has also designed for the president of Kenya, Uhuru Muigai Kenyatta. She loves to sing as well.
She has two songs of her own- one is by the name, 'Ringo by Sheilah Sheldone,' and the other is 'Corona by Sheilah Sheldone.' These songs are on her YouTube channel, Sheilah Sheldone.
Thus, at a very young age, Sheilah has already become a permanent zip code for multiple skills.
Paintings That Tell Stories:
Sheilah's paintings tell stories of women and children.
"I use paintings to tell stories, especially of women and children who, like my mother, suffer a great deal to give our lives meaning," Sheilah says. Her paintings display bold colours and abstract figures. Her painting "A Woman's World" depicts how special and important a woman is and how the world cannot do without her. Her painting, "The Instrument" depicts that one can explore all the talents and gifts that God has given instead of settling for less. Her painting, "The Jungle" is done to show the world the value of wild animals, like the elephant. "Queen Face" is a unique painting with different shades of colours that first starts with an abstract later transforming into a beautiful painting of Queen Elizabeth II's face! Talking about her painting, "The World Heroes", she says,
One day, I will be a world leader. What the world leaders in this painting do for humanity inspires me a lot!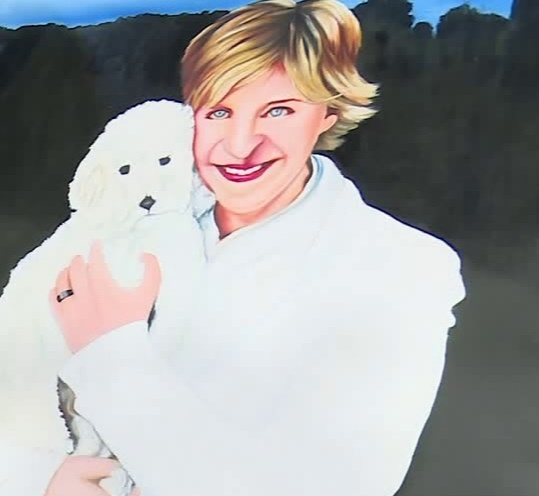 Wide Acclaim From Across the World:
This exceptional kid was applauded worldwide in various instances. The BBC News, Citizen TV Kenya and FOX40 have featured her talent. The portrait of Kenyan President, Uhuru Kenyatta went viral on the internet and the government invited her to present the painting herself to the president at the State House in Nairobi in 2018.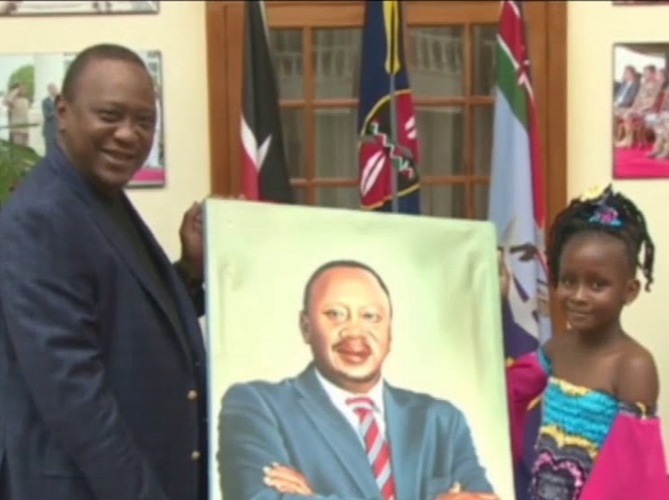 She was called to the US to teach young children of the community school. She taught them painting and drawing. The Tese Foundation presented her the award, "Youngest Lioness of 2018" for, she was the youngest girl from Africa to help the community. She received the Global Child Prodigy Award 2020 for her distinctive flair in painting.
It was an honour to meet other child prodigies. I feel happy that I was among the Top 100 child prodigies of the world. I am also in touch with some of them like Stacey Fru, and DJ Switch, She says.
Well, let me tell you that she herself designed the dress she wore at the GCP Award ceremony.
I wanted to be stunning and impressive. I did design the dress that I was wearing at the GCP Award ceremony, She chuckles.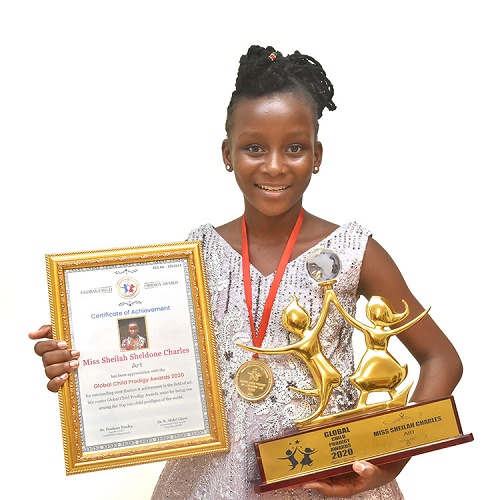 Much To Accomplish:
Sheila who has drawn inspiration from Oprah Winfrey and Ellen De Generes in helping people is inspired by Leonardo da Vinci in art. In modelling, she is inspired by Banks and Naomi Campbell. She learnt how to manage time from her mother who sits and arranges the schedule for the upcoming week every Sunday so little Sheilah shall be able to balance her studies and skills. Sheila aspires to pass on her expertise and skills to the next generation and thus reached art to other students in Mombasa through the Sheilah Sheldone Arts for Social Change CBO, a programme she founded along with her mother.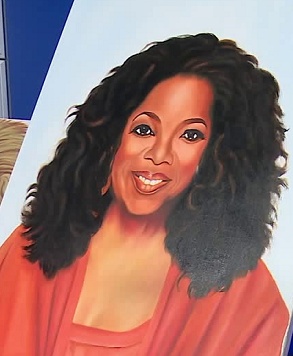 "I am proud of all of my talent, but I'm most proud of following my heart. I also feel glad that I can change children's lives as I inspire them to follow their passion.", says the self-confident girl.
This artist, designer, model, singer, public speaker, and an upcoming actress wishes to make the world a comfortable place for children.
I want to become like a superhero who will support children, says Sheilah.
She further says that everyone is a child prodigy but only a few like her are being discovered.
She advises all the children and says, "Just keep following your dreams and do whatever you love. It would be best if you always believe that you can."
Why late? Her advise applies to everyone not just to children. We wish this little pataka from South Africa makes noise worldwide and continue to bubble with the same fire and energy.

Follow Her Work

Know More About Her

Like And Subscribe Her Channel For More Updates