One of the pioneers of Cancer Research, Dr. Ranadive, helped develop a leprosy vaccine.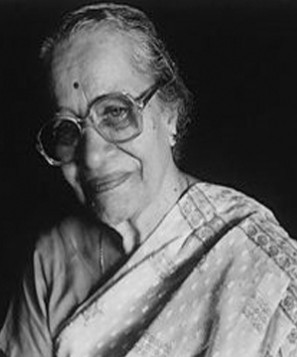 She was the director of the Indian Cancer Research Centre (ICRC) and a pioneer in animal modelling of cancer development. She was among the first researchers in India to propose the link between breast cancer and heredity and was also one of the pioneers who identified the links among cancers and certain viruses. November 8, 2021, on the occasion of her 104th birth anniversary, while Google Doodle celebrates her life, let's remember her, the prominent Indian cell biologist known for her trailblazing cancer research - Dr Kamal Ranadive.
Indian biomedical researcher Kamal Ranadive was born in Pune in 1917 to Dinesh Dattatreya Samarath and Shantabai Dinkar Samarth. Having brought up in a family that valued education, Kamal excelled in academics ever since childhood. She finished her schooling at the Huzurpaga: the H.H.C.P. High School. Later on, though Her father wanted her to study medicine, her call was different. She secured her Bachelor of Science (B.Sc) degree with distinction in 1934 and then did her master's degree (M.Sc.) in 1943 with cytogenetics of annocacae as the special subject. She then married J. T. Ranadive who was a mathematician. She began to work at the Tata Memorial Hospital and completed her postgraduation in Cytology. From the Bombay University, she pursued her Ph.D under the guide Dr. V. R. Khanolkar, a reputed pathologist and the founder of the Indian Cancer Research Centre (ICRC). After securing Ph.D in 1949, with the encouragement of Dr. Khanolkar, she went on to obtain a postdoctoral research fellowship to work on tissue culture techniques and work with George Gey in his laboratory at Johns Hopkins University in Baltimore.
An Accomplished Research Officer:
After coming back to India, she entered ICRC again and started rendering her services as a Senior Research Officer. In the early 1960s, she has developed tissue culture media and related reagents along with her assistants. She served as the Director of ICRC for four years – from 1966 to 1970. Over her complete career duration, she has conducted research on various aspects and her contributions to the field were innumerable. She conducted research on pathophysiology of cancer through the medium of animals that further led to the recognition of causes of leukaemia, breast cancer and Oesophageal cancer. Another gem adorned her career crown when she proposed a link between cancer and hormones along with tumour virus relationship. Her basic research on the bacteria related to Leprosy led to the development of leprosy vaccine. She also played a key role in establishing Experimental Biology Laboratory and Tissue Culture Laboratory in Bombay. Kamal was also responsible for the establishment of new research units in Carcinogenesis, Cell biology and Immunology. In 1973, Dr. Ranadive and 11 colleagues founded the Indian Women Scientists' Association (IWSA) to support women in scientific fields. Kamal and her team at the Satya Niketan, a voluntary organization of Ahmednagar have collected the data related to nutritional conditions of tribal children in the Akola taluk of Ahmednagar district of Maharashtra. She also provided advice to women in the rural villages near Rajpur and Ahmednagar on health and medical care. Betel quid chewing and oral cancer: Experimental studies on hamsters, Effect of Urethan on Nucleic Acids, Influence of splenectomy on the development of leukemia in male mice of the ICRC strain, Characterisation of mammary tumour virus of strain ICRC mouse are just a few among 200 of her published research papers on cancer and leprosy. Post her retirement in 1989, Dr. Ranadive dedicated herself to work in rural communities in Maharashtra where she trained women as healthcare workers, providing health and nutrition education.
Recognition To The Inspiring Woman:
Kamal was honoured with the third highest civilian award, the Padma Bhushan for her outstanding contributions to the field of Medicine, in 1982. She was presented the first Silver Jubilee Research Award 1964, of the Medical Council of India and was also awarded the G. J. Watumull Foundation Prize for 1964 in micro-biology. This inspiring woman was also an emeritus Medical Scientist of the Indian Council of Medical Research (ICMR).
This woman is undoubtedly an inspiration to all those young scientists especially women, who have their call towards cancer research. She has pioneered to lay the path; the rest is history. Let's thank this woman on this 104th birthday of hers, for the immense influence she has had on her students who work as scientists today.