Jesuit Father Ignacimuthu made it to the top 1 percent of biology scientists.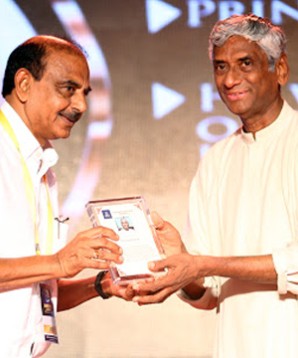 His wisdom is no, not an ocean but a perennial river. Yes! A perennial river wets and blossoms everything that meets it during the course of its flow - flora, fauna, and anything for that matter. Just like that, he touches the lives of people in his way and uplifts them. His knowledge has helped more than 100 students to get their doctoral degrees too. The research papers submitted by him and his books serve as an incredible knowledge base for both the beginners as well as the experienced. He is in his 70s and is no less than any youth in delivering his duties. Let's know about India's Jesuit scientist, Savarimuthu Ignacimuthu and I'm sure you will be drawn towards his deeds.
A Blessed Mighty Brain:
Father Savarimuthu Ignacimuthu is a 71-year-old Jesuit scientist. If we have to tell you his profile, we should first ask you to be patient enough to go through the long list of his accomplishments. Born in 1948, Dr Savarimuthu Ignacimuthu holds a PhD and DSC. He taught at St. Joseph's College, Tiruchirapalli. He served as the principal of St. Xavier's College, Palayamkottai and also at the Loyola College, Chennai. He was vice-chancellor of Bharathiar University, Coimbatore, and University of Madras, Chennai. The Catholic Church and other Christian groups manage about 250 colleges in India. However, Father Ignacimuthu stood as the first Catholic priest to become the vice-chancellor of a university. He worked at the Entomology Research Institute, Loyola College, Chennai, during the period from 1993 to 2018. Since June 2018 he has been working at Xavier Research Foundation, St Xavier's College, Palayamkottai.
The Man With A Never-ending Desire To Study, Research And Apply:
Father Savarimuthu Ignacimuthu has not only graced higher positions in the colleges and universities. Jesuit Father, who became the vice-chancellor of Madras University in Tamil Nadu state in June 2002, continued his research in biotechnology post his resignation. He said that he would spend his time working with the Council for Scientific and Industrial Research that he started. He also took up a research project funded by the Swiss government to develop eco-friendly bio-pesticides using plants and microorganisms. The Jesuit Father is involved in developing plants that resist pests. This genius man is also helping to locate, map and understand the types of insects found in the Tamil Nadu region.
He has done much more than just that. He published more than 800 research papers. Can you believe it? 800! He has authored close to 80 books. His books revolve around the concepts of biotechnology, bioinformatics, bioethics and environment. His books are used as textbooks in universities and colleges. Moreover, he holds 12 Indian patents and two US patents. We are not stretching the truth if I say that one insect species is named after him. It is Jacthrips Ignacimuthui. Also, one natural molecule, Ignaciomycin is named after this genius. This divine brain also has set to develop a natural herbal biopesticide Ponneem to control insects and pests in the fields. This became a true farmer's friend.
A Poor Man's Sanitizer:
Father Savarimuthu Ignacimuthu, through his Xavier Research Foundation, decided to develop a hand sanitizer that the poor can afford. His vital hand in developing Xavier herbal hand sanitizer to protect against pathogens including Covid-19 is remarkable for a reason. This herb-based sanitizer is developed to help the poor in the southern Indian states and districts to fight the coronavirus.
"As the coronavirus was taking a stronger hold we wanted to help the people with a simple self-protection method," Jesuit scientist Father Savarimuthu Ignacimuthu, director of Xavier Research Foundation collaborated to St. Xavier's College in Palayamkottai, said.
"While authorities all over the world harp on handwashing and hand sanitizing to keep coronavirus at bay, we found sanitizers are far from common people's reach," said the Jesuit scientist. The sanitizer was launched on 24th March 2020 at St. Xavier's College premises in the presence of Fathers Henry Jerome, the rector, Alphonse Manickam, the secretary and Mariadoss, the principal amidst the print and digital media personnel. On this occasion, Father Ignacimuthu said that they have decided to develop a hand sanitizer after knowing that the virus spreads by touch.
"We also know that the already available sanitizers were costly. We wanted to make a cost-effective product to help the poor people in Tirunelveli district (of Tamil Nadu)," he added. From the time of its launch, the Jesuit foundation has been distributing these bottles for free to the police personnel as well as the sanitation staff. Around 3,500 bottles were distributed for free to the police personnel, sanitation staff and also to the villages adopted by the college. Around 5000 bottles of 100ml quantity were distributed in Nagercoil and Kanniyakumari districts.
Remarkable Accomplishments:
The man who is blessed with a genius brain and divine heart, is there anything that he cannot do? He authored a book on environmental awareness in Tamil that received the Best Book Award from the Government of Tamilnadu in 1995. He was presented the "Scientist for Life Sciences" award by the Tamilnadu government in the year 2000. For his research on environmental management, the Government of Tamil Nadu in 2009, reverently conferred upon him, the Kamarajar Award. The Royal Entomological Society, London has awarded Fellow of Royal Entomological Society (FRES) for his exceptional contribution in Entomology. He is also a fellow of National Academy of Agricultural Sciences, New Delhi. This scientist emeritus of CSIR and ICMR has been identified as one of the top 1 per cent scientists in biology. After the scientists in the United States evaluated his research publications and his contributions during the period 1985-2019, they found that Dr Savarimuthu Ignacimuthu has been ranked below 1,000 for the past 20 years. His name is found under high achievers' category in all the parameters used for the assessment and he is ranked 10th among Indian scientists. Thus, they listed him among the top 1% of scientists in biology.
Grateful To God And Merciful For His People:
The Jesuit scientist, even after so much done and accomplished says that whatever he has done so far is the "labour of love with God's grace." All that he has achieved to date, he attributes to the scientists and students who worked with him and stood by him in every walk for the past 35 years. He says that God has blessed him and nurtured him in all ways, now whatever he has been doing to the children of God is his way of giving back.
He was gifted with a genius brain. He coupled it with the butter of his heart and has been developing various kinds of products and ideas that benefit every section of the society. He is the true "Father" - Father of the needy. In a world where we see tricksters who deceive in the name of God, this pure-hearted God's child came to open the eyes of the blind believers. He showed us how a true child of God shall be like. His story tells us how to utilize the god's grace upon us to grace the lives of people around us. It also tells us that when we honestly work for what we need, we are sure to get the best of it. Salute to you reverent Dr Savarimuthu Ignacimuthu. May the glitter of your knowledge continue to shine.