Imphal's trans-woman helps in getting trans-identity passports apart from setting up a grievance cell.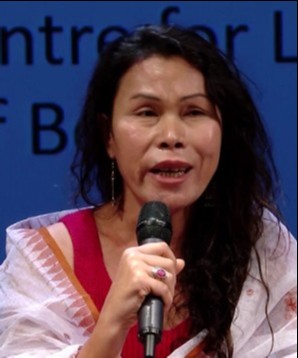 "He burned at the common crematorium The place where many women too burned when they died There he's gone, leaving no legacy of his own gender.", Khurai expresses in a poem written in dedication to her father who had passed away in 2015. Santa Khurai, severely abused and ridiculed mercilessly for being what she was as a child, is now a package of power, self-esteem and a ray of hope to many sailing in the same vessel. Let's get into the inspiring journey of activist Santa Khurai whose relentless efforts pushed the Manipur State Commission for Women (MSCW) to set up a grievance redressal cell for transgender women.
Support Was Just An Expectation:
Santa Khurai was born in Imphal in a conservative family. Though she was born a boy, she never identified herself as one. She knew that she was always a girl. She was enrolled in Don Bosco All Boys School in Imphal. However, she was all alone without any friends group. "Throughout all these years, I was alone — there was constantly staring and mocking, even during the assembly sessions at school. Tiffin breaks meant eating by myself in a corner," says Khurai in an interview. She was not even supported by her parents and three elder sisters either but her two younger brothers understood her. In 2016, Khurai pooled up money through crowdfunding and underwent gender affirmation surgery. While she collected over $5000 in total, there were no donations from India.
Experiences That Led To Activism:
Santa Khurai, who underwent numerous struggles personally has, with great difficulty, set up the first beauty salon run by a trans person in Manipur. When asked in an interview about what drove her to set up a business, she said without hesitation or fumbling that "Money" was the sole reason.
"My parents didn't give me money because of my gender identity. Whenever I asked for money, my father refused, because I used to just buy girls' clothes. I had to be self-sufficient," says Khurai. Her business grew leaps and bounds. This success sowed the seeds in her not just to establish her own identity but also that of the trans community. In the year 2010 Santa was invited to be part of a Universal Periodic Review (UPR) working session, an initiative of UN human rights in Delhi. After her return to Manipur, she headed the All Manipur NupiMaanbi Association (AMANA) - a coalition working to raise awareness on transgender rights. However, Santa says that whenever she attends any meet-ups or forums, she feels left out as the representatives from the trans community are significantly low. She always felt unheard and hardly was given a chance to speak about the needs of the trans community. "When I speak about our requirements, I'm not sure that people will listen.", she shared in an interview. Khurai, who used to be the only one participating in those forums from the North East, often experienced low self-esteem resulting from not being heard. Santa Khurai spoke about how before colonisation and the spread of Christianity, there was the inclusion of gender plurality and multiplicity in the belief system. Her knowledge of all this resulted from her studies of indigenous queer communities of ancient times and from analysing ancient texts related to the region. Not only voicing the voice of the trans community, her efforts to support trans community involved organising relief funds, distributing rations to over 2,000 trans people, connecting mental health professionals with the trans community etc.
A Historic Win:
Santa Khurai's efforts to work for the trans community has led to something big and constructive. The Manipur State Commission for Women (MSCW) has now set up a grievance redressal cell for transgender women. According to Santa, transgenders have faced violence and discrimination both online and offline but the authorities did nothing to safeguard their dignity and rights. But now, this historic decision marks the inclusion of transgender women in government bodies too. It all started when in February, Khurai read something in a newspaper that notified about a workshop looking to develop gender policy and budgeting, a public hearing by MSCW chairperson Dr (Prof) Meinam Binota. However, Santa very well knows that gender policy and the concept of gender equality revolves around cisgender women leaving behind even the thought of trans women. But, during that particular workshop, Khurai's speech was heard by the chairperson who asked her to submit a draft proposal to be incorporated into the gender policy and budgeting, and there is it, the new grievance cell for the trans women was launched. This cell deals with the challenges faced by the trans community in the state. "Forced marriage of trans women, online transphobia and sexism...are some of the issues we hope to address," Khurai said. While in the past, several cases of transphobic trolling and harassment have been reported to the cybercrime cell, they have gone unheard. "You're told that unless there is sexually explicit content, you can't file a case. It fails to address the emotional and mental trauma of facing hate online. If transwomen are included in a government body like this, then it's us claiming our space and the grievance cell will act as a single-window," Khurai explained. The grievance cell tackles all the problems faced by the trans community right from family crises to civil crimes and these issues shall now on be directed to the State Women Commission who can then pass it on to the Social Welfare Department or a relevant body that can intervene and create solutions. On this momentus ocassion, Khurai said, "I'm very happy, it's like a dream come true for me."
Santa, who helped many in her state to get their gender identity changed through the necessary documentation, helping them get the trans-identity passports, says that there is still a long way to go. She urges the community to come forward and take up the duty to force the authorities in order to race up the things.
The bravery of people like Santa Khurai, whose activism not only uplifts their life but also becomes a path for all those struggling to pass through the same dark nights. They see the sunrise and smile at the sunflowers.