Learn to live the Zero-waste lifestyle of the ISRO's scientist.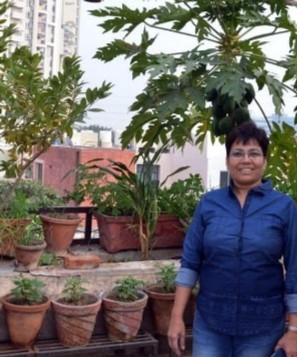 Till now, we have heard stories of people who grew organic food. Organic farming has been becoming the passion of eco-enthusiasts these days. But here we have found a story where a woman is developing "soils" for farming. Yes! You read that right. Poornima Savargoankar is growing soils suitable for organic farming. Poornima Savargoankar is a former scientist who worked at the Indian Space Research Organisation (ISRO) until 2003. This lady who had to leave the organisation to take care of her family ventured into farming and later became an entrepreneur.
It All Started With A Quest For Zero-waste Living:
Poornima was raised in close quarters with nature. Her growing up years were in Ahmedabad and her parents were fond of gardening. They produced different kinds of vegetables in their garden and ensured that at least one meal in a week shall be made entirely out of their garden produce. Though they lived in a rented house, Poornima's father would grow a few varieties of flowers while her mother grew fruits or vegetables. Poornima was so influenced by this culture at home that her study desk in the hostel had a money plant growing on it in a small pot.
Poornima quit ISRO in 2003 and moved to Gurgaon. There, unlike what and how she was living till then, connected to nature, she met with a synthetic world that's highly plastic-dependent. Poornima, who hasn't come across a garbage landfill to date, noticed garbage piling up everywhere and the culprits to this, as she noticed were the people around including her. This, she wanted to change and even before that she wanted to change herself. She resolved to make lifestyle changes and ensure that she wouldn't produce or use anything that's harmful to the environment. She started growing her own food and the waste thus generated, she diverted it to growing food again. She didn't take plastic bags or has never purchased them when she went to the shops. And coming to the plants, she used bottles and buckets for planting the saplings. She also spoke to others with the hope to convince them to follow the same.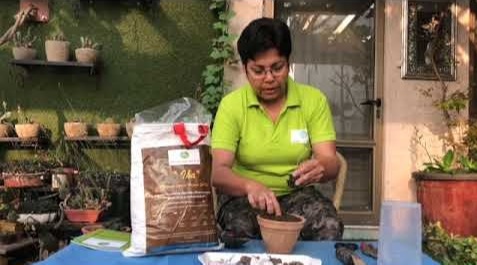 Farming - Not Just Confined To Rural Areas:
Farming that has always been considered as a rural occupation which is mostly practised in the countryside, is something that urbans can do too. Poornima, who is an ardent nature lover wanted to show people how can one opt for farming in the urban scenario where spaces are confined and soils are scarce. Poornima wanted to grow good, healthy and organic crops in the concrete jungle and show people how beneficial is sustainable living. As almost every urban household has a terrace, she chose this place for farming. But the main problem was where to get the right soil from?
The Soil Creator:
When Poornima decided to do terrace gardening, she was sceptical about what kind of soil to be used. After research, she observed that too many options are available on the internet about the kind of soil to use and the plants that grow in them. Information about what soil variety suits a specific climatic condition is not available clearly on any of the websites. There were very few articles available but the information was vague. So, Poornima, a scientist by profession, decided to dip her hands into this. She started her own experimentation and the final result was Amrut Mitti, as she calls it. She mixed compost, dried leaves, cow dung and urine to prepare her soil instead of purchasing soil from outside. The raw material required for the soil preparation is sourced from her society, home kitchen waste and from the farmers in a village. This soil became home to numerous crop varieties ranging from fruits and vegetables to medicinal herbs.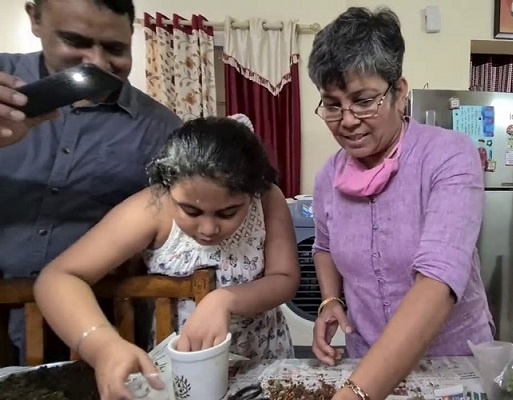 In order to increase soil fertility, she also started collecting the waste produced in the farms by collaborating with a farmer's family who lived in a village called Behlpa. She collected stubble waste, horticulture waste, cow dung and urine. She founded "Enriched Soil and Soul", a company that sells seven varieties of soil made using these materials. The company has one processing unit currently and uses around 1500 kilos of stubble waste to produce close to 12 tonnes of organic soil every quarter. The soil varieties that are produced in Poornima's unit are suitable to grow indoor and outdoor plants, support seeds as well as water plants.
Three types of stubble waste are used — wheat, bajra, and rice, and seven varieties of potting mix are produced. The varieties are for indoor and outdoor plants, bonsais, succulents and roses, as well as for planting seeds and growing water plants, says Poornima. She says that it takes 45 days to process the soil and the consumer has to continuously add compost to it.
Soil Is Ready, Now It's Time For Some Gardening:
What seemed like a major roadblock to growing organic crops was cleared by Poornima herself who is now ready with the right kind of soils. Thus, she ventured into showing everyone how effectively plants can be grown in compact urban scenes. On a 300sq.ft terrace, she started growing different plants. Today, she has over 60 varieties of fruits, vegetables and herbs growing on her terrace garden. Strawberries, pomegranates, jamuns, papayas, radish, carrots, tomatoes, capsicum grow organically in her urban farm. Herbs like basil, oregano, moringa, etc. also found a place in her self-developed soils.
It's Time To Educate Others:
With a goal to see every household in India with a rooftop garden and with a vision to see every household growing their own food irrespective of the quantity, this scientist turned urban gardener decided to inspire and help others with their terrace gardens. During the lockdown, she resolved to make use of YouTube to reach out to people. She started a YouTube channel where she uploaded videos of gardening tutorials, explained seed and soil preparation, and also gave tips on reuse and recycling. She also conducts live sessions every Saturday to explain various aspects of urban gardening. Her channel gained more than 23K subscribers in no time with some of her videos crossing one lakh views.
Happy People's Happy Remarks:
Many people started following Poornima's videos and have incorporated her methods into their home farming. Most of them have grabbed inspiration to live a sustainable life free from the hazards of the city's environment.
Subhankar Bharadwaj, a follower of Poornima's videos, tags her as a Garbage-To-Greens' warrior. "She has inspired me to wean off my corporate lifestyle and take up the role of an urban gardener," he says.
May this urban gardener, and advocate of sustainable living spread her voice so wide that it reaches to a wide range of people across the globe and may many be inspired towards organic way of living.