Parents panic coz of teens internet addiction. Instead, give them a direction to excel. YEA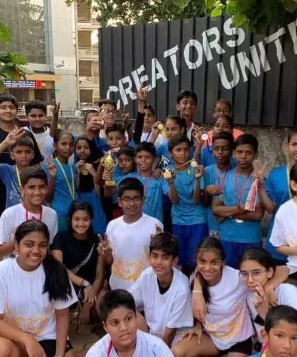 Who said that teenagers are often lost in unproductive activities like binge-watching movies or partying? If properly guided, teenagers become the main assets of the society. They have first-rate ideas in their minds which when properly channelized, help in creating a better society too. Young Entrepreneurs Academy is doing just this. At YEA, Teenagers are being guided by efficient mentors and required help is being provided to them to turn their ideas into reality. One such youngster who had an idea in her mind got it shaped into a social-friendly project and turned into a social entrepreneur at a tender age of 14. Read more about Manvi to understand how her idea is making a difference.
Perks Of Reading A Book:
Manvi Shroff is a 14-year-old from Mumbai who studies in Jamnabai Narsee School, Mumbai. She is also a part of the Young Entrepreneurs Academy. One day, Manvi happened to read Sudha Murthy's "A Lesson In Life From a Beggar". This read changed her mind towards society. She wanted to become a part of society's welfare and decided to encourage others also towards the same. She wanted to bring about a difference in the world. With this idea in mind, she stepped into her YEA class the next day. With the help of mentors at YEA, she started moulding her idea.
Manvi's Idea:
Manvi made an incredible thought that slipped big minds till date. While on one side there are many children who are NOT inclined towards social work. They are immersed in the digital world often racking their brains on fun and excitement. On the other hand, there are these NGOs and charity organizations who are trying to initiate and implement more programmes for the betterment of society. However, these NGOs and voluntary organisations are lacking manpower who can execute their mission. "What if these two groups are connected?", Manvi thought. The result of this question was the birth of "The Charis Club"("Charis", a Greek word that means "grace")- a social organisation that aims to inculcate the "habit of giving" among youth as well as connecting them with the NGOs that require manpower.
Thought Into Action:
At YEA, with the help of mentors, Manvi worked to give her idea its desired shape. Manvi planned to organise monthly events highlighting environmental and social causes. These events are funded by either the monthly subscriptions or annual contributions she raises or through the event-specific contributions. Through these activities, The Charis Club involves children and youngsters into social activities without disturbing their routine. On the other side, NGOs partner with Charis Club and find active, enthusiastic and committed volunteers to help them take their activities forward. Thus The Charis Club gets the volunteers and NGOs on to a single platform. The Charis Club, just within the first two months has got around 25 members joining. After learning the skill of designing a business plan for social venture, importance of a sound mission statement, a steady and sturdy revenue model and a firm execution plan, Manvi successfully started and executed three events post the success of which, she was further encouraged by her parents and mentors to take her club forward. She made the act of giving a fun-filled process for children and youth where they develop excitement in collecting credits, bagging medals, certificates and loyalty points at the end of every event. They also get to make more friends during the process. What was being built on the word of mouth till date, is rising in publicity through social media platforms including WhatsApp, Instagram, and Facebook? The Charis Club also partnered with several foundations and charities for events such as Angelxpress, Artscape, and Missionaries of Charity and also works with other third-party vendors who provide the location, merchandise, etc. for their events. During the COVID-19 pandemic, the venture held online fundraisers and community sessions. Activities were organized for members and contributions in the form of participation fee were raised from them. "So far, we have collected Rs 45,000," Manvi says.
Future Goals:
Currently a community of 70 members including 30 paid members, The Charis Club is looking forward to expanding to a community of more than 500 members, with a paid membership base of around 200 in the next one year. With a revenue model that comes with two aspects like a one-time membership fee and event participation fee collected from students, the club is aiming to reach a revenue of Rs.2 lakh for the upcoming year. The social venture is also in plans to reach out to more schools, charities and NGOs in Mumbai.
Manvi who very well knows that at her age, it can be too much to handle studies, sports, debates, entrepreneurship, and social life, but she says that she shall balance it all by cutting back on time spent on gadgets and TV. and she also says that she avoids perfectionism. "As she finds it excited, she says, she enjoys doing it".

Follow Her Work