Meet the girl who fought penury to reach the IIT Pune campus.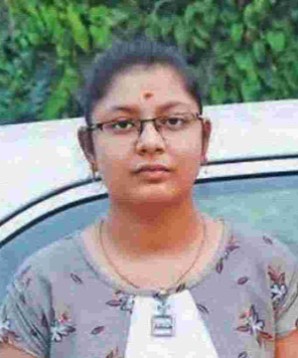 Several stories buzz around us about people who fight odds to kiss the apex of success. But success cannot be given a final destination or a solid definition. Success is different to different people. Success to a person born deprived of basic needs is different from that of a person born with a silver spoon. The story of a girl from Andhra Pradesh shows us what success means to a person when all he has in his life in penury.
From ZPHS to IIT:
"Success in life lies in determination and hard work", Sudha Chandran.
When hard work adds to the determination, despite the setbacks, success meets you there, where you wanted to be one day. K. Swati from Vizag, Andhra Pradesh wanted to step into one of the prestigious institutions in India and her poor living conditions could do nothing to stop her from going to where she wanted to be. From ZPHS to IIT Patna, her journey is an inspiring one. She became the first student from her school to get admission in IIT Patna and thus made her parents and teachers proud.
Education Was Never A Compromise To Poor Living Standards:
Swati is the daughter of a cab driver Ramu who shifted to Vizag from Pachipenta near Saluru in Vizianagaram in search of livelihood 20 years ago. He worked as a construction worker initially and forget about children's education, the daily wages he earned couldn't even give the family three meals a day. So, he started driving an auto. He then shifted from Kancharapalem to Madhurawada and admitted his daughter Swati in Chandrampalem Zilla Parishad High School. He never took a back step in giving education to his children come what may.
I couldn't receive an education. At least I want my children to study well, Ramu said.
Swati's intellect was spotted by her Physics teacher Murthy and the headmaster Raja Babu who later stood by the girl in every phase and supported her education in ways that no words can describe.
Swati scored 10/10 in class 10 and her spirits rose higher. She was selected for admission into IIIT. But the headmaster Raja Babu encouraged her to study intermediate. He personally enrolled the girl into a good private college by pooling up money to pay her fees. The school correspondent as well as a former police officer TSR Prasad also contributed 25,000 for her admission.
Swati lived up to our expectations whether it was in school or in college, the headmaster said.
Raja Babu master didn't stop supporting the girl there. When Swati cleared her JEE examination, the headmaster gave one lakh to Swati towards her fees for getting into IIT.
"There is plenty of talent in the countryside and I'm doing my bit to ensure that talent like Swati should not fade away for want of money.", he says. Swati secured a seat in Computer Science Engineering in IIT Patna.
A Clear-cut Study Plan:
Swati who is going to get into the IIT Patna campus soon says that she studied with a proper study plan not just sitting with the books and mugging up for hours. She says that she relied solely on textbooks to gain strong basics in all the subjects. While in college, she used to study the reference books suggested by her lecturers apart from the regular textbooks.
Aiming To Serve:
Swati aspires to appear for the civil services examination after finishing her engineering. "This is the only way I can repay or express my gratitude to my parents and also teachers, who reposed immense confidence in me.", says Swati with bubbling confidence in her tone.
When you have that potential in you to make your dreams come true, all positive forces collectively stand by your side and help you drive forward. All you need to do is, to be honest, and sincere in your efforts. Swati's story stands as the best example to tell us that success follows when your desire to win is pure.