India's youngest chef became everyone's favourite instantly.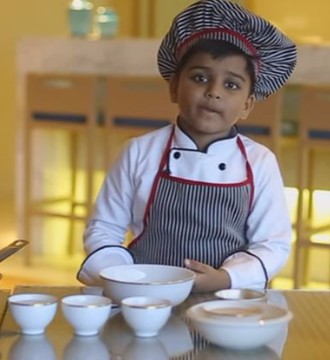 KIDS SO SPECIAL
Children's dreams are special and more often than not are brushed aside as frivolous. This little boy's dream and vision was quickly encouraged and nurtured by his Mom. Initially, she found it very annoying and irritating. This 6 YO was always seen fiddling and prancing in the kitchen, trying to grasp the names of the ingredients, learning the measures, observing his mom's culinary skills and his desperation to imitate and try out something. His unbelievable passion turned him into an instant cook.
Who is this Little Chef?
Fondly known as Little Chef Kicha, Nihal Raj is just an ordinary student with extraordinary inborn skill and talent for cooking. He loves cartoons, storybooks and playing outdoors if he is not cooking up a new recipe. He is not much into social media except if it is necessary and social media is for ones who are still struggling to find a hobby to pursue or make this media itself a hobby which is simply not worth it.
Name and Fame !!
Of course "Mickey Mouse Mango Ice Cream" his very own first creation was simply out of this world and simply delicious. Never expected in his wildest dreams that it would catch the glimpse of so many when he posted this Recipe on his YOUTUBE Channel KICHATUBEDHD and even more surprising and thrilling was when FACEBOOK signed a whopping $2000 deal with this Little Chef Kicha.
In no time it caught Ellen Degeneres attention and before he could cook up another one he was on her Show. Ellen enjoyed his breakfast PUTTU a traditional Kerala dish and had huge number of views. Puttu Kutti was his name after the show and since then has received many many more awards. Also, the American EVANTUBEHD showered him with loads of toys and gifts. He is invited by Hotels, Events to showcase his talent.
NO Stopping !!
In his pre-teens, he boasts of more than 100 original Recipes on his channel and over 35,800 subscribers and everyone is happily using his recipes and the feedback has been absolutely thrilling. This is a passion turned into a dream and now a reality. Click here to see his Recipes

TIP from the Little Chef
Keep it simple and like he claims "ANDHAZ" in everything like a pinch of salt and using a low flame, the right way of seasoning must be followed while trying out. The art of cooking comes if one is cooking regularly and then it's easy to create new ones. Short cuts should never be practiced if one wants the right taste.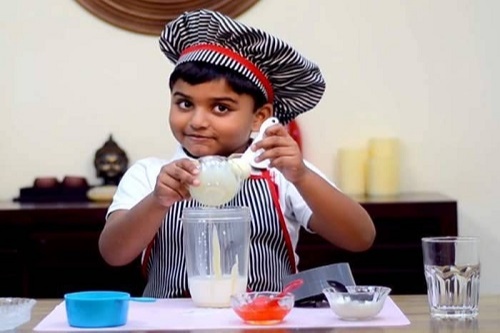 Chef on the Space
His dream of inventing a machine to help the astronauts to cook in space has been haunting him and when he has enough knowledge of the machines and space he is sure to fulfill this dream as well. His also wants Kids themselves to cook and make videos to help other kids. Apart from this Create New Recipes and Cook, Cook and Cook …..
Follow your Passion
No matter whether it is cooking, playing a game, reading, singing it one is passionate about something one must pursue but also quips "Practice is the only way to achieve anything in life"..