She is a Mental Calculator. Priyanshi was chosen as an Ambassador for World Math Day. She was a Research Associate at Stanford.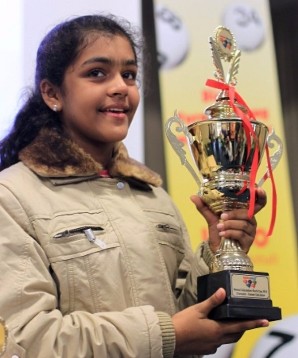 Is She Shakuntala Devi or Ramanujan in the making? Not really. Simple, unassuming and a cool kid who has carved a niche identity for herself in the Mental Math circuit.
Kindergarten days...
Priyanshi, right from her Kindergarten days was quick at mentally calculating without any difficulty. Her Dad Satyen and her Mom Anju would spend a lot of time quizzing and giving her small additions and multiplications and this wonder kid's answers were correct each time. Her teachers and her classmates were marveled and pretty impressed at the ease at which she would mentally calculate.
Her parents were keen that she should better her skills and sent her to Abacus classes when she was 5. Abacus, as everyone knows, is a Chinese Slate with beads that one has to slide and a method with which one is able to calculate quickly. She would look forward to her classes and try out various combinations at home to master the art.

Hard work Paid-off
All her hard work while having fun with numbers paid-off and she walked away as the National Champion for three consecutive years from 2006 to 2008. This certainly proves she is a born prodigy. In 2007 too, She was the International Champion in Malaysia. She seems to have countless prizes in her kitty and the most impressive one was at the University of Magdeburg, Germany in 2010. She had competed amongst 37 students from 16 countries where she stood first for extracting square roots from 6 digit numbers up to 8 digits in record timing of 6:51 minutes.
Special affinity to Square Roots.
Finding Square roots were something this kid calculates so fast and would come out with correct answers at every competition or test she was put to. In 2010 she was assigned 10 tasks and came out with all correct answers in a record time of 6:28.
Guinness Book of World Records 2014
Much awaited prestigious and truly deserved Guinness Book Records featured her on the Mind and Memory Page. UN too was intrigued by her talent and she received the Outstanding Delegate Award at the conference.
What goes into her mental calculation?
She glances at the numbers and immediately sends signals to her mind to follow the procedures and processes. The brain responds, analyzes and Pat comes to the answers. What is challenging is the speed at which this whole calculation happens.
Nurture one's talent.
Every child has a different talent, interest, and skill. As a child its hard to identify and for Priyanshi she was lucky that her parents could see her interest and encourage and support.
Priyanshi in her spare time loves to read, play chess and table tennis. She wants to continue to take part in competition and face challenges.
Bookofachievers.com hopes that many upcoming math geeks will be inspired by her.
This is a unique SITE which allows the achiever to go ahead and feel free to express, edit, upload videos as and when she/he desires.
Read more : https://en.wikipedia.org/wiki/Priyanshi_Somani