Reading at four is rare but this little one has read 36 books and is on Ted talk.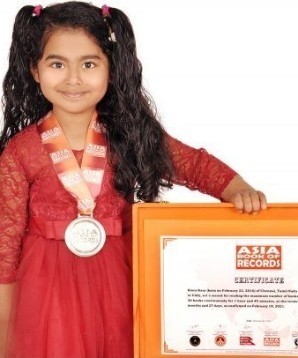 What exercise is to the body, reading is to the mind. We all know this quote very well. Reading books is definitely an activity that gifts numerous benefits to an individual's overall enhancement. It's very important to make children habituated to reading and with reading books, they can develop imagination, creative thinking, vocabulary, and various other skills required for their holistic development. But when everything is going digital, children are hardly holding books these days. Everything is available to them in a click and they are less willing to open books and flip through the pages. But when 4-year-old Kiara Kaur told the NDTV about what she feels about reading books, you will be amazed at the little one's love for reading books. "Reading from books is extremely enjoyable. You can carry books anywhere you like. The problem with reading on phones or watching videos is that I can't read if there is no internet for some time"
Nursery Girl In The Library:
Kiara Kaur was born to Chennai-based parents in the US and is currently residing in the United Arab Emirates (UAE). She started displaying her love for books ever since she was a toddler who would rather smile at the pictures given in them. Her love for reading was so much so that she read everywhere, in the car, in the backyard, and even in the restroom. When this Indian-American little girl attended a school in Abu Dhabi before the coronavirus pandemic lockdown, her nursery teacher spotted her reading voraciously in the library and spotted her ability in reading books one after the other without any sign of being tired. This habit of reading was reportedly inherited by her grandfather who would listen to the girl's stories over calls and WhatsApp voice messages. Kiara Kaur's parents told that the girl has already read over 200 books in one year and when she runs out of new books, they said, she re-reads the old ones. Kiara also read books meant for children older than her. She joyfully says that the colourful pictures in the books and the bigger fonts are something that grabs her attention making her read. "I love reading books because of colourful pictures and how words are written so big on them!", she says. Kiara's favourite books among many are Alice in Wonderland, Cinderella, Little Red Riding Hood, and Shooting Star.
4 Years Old's Two Records :
Kiara Kaur read 36 books non-stop in 105 minutes and for this feat on 13th February, she has entered the World Book of Records in London and Asia Book of Records. According to the Asia Book of Records, Kiara has set a record for reading the maximum number of books non-stop. According to the World Book of Records in London, Kiara was certified as a 'child prodigy' for having the special ability to read non-stop 36 books in 105 minutes at the age of 4 years on 13th February.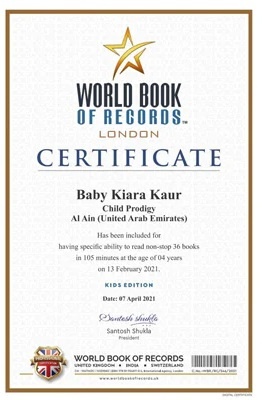 What an amazing feat by a 4-year-old! However, this shouldn't be a factor for other parents to force their kids to do something exceptional in order to set records. Children have natural abilities. The innate ability that Kiara had was supported and nurtured by her parents but she was not forced to read one book after the other. It was the girl's personal passion that brought her the world records. Every child is unique and has their own time zone and learning methods. Let them blossom according to their seasons without forcing them to spread the fragrance soon. We wish Kiara Kaur a bright future and may she become instrumental in reviving the reading habit among her peers and adults.