A teacher's sincere effort to make education reach children blossomed into a self-led online teaching platform.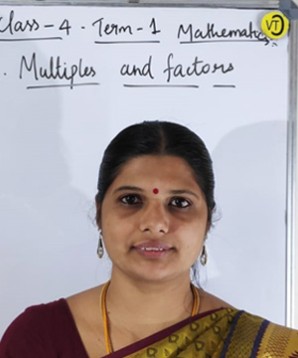 Her passion is to teach. Come rain or sunshine, she bends not her knee from teaching. Blackboard and chalk piece are her mates but that's not all. Her urge to teach is beyond real-time teaching and learning. Meet Vidya V.A, the woman behind online tutorial that's spreading its wings nationwide.
An Electronics and Communication Engineering graduate, Vidya has done her MBA and is a pro at teaching Math and Sciences. After rendering her services at Baldwin institutions for a brief period of time, Vidya felt that her instincts demanded something bigger which made her leave her job to dedicate her time completely for training the students.
Vidya laid bricks to a Tuition centre in Bangalore in the year 2014. Six years down the line, today, they get students from across the world. Yes!! It has gone global.
A Successful Journey:
Right from its inception in 2014, Vidya Tuition Centre has been setting milestones for itself. Training students in all the subjects not just from the pages of their curriculum textbooks but giving them real-time understanding of the concepts is what made Vidya Tuition Centre unique. Regular interactive videos on myriad complicated topics of mathematics and Sciences are made available for students on YouTube. To shoo away the deep rooted fear of mathematics from students, abacus sessions are organised during vacation. By demonstrating complex topics in Science through audio-visual equipment, Vidya Tuition Centre is creating a cutting edge education system.
Unlike other tuition centres that revise what was taught in the school and depend only upon the textbooks and notebooks for the content, Vidya Tuition Centre is diving its way towards a new pathway.
One Woman's Establishment Is Now A Massive Empire:
What started with Vidya alone in 2014 has now grown into a team of dedicated, committed and experienced educationalists from reputed academic institutions. Together, they strive not just for the academic excellence of the students but work towards their overall personality development. The current situation of pandemic could not cease their zeal. Vidya and her team started online tutoring and the response is more than expected from all over the nation.
There shouldn't be a pause in learning. A teacher who strives to gift the goodness of learning to her chaps isn't afraid of the shades of dusk. A confident smile coupled with the same positive approach is what we wish Vidya forever in this journey of shaping young minds.
Check it out
Parents looking for someone who can get their kids interested in Math and Science may well benefit from her extraordinary teaching methods.

Click Here To Start Your First Class On Vidya Tuition Centre

Get In Touch With Vidya Tuition Centre 098861 34547

Follow Vidya Tuition Centre To Get Latest Updates

Check Out The Previous Classes